7 Exotic Places To Visit In Europe In Summer 2023
Are you tired of going abroad to the usual destinations? This summer, why don't you explore somewhere a little different – some exotic European places that will inspire your wanderlust? From rugged coastlines to charming cities with hidden gems, we've compiled this list of seven incredible spots waiting for you to discover them! Whether it's immersing yourself in culture or appreciating stunning architecture – there's something on offer here for everyone, and each one will indeed offer an unforgettable experience. With so many beautiful destinations in Europe, it might be overwhelming to decide where to go. Therefore, we have compiled this list of exotic places to visit in Europe in Summer 2023. Are you ready to embark on the journey of a lifetime and learn why these locations rate so highly among travelers? Let's dive in!
Here Are The Seven Exotic Places In Europe To Visit In The Summer of 2023:
1. Santorini, Greece
Santorini, Greece, is a stunning destination that offers visitors a glimpse of paradise. Known for its picturesque white-washed buildings that cling to the cliffs overlooking the Aegean Sea, Santorini is an idyllic island that genuinely captures the essence of the Mediterranean.
With its crystal-clear waters, beautiful sandy beaches, and warm sunny weather, it's no wonder that Santorini is one of the hottest places to visit in Europe this 2023. You must try some treats like THC syrup from TRĒ House and others for a fulfilling experience. Whether exploring the charming towns, sampling the delicious local cuisine, or simply soaking up the region's unparalleled beauty, Santorini promises an unforgettable experience for anyone fortunate enough to visit.
2. Cinque Terre, Italy
Cinque Terre, Italy, is a collection of five picturesque fishing villages nestled along the rugged coastline of the Italian Riviera. Each town boasts colorful buildings perched on cliffs overlooking the sparkling sea, creating a stunning panoramic view.
Tourists come here to enjoy the warm summers, hike through the lush vineyards, try the delicious local cuisine, and soak up the vibrant culture. Each of the five villages is connected by a scenic coastal trail or train, making it easy for visitors to explore and experience all Cinque Terre offers. This exotic destination is truly a hidden gem in Europe worth visiting during the summer of 2023.
3. Dubrovnik, Croatia
Dubrovnik, Croatia, is a must-visit destination for anyone planning a European summer getaway in 2023. This enchanting walled city boasts a rich history and stunning crystal-clear waters leading to secluded beaches and hidden coves. Visitors can soak up the sun on the pebble beaches or walk along the picturesque stone streets, surrounded by centuries-old architecture and charming cafes.
The highlight of any Dubrovnik trip is walking along the top of the ancient city walls, providing a breathtaking view of the Adriatic Sea and terracotta rooftops below, and feeling adventurous. Take a cable car ride up to Mount Srd and enjoy panoramic views of the city and surrounding islands. A visit to Dubrovnik is a truly unforgettable experience that belongs on every traveler's bucket list.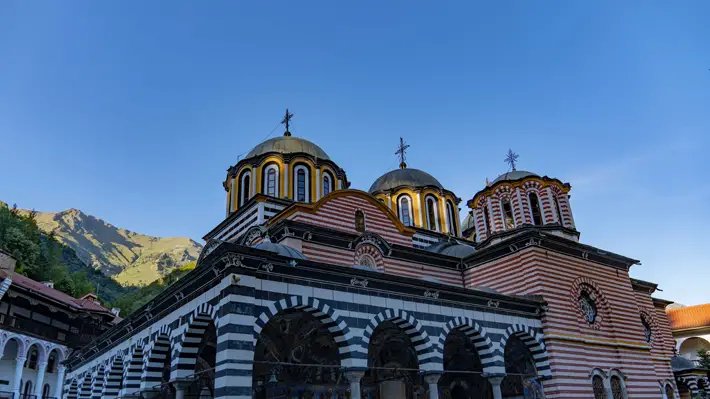 4. Rila Monastery, Bulgaria
Nestled amidst the Rila Mountains in the southwest region of Bulgaria lies the Rila Monastery – a breathtaking piece of architecture that dates back to the 10th century. With its majestic spires and intricate frescoes, this UNESCO World Heritage Site is a true testament to Bulgarian culture and religious history.
Visitors can spend hours exploring the monastery's beautiful gardens, serene courtyards, and fascinating museum exhibits that showcase centuries-old artifacts. But the real highlight of a visit to Rila Monastery is the calm atmosphere that envelopes the site. A trip to this enchanting monastery is an absolute must-see for those seeking a peaceful retreat from the hustle and bustle of modern-day life.
5. Interlaken, Switzerland
Interlaken, Switzerland, is a dream destination for anyone looking for a unique and exotic adventure in Europe during summer. This charming town is between two crystal-clear lakes and is surrounded by snow-capped peaks of the Swiss Alps, creating a picture-perfect landscape.
Visitors can enjoy various outdoor activities, such as hiking, skiing, and paragliding while taking in the breathtaking mountain views. Adrenaline junkies will love Interlaken's many adventurous activities, including bungee jumping and whitewater rafting.
The town is also home to some of the most luxurious and cozy hotels, making it the perfect place to relax after a long day of exploration. It is a must-visit for anyone looking to experience the beauty of Switzerland.
6. Edinburgh, Scotland
The city is located in southeastern Scotland and has a rich history and culture that welcomes visitors worldwide. Edinburgh has incredible castles, museums, galleries, and beautiful parks and gardens. During the summer, the weather is pleasant, and there are plenty of outdoor activities like hiking, cycling, and walking tours. Some top attractions include Edinburgh Castle, the Royal Botanical Garden, and the National Museum of Scotland.
Try traditional Scottish cuisines, such as haggis or fish and chips, and sample a local whisky there. From its historical past to its vibrant present, Edinburgh is a must-visit for anyone seeking an exotic European summer adventure.
7. Sintra, Portugal
Sintra, Portugal, is a magical town just half an hour from Lisbon. This charming town is known for its fairy-tale castles, palaces, and parks that will transport you to a different world. Wandering through the colorful streets of Sintra is like stepping back in time and experiencing Portugal's rich history and culture.
Some must-see attractions include the magnificent Pena Palace, the Castle of the Moors, and the Quinta da Regaleira, a stunning estate known for its underground caves and enchanting gardens. You must know other places to visit in Europe this Summer. No matter your interests, Sintra is undoubtedly one of the most exotic places to visit in Europe in the summer this 2023.
Conclusion:
Summing up, Europe has much to offer within its borders regarding summer vacations. Anyone looking for a unique experience should look at the 7 Exotic Places To Visit In Europe This Summer 2023 and plan their journey accordingly. From the golden beaches of Portugal to the crystal-clear waters of Crete, anyone will find something breathtaking wherever they decide to explore the continent this summer. Please choose your destination based on what entertainment you're looking for cultural exploration or explorations filled with relaxation. Europeans offer something for everyone, so make sure you visit during the summertime and let it be unforgettable!