What are the Best Cleaners to Use to Achieve an End of Tenancy Cleaning Result at Home?
Every one of us wants to have an immaculate home. We all dream of living in a clean, fresh smelling home at all times but, let's be honest, keeping our homes pristine can take its toll. Especially if you have to work, look after children and so on, on top of the cleaning.
Cleaning takes time, effort and knowing what products to use can help reduce the time and effort needed to achieve that end of tenancy clean feel. It's very easy to reach for the most commonly used cleaning products, however do you know what's in them? Most shop brought cleaning products contain some pretty harmful ingredients. A Lot can give off toxic fumes when being used. These can be extremely harmful to yours and your family's health.
Ingesting these toxins can cause respiratory issues, chemical burns and even some long lasting issues later on. This is why End of Tenancy Cleaning London always uses Eco-friendly products when cleaning your homes and we want to share some advice as to how to create your own natural cleaning products at home with ingredients that you will have in your cupboards already. Not only is this safer but it's also considerably cheaper too.
Here's are some ideas for naturally cleaning your home yourselves:
Polishing your wooden furniture: Grab some olive oil, yes that's right olive oil. Drizzle a few drops onto a clean polishing cloth. Rub into the woodwork and leave to completely dry. Some people are not too keen on the smell but that can be fixed with a couple of drops of fresh lemon, leaving you with a lemony fresh scent.
Keeping your whites white:
Keeping white clothing and fabrics white can be difficult without harsh chemicals, however fresh lemon juice can be the solution to all your problems. Lemon juice is highly acidic meaning that it has the power to cut through nasty stains. It also helps fight bacteria which is always a bonus when cleaning.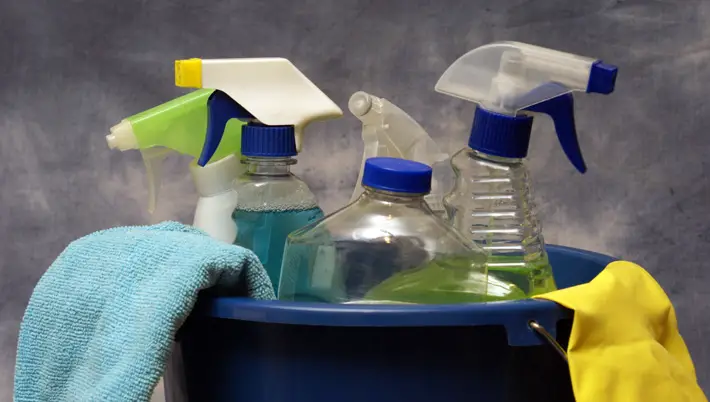 Protecting enamel and porcelain:
End of tenancy cleaning Wimbledon recommends when cleaning things like the bathtub, toilet and sink you have to be careful not to ruin the enamel. Scrubbing with a harsh brush can do just that so instead grab some coarse sea salt. Its roughness asks like a scrubbing brush yet it dissolves so it does not cause harm to the enamel. Paired with white vinegar, dish soap or baking soda it can help remove all staining from the toilet and tub. It can also be used when washing up the dishes.
Achieving a smear free sparkling effect on glass: Cleaning glass can be challenging and most products can leave smears or water marks behind. Cornstarch, white vinegar and some rubbing alcohol can eliminate all watermarks and smears leaving your mirrors and windows sparkling.
Multi purpose cleaner:
Easier to make than you may think all you need is some white vinegar and some water, mixed up in a spray bottle it can be used on all kinds of surfaces. If you don't like the smell you can add any scent essential oils the variety is huge for scents. Another great all purpose cleaning ingredient is Bicarbonate of Soda. This everyday household item can help to deodorise and cut through grease and grime all around the house.
For example simply Sprinkle a layer over the oven floor to remove grease, or sprinkle some down your drain, followed by pouring white vinegar in to remove blockages. The two mixed causes it to fizz up, helping it loosen any solid dirt.
These are just some of the many ideas that you can use around your home, going natural when cleaning has so many benefits. Once you have tried using natural products you'll never go back to using harsh chemicals ever again