The Maven, Leeds, Festive Tasting Menu – Review
By Kirsty Reid, December 2021
Tucked away on a busy street in Leeds city centre, The Maven is a bar worth seeking out – literally. With only an M to mark its entrance, you could easily overlook this hidden gem.
Upon entering the open doorway on Call Lane, my partner and I are intrigued as we venture up the stairs of the Victorian building – and I'm not entirely convinced we're even in the right place. But, as we reach the top of the darkened staircase and a gentle woody fragrance hits us, any worries I have soon subside.
Charming 1920s décor sets the tone for this Prohibition-style speakeasy, with low lighting, deep blue walls, plush leather seating and eccentric animal art creating a decadent den that's perfect for escaping the city's hustle and bustle.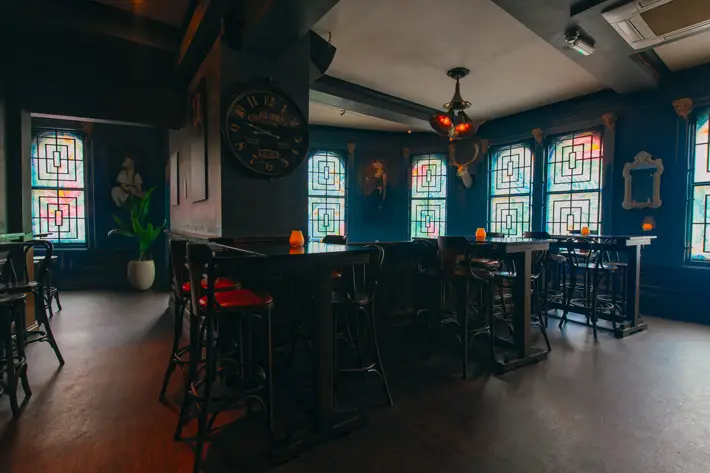 "Beautifully presented"
The bar boasts a tempting selection of gin, but it's the Festive Tasting we're here for – six cocktail samplers accompanied by nibbles that are designed to complement the flavours.
Having arrived just after opening, we have the bar to ourselves. But come evening, I imagine the place will be packed with those in-the-know.
After talking us through the session's format, the mixologist checks whether we have any dietary requirements before bringing out the first cocktail.
Beautifully presented on a serving slate, our Christmas Morning cocktails come paired with pieces of chocolate orange. Taking inspiration from the clementine and chocolate orange that is traditionally found in a stocking on the big day, this mimosa-type beverage blends Aperol, clementine juice, prosecco and, of course, chocolate orange. Combining two of my favourite things – prosecco and chocolate – I knew this would go down a treat and it certainly didn't disappoint.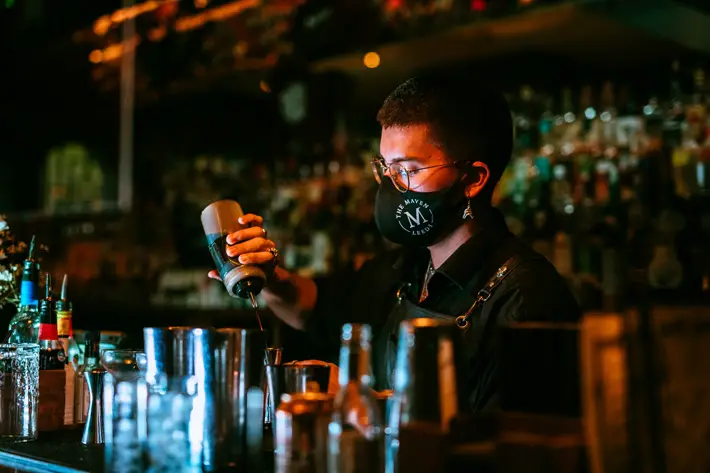 "Sharp flavours"
Next up is Berry Christmas, paired with blackberries and dried cranberries. Fusing sloe gin, raspberry, blackberry and cranberry sauce, this fruity concoction certainly leaves me feel berry merry! I wouldn't have expected cranberry sauce to feature in a cocktail, but it works. It's deliciously refreshing, so much so it would make for a great summertime tipple.
Paired with crystalised ginger (though a gingerbread man might be more apt), Bermudan Christmas Storm is an instant hit with my other half. A festive take on the Bermudan classic Dark'n'Stormy, it blends rum, ginger, citrus and soda, with Christmas pudding syrup. Its sharp flavours are refreshing, but fiery ginger notes soon take hold. I'm a fan, but whether I could drink a full-sized version of this spicy beverage is another matter. If you're looking for a cocktail with some serious kick, look no further.
Next we're served a slightly tamer tipple – Apple Strudel, paired with dried apple slices. Inspired by Christmas markets, this cinnamon-infused cocktail perfectly captures the aroma and flavour of Yuletide. A blend of vanilla vodka, pressed apple juice and raisins, the flavours here are fresh and comforting. I imagine this would be even more delicious served warm.
It wouldn't be Christmas without a mince pie or, in this case, a Mince Pie Mai Tai. With a prominent rum flavour, the almond notes and mince pie syrup make this taste almost dessert-like, with my other half likening it to a Bakewell Tart. This is definitely suited to someone who enjoys a stiff drink.
"Creativity"
And last, but by no means least, we're served Candy Cane Punch – paired with two of the festive mint treats. Rhubarb gin, strawberry, mint and fresh cream make up this final stocking filler. The rhubarb and mint work surprisingly well together, making a sweet, creamy cocktail. Perhaps a little too sweet for my liking, but a clever creation nonetheless.
We're both really impressed with the flavours and creativity at The Maven. The cocktails are innovative, fun and most definitely festive. The edible pairings have been well chosen and perfectly complement each tipple.
We leave the elusive bar feeling merry and ready to face the Christmas crowds. All the while knowing that there is a quiet little spot down Call Lane waiting, whenever we need to escape the hustle and bustle – just remember, M marks the spot.
Festive Tasting is available now, £30pp
Around The Globe Tasting is available from January, £30pp
themavenbar.com