Seven Drunken Nights: The Story Of The Dubliners – Review – York Grand Opera House York
By Kirsty Reid, April 2022
I've never had a night out in Ireland, but a recent visit to York's Grand Opera House gave a pretty good insight into how much craic it could be.
Setting foot in the theatre's auditorium was like setting foot in a traditional Irish pub, thanks to the excellent stage bar – complete with Guinness crates, mood lighting and its very own bartender (Ethan Muldoon).
Transporting the audience back to 1960s Dublin, Seven Drunken Nights begins where it all started for The Dubliners – legendary Irish pub O'Donoghue's.
Narrator and vocalist Ged Graham wasted no time in inviting the lively crowd to join him for a pint – 'It's a free bar,' he joked, much to our amusement.
With the scene set and the crowd hyped up, it wasn't long before Graham delved into stories of how the band – originally known as The Ronnie Drew Ballad Group, after its founding member – came to be.
Telling the story of a career spanning 50 years and evoking the spirit of Ronnie Drew, Luke Kelly, Barney McKenna, Jim McCann, Ciaran Bourke and John Sheahan, Graham – along with a talented cast – brought the music of the iconic group to life.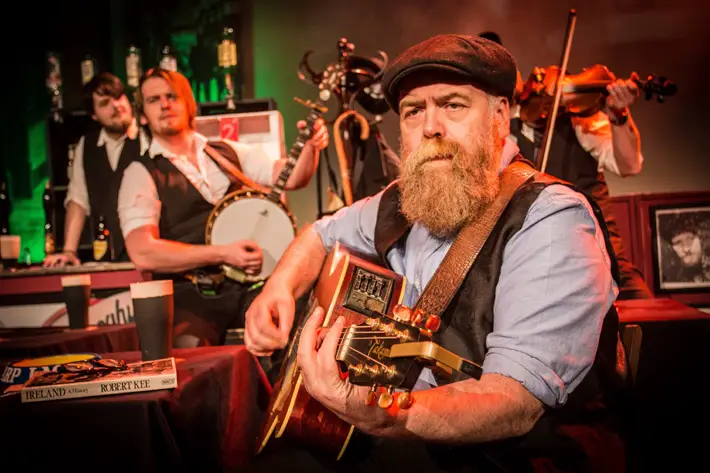 "Feelgood vibes"
Behind the stage, black-and-white images and video footage of O'Donoghue's were projected on to a large screen, along with footage of The Dubliners and Dublin itself. Though the footage didn't always seem related to the storytelling, it helped to create a sense of nostalgia.
In-between banter, chat and musical renditions, we were told how the show's title is based on a 1967 Dubliners' song of the same name – a track so controversial it was, at the time, banned by national broadcaster RTÉ due to its sexual content. Despite this, or perhaps aided by this, the group went on to achieve international stardom.
Seven Drunken Nights featured many interesting facts about the band, including how the group's name, The Dubliners, was inspired by James Joyce's book of the same title.
Of course, at the heart of this documentary-style production is The Dubliners' feelgood music. Switching between the on-stage bar and recording studio set-up, the talented cast – comprising narrator and vocalist Ged Graham, Danny Muldoon (vocals, guitar), Adam Evans (vocals, guitar), Nick Goode (fiddle) and Tim Howard (vocals, banjo, dobro, mandolin) – effortlessly performed tracks from the band's back catalogue.
Die-hard fans sang along to hits including 'Belle Of Belfast City', 'Finnegan's Wake', 'Dirty Old Town', 'In The Rare Old Times', 'Whiskey In A Jar', and of course 'Seven Drunken Nights'. But it was hit 'Molly Malone' that had the entire audience up on its feet, clapping and singing. I've never experienced such feelgood vibes from theatre before.
Having sold out at venues worldwide, it came as no surprise to see a packed theatre as the production came to York as part of its fifth anniversary tour. Theatregoers young and old were among the crowd – united in their love of the iconic Irish band.
But whether you're a fan of Irish folk or not, Seven Drunken Nights will have you up on your feet, stomping along to the classics.