The Golden Cockerel [English Touring Opera] – Review – Sheffield Lyceum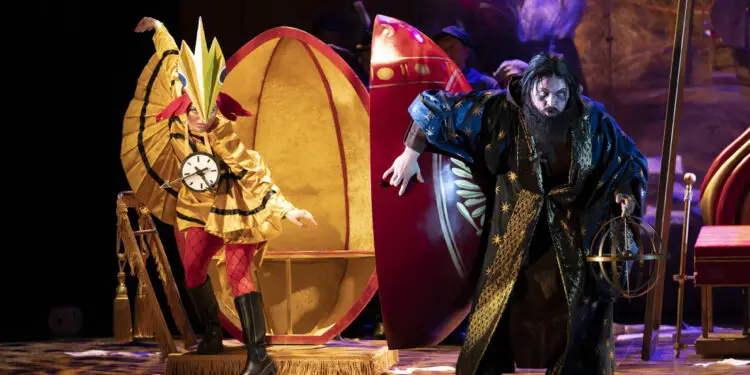 By Clare Jenkins, April 2022
When Rimsky-Korsakov started writing this, his last opera, in 1906, he saw it as a 'razor-sharp satire' against Russian despotism, Romanov imperialism and his country's humiliating defeat the previous year at the hands of the Japanese. Today, of course, Russia is again at war, which makes both for political resonance but also for some uncomfortable moments during English Touring Opera's production of this rarely-performed piece about a lazy, paranoid ruler, and the sufferings of his own oppressed yet loyal people.
The evening is dedicated to the 'besieged people of Ukraine' and to those Russians protesting against Putin's actions. Again there's an echo of Rimsky-Korsakov's own life – he was dismissed from his post at the St Petersburg Conservatory for supporting student protests. Unsurprisingly, the Czarist authorities disapproved of the opera, and the composer – who died just months after completing it – never saw it performed.
It's something of a collector's item even now, so it was brave of ETO's outgoing artistic director James Conway to stage it – unaware that it would then tour the country reflecting the shadow of real-life events: "This is not a fairy story/It's my life, my death, my glory", as the rhyming-couplet translation has it.
As a result, it's even more of a curiosity – part-parody, part-panto; both fact and folk-tale (it's based on a poem by Alexander Pushkin), and not really sure which it prefers.
Cleverly lit by Rory Beaton, it opens with Grant Doyle's buffoonish King Dodon, dressed in padded red robes and gold crown like a German nutcracker doll, governing from his bedchamber while being spoon-fed sweets by his old nanny (Amy J Payne). Meanwhile, his equally man-child sons (Thomas Elwin and Jerome Knox) play on the floor with their toys – including, poignantly, a military tank.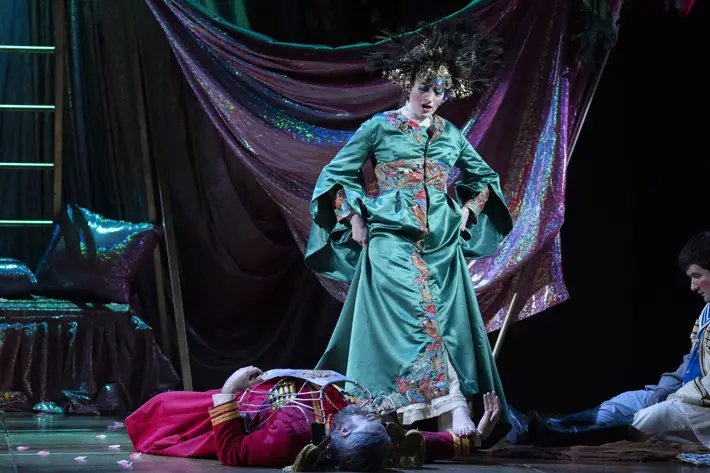 "Dark undercurrents"
An astrologer (Robert Lewis), bearded and brooding in a sky-and-stars cloak, arrives with a cockerel (Alys Meririd Roberts) which, he says, will immediately alert the king to any imminent danger. Delighted, the king agrees to reward the astrologer with anything he chooses at a later date. And, on Neil Irish's spare but effective set, the cockerel climbs up to the palace watchtower, to survey the kingdom through a telescope.
Although it's sung in English, there are screened surtitles, which might distract some in the audience, while helping others understand the plot. These particular surtitles were created in the 1940s by composer Antal Dorati and James Gibson. Some might find their banality wearisome ("Awfully sad as this may be/Thinking's not our cup of tea"), others will find them funny. But should satire simply be funny? Shouldn't it also be savage?
There are, though, times when both verse and action do hint at danger and dark undercurrents – the Act 2 battle scene, for instance, where soldiers fall while adversaries in Russian revolutionary uniforms celebrate. Meanwhile, the dead sons sit back-to-back in their sailor suits. Nanny (having already shown her dominatrix side in a bedroom massage scene) is now transformed into a strutting, striding sergeant-major: "War is war and not a game/All of you may get the same," she sings, pointing disquietingly at us, the audience.
In the middle of Act 2, the Queen of Shemakha, Dodon's beautiful foe, (soprano Paula Sides) emerges from her tent, exotic in green silk robes and peacock feather headdress, and appearing to be in a different opera altogether – certainly from that of Edward Hawkins as the slapstick general: "Don't be such a silly ass/You're embarrassing the lass".
The act itself starts to drag embarrassingly as the king offers to spank her and she demands he dance (badly) for her. Her kiss with the general is similarly over-extended, especially given his Norman Wisdom-like response. And the phallic gun-carriage joke is cartoon-silly.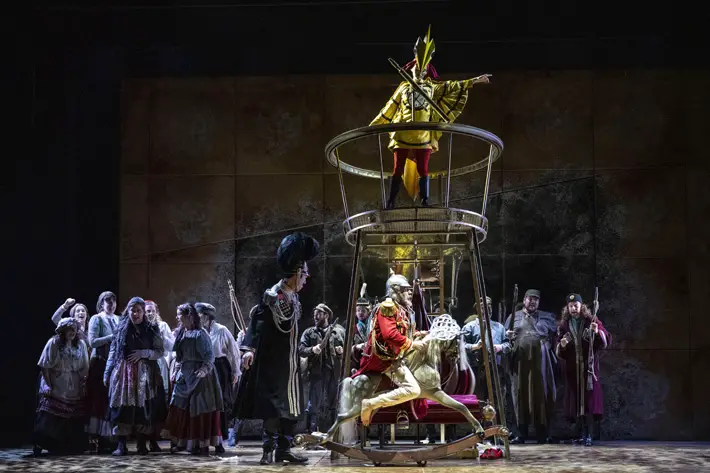 "Sensuous melodies"
Before that, however, we've had the queen's glorious 'Hymn to the Sun', the opera's most famous number, sung with impressive precision, if perhaps not always as sweetly yielding as it could be. There is seductive regal grace in all Sides's movements, though, even in the wedding scene, when she appears in her bridal outfit astride a rocking-horse, only to be claimed by the Astrologer as his reward. This is the point at which the couple morph most obviously into Rasputin and the mesmerised Empress Alexandra.
Rimsky-Korsakov's score is full of sensuous melodies, some with an oriental Scheherazade (his most famous work) feel. The 24-strong orchestra, conducted by Gerry Cornelius, and with a reduced orchestration by Iain Farrington, can't always do justice to its lushness and brilliance, so the sound can sometimes seem pared-back.
Robert Lewis's Astrologer has a strong vocal presence, hitting high notes with flair. In the title role, Alys Mererid Roberts is a delight, with her egg-yolk face, jerky movements, inquisitive looks, clock-face costume and her bright, clear soprano voice.
The chorus are excellent throughout and particularly moving in the startlingly powerful Act 3, when the war is over but the sense of foreboding lingers. As the gullible/subservient public watch the wedding procession, and the music becomes discordant, they sing: "What a splendid celebration/Paid by us from our taxation".
So, while it may not be as biting as it could be, there is much in this unusual production to reflect on: "While we had our conferences/They have strengthened their defences"…
'The Golden Cockerel' is at York Theatre Royal on Saturday 9th April
More information: englishtouringopera.org.uk