Magic Goes Wrong – Review – York Theatre Royal
By Roger Crow, April 2022
A few years ago I interviewed Penn and Teller, the kings of magic, about some show or other, which was remarkable not least because I had never heard the quiet one speak. Yes, Penn Jillette was loud enough for both of them, but one thing was clear during those few minutes we spent on the phone: these were very smart cookies, and if you're going to put on a misfire magic show, it helps to have folks who really know what they're doing as behind the scenes creatives.
Of course Mischief theatre's 'Goes Wrong' brand has been a phenomenon over the years. I've laughed myself silly a couple of times over The Play That Goes Wrong, which was all the more remarkable considering the first time I saw it, the seat was a restricted view, so I missed out on most of the action; in a way it actually added to the experience.
Then there was The Comedy About a Bank Robbery, one of my favourite shows of recent years. But would the hapless magic comedy act work when a genius like Tommy Cooper had been doing this sort of thing before most of the cast were born? Well of course it would, and does.
The format is a charity fund raiser for all the poor magicians and tech crew who have died on stage over the years. The host is Sophisticato (Sam Hill), a likeable magician who, as we discover through a spot of over sharing, has parental issues with his late dad, who was also a stage sorcerer.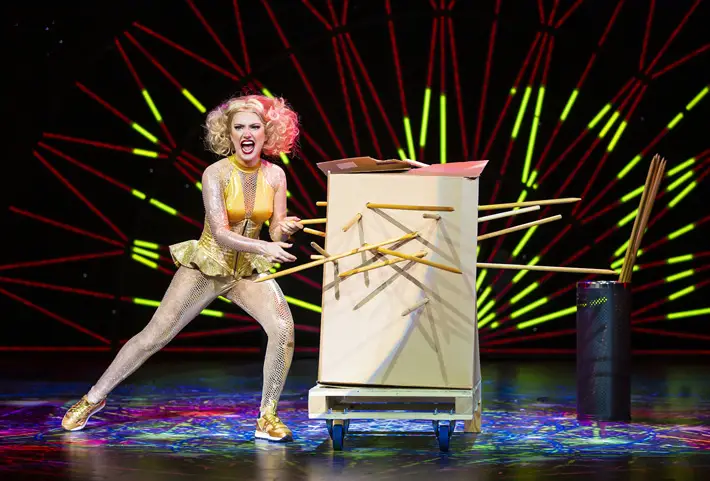 "Comedy, peril and drama"
There's a Geordie mentalist called the Mind Mangler (Rory Fairburn), who attempts to guess peoples' names and occupations. His accomplice Mickey (Daniel Anthony) pretends he's never met before (yes, that old one).
The strangely affecting German duo Spitzmaus (Jocelyn Prah) and Bar (Chloe Tannenbaum) add glamour and acts of contortion that will have you doubled up with laughter, or at least tickle a few ribs. And there's the obligatory sawing-a-woman-in-half routine, which has wonderfully dark consequences.
No magic show would be complete without an OTT American illusionist, and The Blade (Kiefer Moriarty) is a hoot, especially when it comes to trying to trying to cheat mouse traps.
Plenty of other boxes are also ticked, or pierced with sticks, all in the name of giggles, and the cast do a brilliant job of treading that line between comedy, peril and drama.
For every two things that go wrong, at least one must go right, but seeing how the gags are done, without giving too much away is a splendid way of keeping the audience on side. Obviously we want a peek behind 'the curtain' to see the mechanics of the trick, but not too much of a look.
As the Catch Me if You Can movies proved, this stuff doesn't work on the big screen, so stage magic is always the best way to see any such show, even if a lot of the stuff here doesn't work. By design.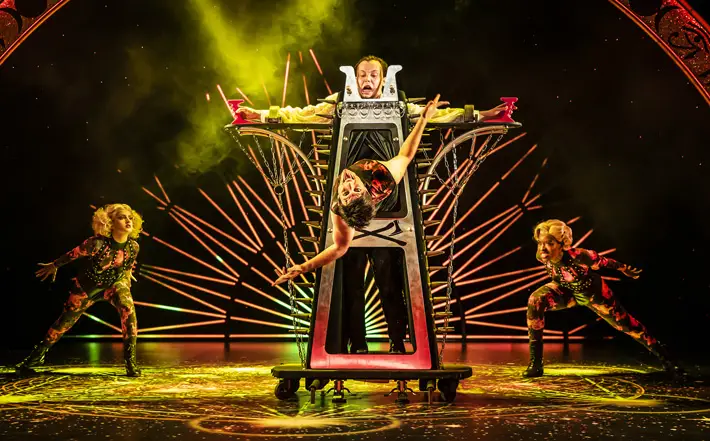 "Daft as a hat full of rabbits"
Thankfully running gags about the fund raiser and malfunctioning illuminated letters on stage keep the masses giggling throughout.
By the second act things really kick into gear, not least thanks to a spot of audience participation. An act involving The Blade's attempt to hold his breath in a tank of water while our host carries out a card trick goes on a little long, but full marks to the plucky member of the audience who reminds us how many minutes have elapsed. Will the submerged illusionist survive his watery fate? Well, you'll have to see the show for that answer.
Yes, it's as daft as a hat full of rabbits, and there are times it reminds me of golden era The Muppet Show (one of the highest accolades I can bestow on any comedy stage show).
If you love magic and laughs, then it's a no-brainer: a top night out which turns a well-worn genre on its head.
Stephen Fry called it 'Joyously silly and entirely wonderful'. He's not wrong.