The Likely Lads DVD Collection – Review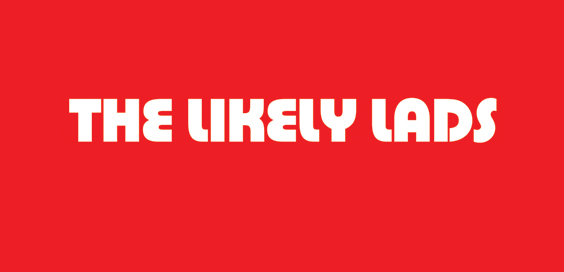 By James Robinson
No other series has so captured the incredible changes in British culture that took place during the 1960s than The Likely Lads and its sequel Whatever Happened to the Likely Lads.
The former, first broadcast between 1964 and 1966, is kitchen-sink comedy. In smeary black and white we follow the adventures of Bob Ferris (Rodney Bewes) and Terry Collier (James Bolam), two solidly working class electricians who live with their families in two-up two-down terraced houses on the old streets of Newcastle. In the final episode, Terry joins the army.
When the story continues six years later, in Whatever Happened To… this world of grubby front rooms, fags and bitter has vanished. Terry returns from the forces to find that Britain is now a post-swinging country of new estates, flared trousers, dinner parties and suburban contentment, all presented in living colour. Worse, Bob has established himself very comfortably amongst the middle classes. Much of the comedy arises from Terry's feeling resolutely out of place in the new permissive society; Britain might have changed, but he certainly hasn't.
It's interesting to note how, in hindsight, the more anachronistic aspects of man-out-of-time Terry no longer stand out. Much of Bob's bijou tastes in bouffant hair, flares and lifestyle show their age much more obviously than Terry's cropped hair, narrow trousers and narrower mind. The schisms between the pair: Bob's optimism, aspiration, liberalism – Terry's cynicism, traditionalism and tribalism, are as relevant as ever, proving the old adage that the more things change the more they stay the same.
"Unreconstructed banter"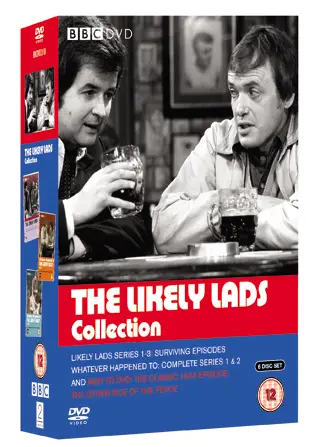 It is testament to the first class writing from the always reliable Ian La Frenais and Dick Clement that both series hold up so well. Throughout their career – which also includes such perennials as Porridge and Lovejoy – their scripts have stood out for the depth of their characters as well as their wit. Bob and Terry feel like real, rounded individuals, not merely archetypes whose only function is to deliver jokes. The frequently elegiac dialogue in Whatever Happened to… in particular has the same earthy, wisdom-of-the-streets flavour that would later characterise Frenais and Clement's later masterpiece, Auf Weidersehn, Pet.
The original series, of which only nine episodes survive, is more straightforwardly formulaic, focusing mainly on Bob and Terry's relentless pursuit of women. Despite much being made of Bob's long-term romance of fiancée Thelma in the sequel, here she only appears fleetingly, one of many 'tidy pieces'.
But while some of their unreconstructed banter, all 'birds' and 'bit of all right', sounds a bit coarse by 2018's refined sensibilities, the female characters are not generally relegated to mere stooges. In particular, Terry's older sister Audrey (Terry and June's Sheila Fearn) plays a key role in puncturing the boys' egos.
"Iconic series"
Fifty years down the line, there are also plenty of elements of Whatever Happened to… that seem amusingly outdated; Bob's suits, the chain smoking and a languid attitude to drinking (in one episode Bob orders a lager because he has to drive to later) certainly stand out. The famous episode where the pair attempt to avoid learning the football scores would be completely redundant in this age of smartphones.
And yet, life on the new-build estates of 1971 Britain doesn't ever seem quite so alien and vanished a civilisation to 2018 eyes as its 1964 equivalent already did to everybody but Terry in 1971.
So let's raise a glass of brown ale to the pair of them, and marvel too, as they apparently pay for two beers and two brandies ('big'uns') with a single 50 pence coin.
The surviving episodes of the 1960's series and the complete Whatever Happened To… are available in a BBC boxset, although it's a shame that such an iconic series has never been graced with any extras, particularly now that Bewes is no longer around to share his stories.
'The Likely Lads Collection' from the BBC is out now from Amazon and major supermarkets