Feel-good rock with a message from the DMV area in the US…
What's the title of your latest release, and what does it mean to you?
We just released our latest single 'They Don't Care'. The song is inspired by the on-going conflict in Palestine and abuse of power in Mexico. This song means a lot to us because as musicians we are determined to raise the volume on social injustice and abuse of power via our music
What was the hardest part about putting this release together, and why?
Whenever you talk about social injustice there are going to be people with or against your world view and we knew some of our fans might not agree but we decided to speak up and raise awareness.
Who produced the release – what did they bring to it?
'They Don't Care' was produced by Karno B Music who does a wide range of genres and we felt he could add the touches we were looking for this song combining the powerful guitar sound and riffs.
What do you want the listener to take away from listening to your music?
I read that music gives a soul to the listener and if we can connect with them on that level then there is no greater reward for us.
How does a track normally come together? Can you tell us something about the process?
These last two years there's been a lot going on in our world so a lot of the lyrics came from world events, then the guitar and bassline just came together. Hard to explain it, you just pick up your instrument and your hands kind of do the rest.
What band/artists have influenced you the most since you started this project, and why?
Our songs are heavily influenced by great bands coming out of that 90's grunge era such as Nirvana, Pearl Jam, Foo Fighters and Soundgarden to name a few.
What countries would you like to tour? Are there any standout venues you'd like to play in?
We'd love to play in Argentina, Brazil and Mexico. Great fans – and we'd love to play Wembley Stadium and Madison Square Garden.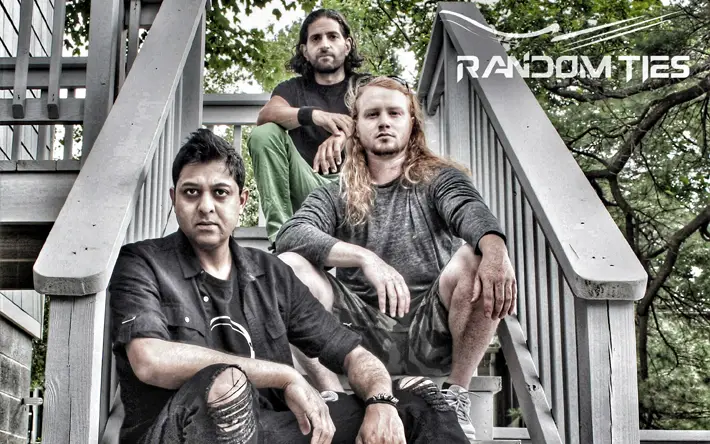 If you could pick one track for our readers to listen to in order to get a taste of your music, what would you pick, and why?
Tough one. I'll go with 'Week 39' since its approaching the one year anniversary and it was written right before I become a first time dad.
What ambitions do you have for the band/your career?
Continue making music by being consistent in our releases and play as many shows as we can across the globe no matter what the venue size is.
Finally, as you leave the stage, what are your parting words?
We'd like to thank you for giving us a voice and an opportunity to get our music out there and to your readers who we are looking forward to connecting with via our social media – and soon in person in one of our upcoming shows. Keep Rocking.
For more info visit: facebook.com/randomtiesofficial