Genre spinning singer-songwriter from Melbourne…
What's the title of your latest release, and what does it mean to you?
My latest release is a pair of songs titled 'Duology One'. This release is the first of my 'duologies' that I will be releasing throughout 2021. This first Duology includes my songs 'Bigger Than Me' and 'Readymade', and both of these songs mean a lot to me as they are both about my relationship with art. 'Bigger Than Me' is a very public display of affection towards creativity, describing it as an outer force that we are all merely vessels for, whereas Readymade is a more private ode/love letter to creativity in the form of a 3/4 ballad.
What was the hardest part about putting this release together, and why?
I think probably just waiting for it to be released! We had plans to put this Duology out mid-last year, but the circumstances of the global pandemic meant that our plans changed quite a bit. So, I'm very pleased that it's finally out in the world now.
Who produced the release – what did they bring to it?
'Bigger Than Me' was co-produced by Robby De Sa and Dylan Nash, two producers that I have worked with and looked up to for quite a while now. Dylan put the demo together, and came up with a range of really interesting, unique sounds and an epic arrangement. Robby then continued that production, and it was liking watching the song go from being a mesmerising rooftop garden, to an enchanting, wild forest. I just love how lush the song became over time. Robby also produced Readymade, making it feel vulnerable and delicate, yet anthemic and bold at the same time.
"I love disappearing into my own world"
What do you want the listener to take away from listening to your music?
My end goal is that I would love for people to hear my music and feel inspired to make something themselves. One of my favourite feelings is allowing myself to be consumed by a really good film, book or record, and directly take that overwhelming sense of inspiration and direct it towards making my own thing. One day I'd love to make others feel that way through my work.
How does a track normally come together? Can you tell us something about the process?
I think all of my songs have come together in a slightly different way, but at the moment I usually take a concept or a feeling into a co-writing session, talk about that concept with my collaborators for a bit, and then try to come up with both lyrics and melodies as someone is producing the track. That's my favourite way to work right now. I love disappearing into my own world in those sessions for a bit, and the producer doing the same, before we mesh our ideas together and make something great.
What band/artists have influenced you the most since you started this project, and why?
There are so many artists who have influenced my project but I'm going to speak about three specific female artists that I feel have been particularly pivotal. Missy Higgins was the first artist that truly made me believe that I too could pursue music as a career. She had a similar vocal range to me and was Australian, and totally killing the game. Then Taylor Swift, for obvious reasons. I feel like she has so strongly influenced so many artists in the way that she has me. Also, Laura Marling had a huge impact on my music and made me take songwriting so much more seriously. I definitely wouldn't be the artist that I am now if it weren't for those three women.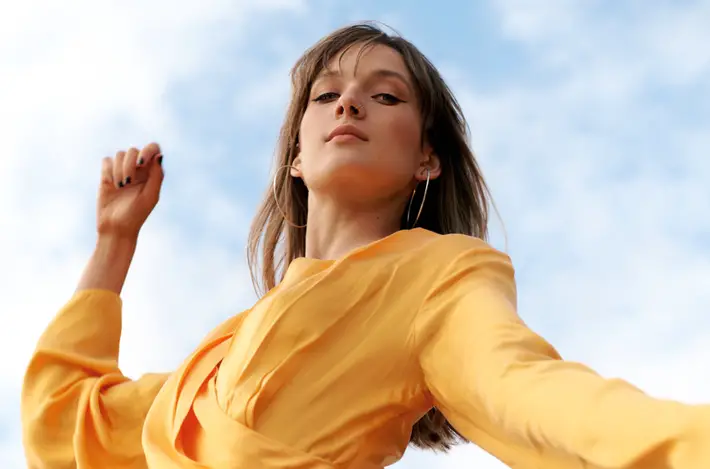 "I just want to play shows so badly"
What countries would you like to tour? Are there any standout venues you'd like to play in?
I would love to tour America again. I would tour America forever if I could! And also the U.K. I've played quite a few shows in London but would love to play in other parts of the U.K for sure, I love that part of the world very much.
If you could pick one track for our readers to listen to in order to get a taste of your music, what would you pick, and why?
Oh it would be way too difficult for me to pick just one song! I will say though, my favourite song in the entire world 'One Day Like This' by Elbow, showcases a lot of elements that I try to emulate in my sound. It's very cinematic, singing about big feelings, there's a lush string arrangement… those are definitely themes within the music I am releasing at the moment.
What ambitions do you have for the band/your career?
I would love to be a touring artist. Like, I just want to play shows so badly. If I get to do a theatre tour one day, that would be the best thing ever.
Finally, as you leave the stage, what are your parting words?
My parting words when I leave the stage are usually along the lines of 'thank you so much for listening, my name's Gretta Ray.' Pretty basic stuff!
For more info visit: facebook.com/grettaraymusic