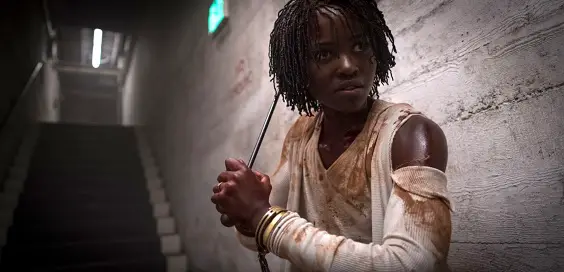 Director: Jordan Peele
Cast: Lupita Nyong'o, Winston Duke, Elisabeth Moss
Certificate: 15
by Roger Crow / @RogerCrow
A few minutes after seeing the new film from Get Out's Jordan Peele, my gut reaction to Us is it's one of the best movies of the decade. Okay, bold words. Some films soon go off the boil a day or two after seeing them, but this has just the right mix of comedy, horror, conspiracy theory, siege mentality and more to keep genre fans rubbing their hands with glee and academics stroking their chins over the true meaning of this, that or the other.
It begins with an African American family at a fairground. Mum goes to the loo, dad is busy playing a game, so daughter slips away with a toffee apple and goes to a hall of mirrors. There she sees something that terrifies her so much, she goes into a PTSD-like state. Whatever went on in that attraction was not good.
"Recurring numbers and symbols"
Fast forward to present day, and she's an adult with a loving husband, a young son with a fondness for masks and magic tricks and a daughter obsessed with her phone. They innocently return to the scene of the crime on holiday and meet up with some friends. They shoot the breeze, discuss trivial matters like dad's boat, and then when the family are all settled down in their rent a cabin, strange things start happening.
There's somebody out there and it's obvious they're not stopping by to borrow a cup of sugar.
Hidden within the movie are recurring numbers and symbols which may or may not be important. You decide. There's also rabbits. Lots of them. A throwback to Get Out's 'Run Rabbit Run' during the early minutes? Possibly.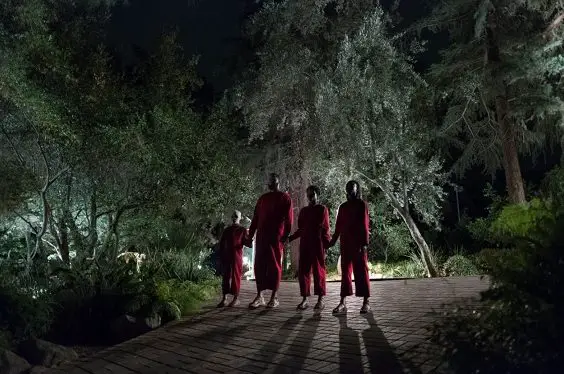 "Gloriously witty"
The cast are mostly terrific. The initially modest premise turns out to be surprisingly more epic than many thrillers of this type, and the soundtrack is superb. Peele really knows how to get the most scares for his money, but there are also some gloriously witty throwaway lines. There are times when it goes a bit too far, but rather a film go too far than not far enough.
Get out of the house and go and see Us. It's an experience you may never forget.
9/10