Red Rum Club – Live Review – Brudenell Social Club, Leeds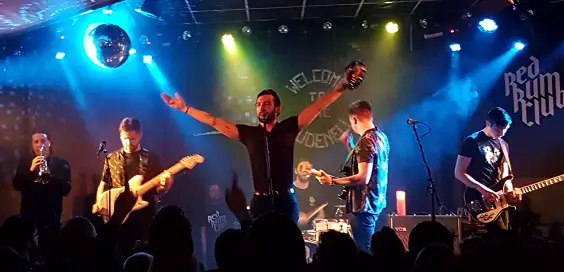 By David Schuster, March 2019
Prior to Red Rum Club appearing, there's the usual flurry of activity on stage at Leeds Brudenell; mic stands are being adjusted, guitars leaned against amps and a sound engineer tapes cables to the floor reducing the possibility of one of the band tripping embarrassingly into the crowd. A roadie carefully places a trumpet to the side of the stage. Hmmm. That's not usual. More strangeness follows: Someone else begins to place church candles on top of the speaker stacks, then strews the stage with masses of artificial red roses. All this tells you that you're about to witness something really quite different!
The stage lights dim, the trumpet sounds a long, plaintive, warbling note, and suddenly we're transported to a seedy cantina in old Mexico. Singer Francis Doran strides on, looking like he means business, grabs a bottle of water and upends it over his head, spraying those at the front of the stage with a shake of his flowing locks. Meanwhile the six-piece rip into 'Angeline', from their debut album Matador, released earlier this year. For those unfamiliar with Red Rum Club's sound, the name of the record tells you everything you need to know; fast and furious guitars over Hispanic style drums and bass, with clear brass notes soaring out intermittently. Imagine the scenes in the Titty Twister bar of Tarantino's vampire flick From Dusk Till Dawn, and you get the vibe that they project.
"Mariachi-on-speed"
Three more great tracks from that release quickly follow, 'Remedy (To Clean A Dirty Soul)', 'Hung Up' and 'Cassanova'. All are in the same mariachi-on-speed vein. "His soul is a stained one. He can't get his hands on, the remedy," sings Fran, slapping a tambourine, the sound of which, surprisingly, holds its own in the music. There's a fantastic moment where the rest of the group ululate in middle-eastern style as the charismatic frontman sings "I'll be your Cassanova."
There's a pause whilst everyone catches their breath, and Doran introduces the rest of the group; Tom Williams and Michael McDermott are on guitars and backing vocals, bass man Simon Hepworth and Neil Lawson on drums. "And," says the singer, smirking, "the man you've all come to see; Joe the Blow." That's Joe Corby, to those of us who don't know him that well. Like great horn players the world over, Corby looks like he's on the verge of a heart attack most of the time that he's playing, puffing out his cheeks and going an alarming shade of purple in the face.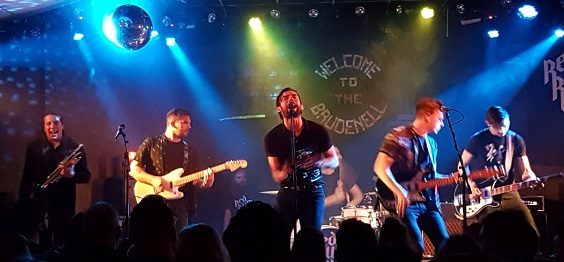 "Make a great Eurovision entry"
Red Rum Club evolved their sound quite markedly through the tracks on Matador, the overt Latin persona giving way to something more generically alt-rock. It's still a very engaging sound, but more mellow, like Mancunian band James, who have used Andy Diagram on trumpet to great effect, or Vampire Weekend. It's not a bad thing, giving the group more scope to change musically direction periodically. After all, it didn't harm U2 or REM. It won't hurt either that they're a good-looking bunch, young blokes with crisp haircuts, apart from Doran, with his swarthy looks. After all the Spanish atmosphere it's quite a shock to hear the singer's rich Liverpudlian accent, I'd forgotten it was an act.
They play 'Nobody Gets Out Alive' and 'TV Said So', which are both radio friendly, catchy tunes, and a new track, 'Friend of a Friend' which isn't on the album. "You're welcome!" Says the singer, introducing it. It's got an international feel, and I think it would make a great Eurovision entry, no offence intended! All the musicians put their heart and soul into the performances, the singer tugging his shirt and beating his chest in a way that reminds me of Future Islands, but less scary.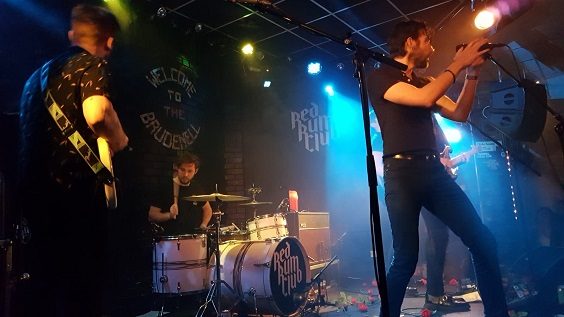 "Engaging candour"
He spots someone dancing enthusiastically at the back of the room and invites them down to the front. Explaining that 'Alone Together' is a song made to dance to. He's not wrong, it's got a great uplifting chorus and distinctive trumpet arpeggio. They close with their best-known number, the laid-back 'Would You Rather Be Lonely' and uniquely, rather than doing an encore, perform two reprises of the chorus of this to finish.
Just before they play this last song, Doran thanks the audience for coming and, with engaging candour, tells us that the band worried that they wouldn't fill a venue the size of Brudenell, the largest on their tour. They needn't have worried, from the reaction of the people around me, I'm sure they'll soon be playing to much larger crowds.
images: Gail Schuster