Under The Tree (2017) – Film Review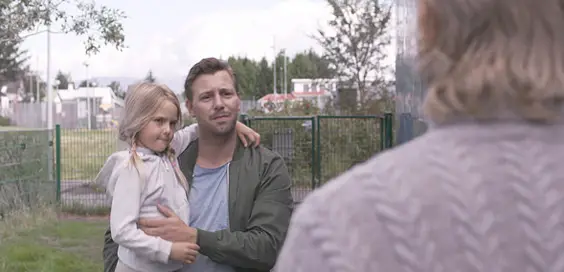 Director: Hafsteinn Gunnar Sigurðsson
Stars: Steinþór Hróar Steinþórsson, Edda Björgvinsdóttir, Sigurður Sigurjónsson
Certificate: 15
by Sarah Morgan
I know what it's like to fall out with the neighbours having had a parking dispute with mine. It was stressful and most unpleasant, but thank goodness it didn't end up the same way as the argument in Under the Tree.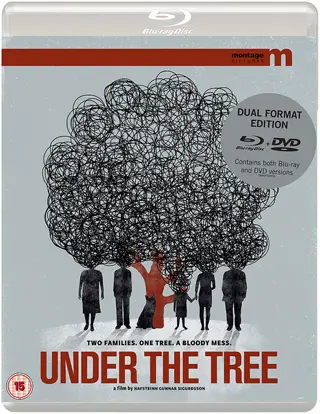 I've got to admit that before this film came along, I hadn't seen an Icelandic movie before; if they're all as impressive as this, then I will be happy to see some more.
The dark comedy-drama suggests that, despite being named as the fourth-happiest country to live in the world, not all Icelanders are joyful souls.
"Bizarre events"
The film begins as married young father Atli is found watching a sex tape of himself with another woman by his wife Agnes. She promptly throws him out, forcing him to return to the home of his parents, Inga and Baldvin, who are struggling to cope with the disappearance of their eldest son, who is assumed to have committed suicide, although a body has ever been found.
Inga's grasp on reality is shaky at best, and she seems to be pushed over the edge completely by her neighbours Konrad and his younger, fitness fanatic wife Eyborg. They want them to trim back their mature tree which is casting a shadow over the patio on which Eyborg likes to sunbathe.
Although Atli is trying to launch a custody claim for his daughter, he becomes increasingly embroiled in his parents' world as a series of bizarre events take place.
"Intriguing character studies"
They believe Konrad and Eyborg have launched a spiteful campaign against them, and Inga retaliates in a tit-for-tat fashion, a move that ends in tragedy – and yet in spite of yourself, you will probably be left smiling by the extraordinary denouement.
The film is the brainchild of director Hafsteinn Gunnar Sigurðsson, who also wrote the screenplay. It's only his third feature, and if he carries on creating such intriguing character studies, he's sure to be snapped up by Hollywood – Under the Tree already has the look and feel of an independent US movie.
He's undoubtedly helped by strong performances from the leading cast, in particular Steinþór Hróar Steinþórsson as Atli, a man caught – literally – with his pants down, and Edda Björgvinsdóttir, a familiar face to Icelandic audiences, as his troubled mother Inga, whose behaviour is the catalyst for everything that happens.
7/10
'Under The Tree' is released by Eureka, £12.99