Troll: The Complete Collection – Film Review
Directors: John Carl Buechler (Troll)
Claudio Fragasso (Troll 2)
Michael Stephenson (Best Worst Movie)
Cast (Troll): Noah Hathaway, Sonny Bono, Julia Louis-Dreyfus
Certificate: 18
by Sarah Morgan
When somebody asks you if you'd like to review the worst film ever made, it feels like a challenge. You brace yourself for something that's probably going to be boring, appallingly acted and badly made – remember, this is time you're never going to get back and you assume you're not going to gain anything rewarding from it.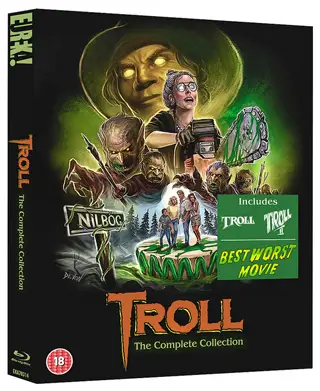 So imagine my surprise when I took up that challenge and was pleasantly surprised by what I found. This Troll franchise box set is rather good. The first Troll film is a typical tongue-in-cheek 1980s horror comedy romp about a family who move into a new apartment, little realising it's the homestead of a group of miniature monsters who quickly take possession of their daughter.
"Something rather charming"
It's then up to their son and his new friend, a neighbour with a mysterious past, to save the residents and free his sister. With a cast including Michael Moriarty, Shelley Hack, Julia Louis-Dreyfus and a bunch of creatures that look more like lovable characters from Labyrinth than a genuine horror film, it's an entertaining if silly watch.
It's actually Troll 2 that has been given the label of the worst film ever made, thanks to a disastrous rating on the IMDb. Make no mistake, it's far from a good movie; the acting is, by and large, terrible, the special effects awful and the story makes little sense, but there is something about it that is rather charming. Perhaps it's because everyone is giving their all that makes it appealing.
The really odd thing is that it doesn't actually include any trolls – the villains are goblins, and are repeatedly called that. Trolls are never mentioned. The film wasn't even made as a sequel, but as a low-budget chiller in its own right.
"Enthralling"
What is extraordinary is that in the US, Troll 2 has a huge cult following, with sell-out screenings attended by the cast and crew.
The extra disc in this collection features Best Worst Movie, an amazing documentary made by Michael Stephenson, a former child actor who had a starring role in the film. It's one of the most fascinating and enthralling features about a movie I've ever seen, encapsulating what it is to be involved in a major flop, its impact on lives and careers and the nature of fandom.
It is, at turns, moving and hilarious – a must for cinema fans everywhere.
10/10 (for the documentary alone)
'Troll: The Complete Collection' is released on Blu-ray by Eureka, £19.99