So Dark the Night (1946) – Film Review
Director: Joseph H. Lewis
Cast: Steven Geray, Micheline Cheirel, Eugene Borden
Certificate: 12
by Sarah Morgan
For the most part, when watching a film, you have a pretty good idea of who's a good guy and who is bad thanks to the actors playing them. You expect stars to be heroes, to carry the film and be, by and large, sympathetic. However, when a cast is completely unfamiliar, that shakes things up a little – who can the viewer trust?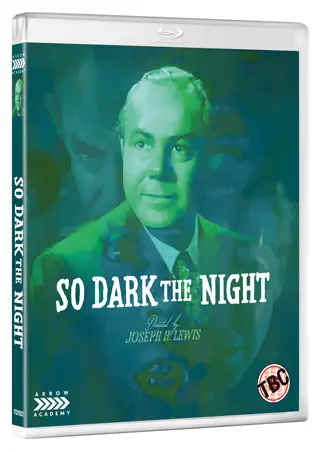 So Dark the Night has a cast of performers who will probably have been largely unknown to audiences in 1946, when the film was released, and I imagine are now completely forgotten – it isn't often I don't recognise anybody in a Hollywood movie, but these were all strangers. Frankly, I like that – it completely takes away any preconceptions.
The plot initially seems like a run-of-the-mill police thriller. At its heart is Inspector Cassin, a famous Paris detective who is exhausted after tackling a string of high-profile cases. His superior officer sends him off to the countryside for a relaxing break, during which Cassin falls in love with a local girl.
"Unexpected turn"
They agree to marry, but she's already engaged to a farmer who doesn't take the news well. In fact, he threatens the couple; shortly afterwards both he and the girl are found strangled, leaving Cassin distraught and determined to find out whodunit.
Up to this point, So Dark the Night looks and feels like an adaptation of a Hercule Poirot or Maigret novel, but it takes an unexpected turn.
The film was directed by Joseph H Lewis, who deserves to be far better known; he is a rather brilliant director of film noir whose more famous projects include My Name Is Julia Ross and Gun Crazy. As ever, Lewis adopts an inventive visual approach that never detracts from the story, but lifts it out of the ordinary.
"Sucker punch"
Heading the cast is Hungarian character actor Steven Geray, who had small roles in Alfred Hitchcock's Spellbound and To Catch a Thief. Whether Hitchcock ever saw So Dark the Night is unknown, but the Master of Suspense would have been proud to have made something that lulls viewers into a false sense of security before hitting them with a sucker punch.
The blu-ray restoration has been well done, and there are a number of special features to enjoy, including an audio commentary from film critics Glenn Kenny and Farran Smith Nehme, as well as an analysis by film expert Imogen Sara Smith.
7/10
'So Dark the Night' is released on Blu-ray by Arrow Academy, £24.99