Marionette Land (2021) – Film Review
By Roger Crow
Chances are you've never heard of Robert Brock, the sixty something owner of the Lancaster Marionette Theatre. He's flamboyant, eccentric and a man of many talents whose passion for putting on shows is hugely engaging.
The perfect focus for Alexander Monelli's feature-length documentary.
Brock lives above the tiny theatre with his 85-year-old mother, Mary Lou. Their occasionally spiky relationship is just one of the many aspects of a compelling study of obsession and keeping showbiz dreams alive.
Mother and son rarely eat dinner together; they have their own space, and that seems to suit them fine. Even though it's obviously not that fine.
Marionette Land is an often painful study of a man who has suffered from mental health problems, but has such a single-minded focus on his dreams, that he wins the viewer over from minute one.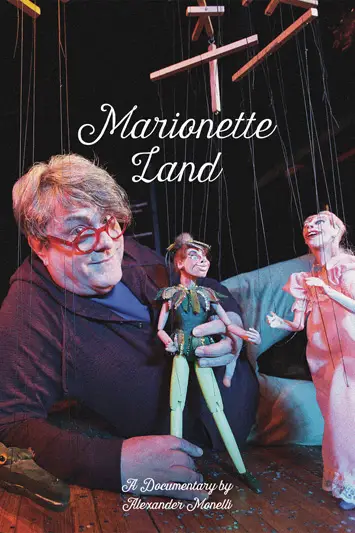 A lovely moment reveals how he creates all of his marionettes from scratch, and one of the funniest is when he explains how he's true to JM Barrie's idea of Peter Pan's costume, using leaves for inspiration, but sequins are most definitely his own idea. That's showbusiness in a nutshell.
"Fabulous"
Robert adapts and performs family shows like Peter Pan and Wizard of Oz, and also decides to bring back his "grown-up" cabaret show, 'Divas and Dames'.
Brock dresses up and performs as Judy Garland, Liza Minnelli, Carol Channing, and other famous Hollywood stars of the past. Though he's overweight, you have to admire his passion for the project as he squeezes into tights and elaborate costumes.
With all eyes on the 30th anniversary of the theatre, that third act rug-pull which affects most post-2019 docs is revealed with heartbreaking predictability.
As Robert deals with Covid, his dreams are put on hold. With no paying customers, the future of the theatre looks bleak.
However, the best scene is saved for last. A perfectly crafted moment which I'll not spoil here, but is just the happy ending of sorts that the documentary needs.
Bonus DVD features include over 17 minutes of deleted scenes, two Q&A sessions from the Philadelphia Film Festival and Omaha Film Festival, and an audio commentary with director Alexander Monelli and star Robert.
A fabulous piece of work that deserves a huge audience.
9/10
Marionette Land is avaialble on DVD from MVD