Ex Machina (2014) – Film Review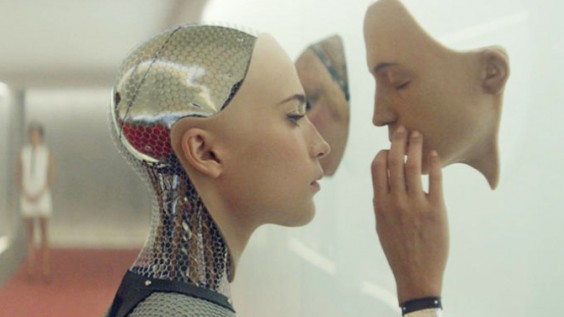 Director: Alex Garland
Cast: Oscar Isaac, Domhnall Gleeson, Alicia Vikander
Certificate: 15
by Jen Grimble
Cinema generally observes social and cultural trends. Since advance-technology is our generational crutch, modern movies follow suit. I don't mean pre-millennium portrayals of extreme fictional futures. But movies that take our current innovations and develop new realms of possibility. Spielberg's A.I and Pedro Almodóvar's, The Skin I Live In are prime examples.
The latest offering of its kind, techno-sci-fi flick Ex Machina, is as much a classic psychological thriller as an exploration of modernity. The film is the directorial debut of Alex Garland. He is the novelist and screenwriter who brought us The Beach and 28 Days Later. There is an obvious theme to Garland's work; the instability of the human psyche. He deals with people on the edge; intense would-be page-turners. He has tested the 'Big Brother' concept, the post-apocalyptic fallout, and even the notion of synthetic life in his adaptation of Ishiguro's, Never Let Me Go. With Ex Machina, Garland hints at all three of these themes. Yet old ground is rejuvenated in this modern dystopian movie. It shows sci-fi in its most flattering light.
Within seconds the film finds its subject. Caleb (Domhnall Gleeson), a young coder at global search engine firm Blue Book, wins the staff lottery. This is a live-in week with the company's elusive billionaire director, Nathan (Oscar Isaac). Helicoptering over mountains and impressive glaciers, Caleb arrives at the secretive hill-top estate as a naïve, self-conscious 26-year-old.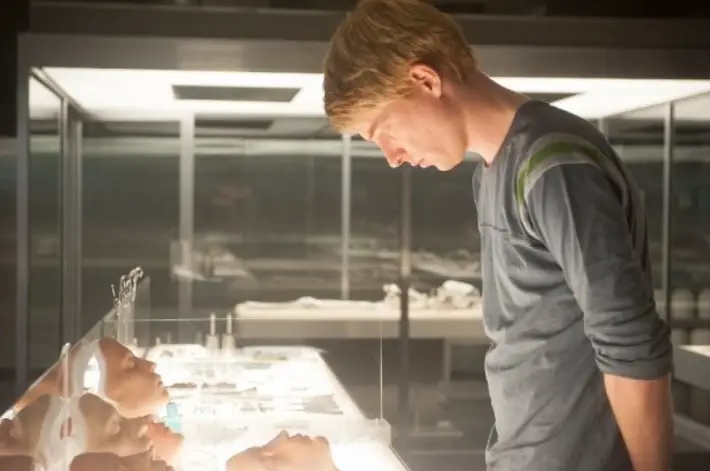 "Disturbing exploration of voyeurism and greed"
Nathan quickly talks Caleb into signing a waiver. In it he agrees to take part in an experiment with Blue Book's latest invention. The purpose is to test the overtly life-like robot, Ava (Alicia Vikander), over the course of several sessions. Their aim is to see if she has the capability to feel and behave like a human. Caleb must decide whether Ava has real consciousness, or is merely programmed to respond a certain way.
So when he begins to realise that his boss isn't all that he seems and Ava shows signs of emotional distress, Caleb's world quickly unravels. The balance of human and machine tips and we soon begin to question who is really being tested. We are drawn into a world of deceit and confusion. There, the dimensions of genre, sexuality and authenticity, mutate.
Ex Machina is a penetrating and disturbing exploration of voyeurism and greed. Gleeson and Isaac bring anticipation and anxiety to every scene. Vikander distorts the limits of machinery, with a strikingly credible and imaginative performance. Ex Machina offers moments reminiscent of Black Swan and  The Skin I Live In. Paranoia and the rules of attraction are dissected and rebuilt.
Garland's debut is brazen, dynamic and hauntingly socialist. He creates a landscape where technology and humanity intertwine, where games morph the limits of reality and sanity. As an Edgar Allen Poe-esque tale, Ex Machina is an insight into modernity and the human minds that create and control its technology. With all the symbolism and power of art house cinema and the fiery pulse of a Hollywood Blockbuster, Ex Machina is a contemporary juxtaposition, with a jaw-dropping conclusion.
8/10