Double Face (1969) – Film Review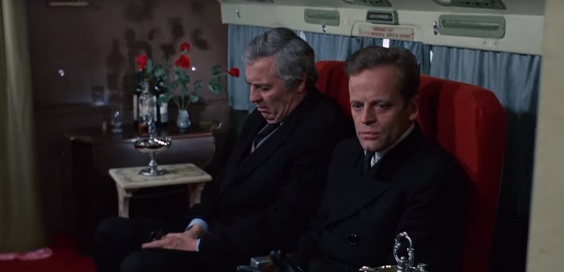 Director: Riccardo Freda
Cast: Klaus Kinski, Christiane Krüger, Günther Stoll
Certificate: 15
by Sarah Morgan
Edgar Wallace was a hugely prolific British author who died in 1932 while in Hollywood working on the script for King Kong. These days he's largely forgotten, but in 1960s West Germany, he enjoyed an amazing period of popularity, resulting in film adaptations of many of his works. This in turn led to a whole genre of hugely successful crime dramas known as 'krimi'.
I'm a Wallace fan but have only seen one German version of his work. It was terrible, almost completely unwatchable; I sat through it because of its cast, which included Christopher Lee and Klaus Kinski.
Although Double Face isn't based on a Wallace tale, it's still regarded as a 'krimi', and a far more impressive and stylish one than I was expecting (its German release actually featured Alfred Vohrer as Wallace, delivering a monologue).
"Pretty impressive"
The film also stars Kinski, but if you're expecting an over-the-top performance from him, such as those he delivered for his long-time collaborator Werner Herzog in the likes of Fitzcarraldo, Nosferatu the Vampyre and Aguirre, Wrath of God, then you're going to get a shock.
Instead, Kinski delivers a far more low-key portrayal, and it's pretty impressive stuff. He plays businessman John Alexander, whose beautiful wife Helen appears to be having a lesbian affair with a friend. Helen is then killed in a car crash, the resulting fireball destroying any identification marks on the corpse trapped inside.
But is she really dead? Alexander discovers a porn film that seems to star Helen, while other clues to her true fate continue to dog him. However, it soon becomes clear that nothing is quite as it seems…
"Genuinely stylish flourishes"
The film – and Italian-German co-production – was co-written by the so-called Godfather of Gore Lucio Fulci, and directed by Riccardo Freda under the pseudonym Richard Hampton. Freda was one of the earliest exponents of Italian Gothic horror cinema, having made I Vampiri and The Horrible Dr Hichcock.
There are some genuinely stylish flourishes here, although you get the impression that Dario Argento, the master of the Italian giallo movement, which Double Face would have fitted into neatly, might have done better with the limited and somewhat hackneyed screenplay.
There are, however, plenty of special features on the disc to enjoy, including a new interview with the film's composer, Nora Orlandi, as well as a separate documentary about her work. There's also a video essay about Freda and the movie itself from author and critic Amy Simmons.
6/10
'Double Face' is released on Blu-ray by Arrow, £24.99