An Interview with Nik Kershaw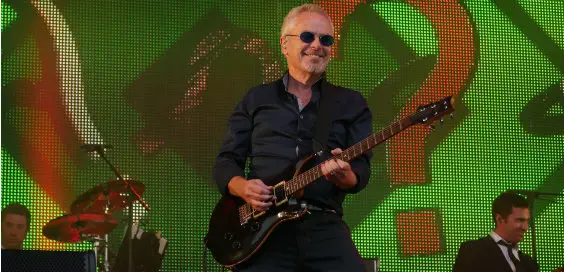 By Steve Crabtree – @stevecrab
I do love it when the length of your interview is in context with the person you're speaking to.  I had the pleasure of spending 15 minutes chatting to the singer songwriter, Nik Kershaw ahead of his appearance at the 80s Classics event in Millenium Square, Leeds at the end of July. And I found him to be an absolute gent.
He was in great spirits, and I asked him about the early days, the days between the 80s and now, and his thoughts of performing to Leeds with a whole orchestra behind him…
You started your career performing in bands such as Half Pint Hogg and Fusion in the 70s, doing rock, metal and jazz funk. So how did you get from that style of music, in to the 80s pop scene?
It wasn't a big move really. There wasn't really such a thing as an 80s pop scene when we were doing it, it was just like a natural progression. I listened to so many kinds of music when I was a kid so I had all sorts of influences. But I was in a band to make a living playing functions, and the jazz-funk with Fusion was just a bit of fun really. And the work sort of dried up, so I spent a year unemployed and writing songs and making demos; then hoiking them round record companies. I got lucky in late 1982 and got myself a deal with MCA, and it went from there.
In 1983 you charted for the first time with 'I Won't Let The Sun Go Down On Me'. It didn't make the top 40 first time round, but did you know then that it was a better song than a number 47?
Well it was all going according to plan. I just remember nobody panicking, because in those days you built a career. The idea in the first place was to get radio familiar with me, do a bit of PR and go round the country visiting record shops and radio stations. So the fact that it wasn't a massive hit at first wasn't a problem for anybody. It just kind of paved the way for the second single which was 'Wouldn't It Be Good' so when that came out, everybody knew who I was within the media. So that was handy!
You then had a brilliant few years. 'Dancing Girls', 'The Riddle', 'Wide Boy'… Did you just come out with these iconic songs? Did you just find it easy to write them?
In glorious hindsight it seemed easy! It always seems easy when people like what you do! It was hard work getting the record deal in the first place, but when I did get it I was surrounded by people who believed in me and believed in the project. So at one point it did all seem very easy: I had an idea, I wrote the song, recorded the song, released it and people bought it. You just assumed it was going to be like that for the rest of your life. So it was hard work, but you're kind of vibed with all this energy that comes with success and the creative energy follows.
Then you took to writing for other people, and you didn't do a bad job of that did you?
Well yeah – I got very lucky very early. I decided to take a back seat in the early 90s and write for other people. And pretty much the first one out of the bag was 'The One And Only' which was stuck on the shelf for a couple of years before Chesney Hawkes turned up. I had various degrees of success over the next ten years producing and writing, but ultimately I got frustrated. I'm a bit of a control freak, and there's so many other people you have to please. And the easiest way of controlling what was coming out was doing it for yourself, which is why I ended up doing it again from the end of the 90s onwards. When you write for other people, you write quite generic things and you're putting words in to other people's mouths. So I was writing about nothing in particular, and I didn't want that.
I remember reading 10/12 years ago that you weren't really keen on the whole 80's reboot kind of thing that was taking off back then. What was it that changed your mind?
Yeah – they had to drag me kicking and screaming! But yes, I left it in the first place because everybody goes through this stage and because I was still writing new things you go through a period of not wanting to be defined by what you did over a couple of years from 30 years ago. It can take the attention away from what you're doing now. But in the end I ran out of reasons to say no. I kept watching all my peers have all the fun so I thought "Why should't I celebrate those years and those songs?" And it's a lovely feeling to be able to stand on stage and it's great to be able to give people what they want and be appreciated for it.
At the end of the month in Leeds you're doing the 80s Classics show in Millenium Square. Have you performed a gig with an orchestra before? How does that compare to your regular band gigs?
Not in this country. I've done it on the continent a couple of times and it went very well. It's nice to hand over control to someone else. Although I do arrange strings, it's all kind of out of my comfort zone and it's just great to let other people sort that out. It's nice to be able to just turn up and join in.
You've got Jimmy Somerville, Carol Decker and Howard Jones alongside you at the 80s Classical concert. You've been on the same bill as some of them before, but do you go back far with any of them?
Well some of them I do, but back in the day everyone was always wrapped up in their little bubble, and they were always so busy. So you might bump in to people but then they're off in one part of the world and you're off in another. So you might not see them again for another couple of years. But I've developed some really great friendships doing the retro gigs over the last 10 years or so. I mean I've known Howard since back in the day, and Carol's first gig was supporting me in 1987 I think it was! So I've known them for a long time and know them quite well.
What else has Nik Kershaw got planned for the rest of 2019?
Well I've been recording, I've been doing bits and pieces for TV. And I'm also making an album as well so that's in progress and hopefully that'll be available in the first half of next year.
Any working title for the album?
No not really. I mean my last album was called Eight, so I've been calling this one 'After Eight', but I can't use that one can I?
I don't know – it's got a minty fresh feel about it?
[sympathetic laugh]
Last question. If you could take one Nik Kershaw song, and have one artist past or present, dead or alive to cover it; which song and artist would you choose, and why?
Ha. Ok that's an interesting question! Out of the hits I'd say 'Wouldn't It Be Good' because it was my first hit, and it's always been a real favourite to play live and we've never messed about with it. Who would I get to cover it? That's a good one… It'd have to be the Foo Fighters. Because they'd nail it.