The Private Life of Sherlock Holmes (1970) – Film Review
Director: Billy Wilder
Cast: Robert Stephens, Colin Blakely, Christopher Lee
Certificate: PG
by Sarah Morgan
Weirdly, I seem to have seen a quite lot of Robert Stephens movies recently. The sublime Prime of Miss Jean Brodie and the little-seen Lunch Hour have popped up on TV in recent weeks, while The Asphyx, in which he co-stars with an indestructible, immortal guinea pig (yes, really) proved to be a guilty DVD pleasure.
But as much as I enjoyed them all, none were quite as impressive as his starring role in The Private Life of Sherlock Holmes, a delightful film from none other than Billy Wilder.
Wilder is arguably best known for his esteemed comedies, including The Apartment, The Seven Year Itch and Some Like It Hot, but he was no stranger to darker works – Sunset Boulevard, The Lost Weekend and Double Indemnity are all classics.
His venture into the world of Sir Arthur Conan Doyle falls somewhere between the two; there are certainly some tongue-in-cheek moments where he (and co-writer I.A.L. Diamond) poke fun at the Holmes legend, but there are genuinely dramatic and heartfelt scenes too.
"Devious and entertaining"
The film contains two separate stories. The first focuses on a Russian ballerina's efforts to persuade Holmes to father her child; it's the weakest part of the production, so is mercifully short. The second is far more intriguing, simply as it features a crime and its investigation – two things you would expect from a Sherlock Holmes tale.
It all begins when a Belgian woman is fished out of the River Thames and brought to Baker Street. She claims her engineer husband has gone missing, and so Holmes and Watson set out to locate him. The trail leads to Scotland, where the Loch Ness monster, Queen Victoria, a group of dwarves, Sherlock's brother Mycroft and a submarine prototype are embroiled in a bizarre plot.
It's all very devious and entertaining, with more heart than earlier cinematic Holmes adaptations had; the great detective even falls in love.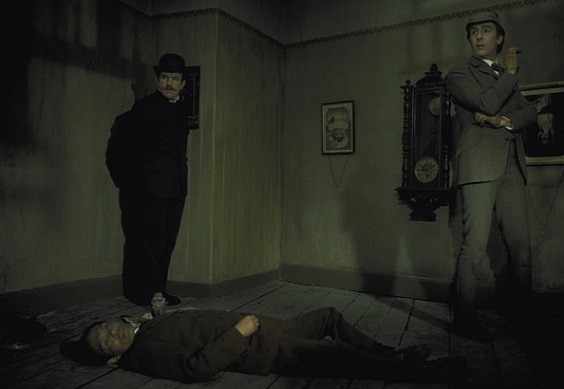 "Impressive"
Mark Gatiss and Steven Moffatt claim the film inspired their Sherlock series, and it's easy to see echoes of Wilder's work in it; for that reason alone it's a curiosity piece. But even those who've never seen a tale involving the deerstalker-wearing 'tec will find plenty to love here.
As for the cast, it's a veritable who's-who of British character actors from the early 1970s; Christopher Lee makes a bold Mycroft, Colin Blakely is good as Watson, while the likes of Genevieve Page, Irene Handl and Stanley Holloway also pop up.
But it's really Stephens' film. Although he was best known for his stage work, he's impressive here, delivering a moving performance without ever resorting to the kind of ticks and tricks other actors to have played the role have resorted to.
And for that reason alone, maybe I'll be digging into even more of his work in the near future.
9/10
'The Private Life of Sherlock Holmes' is released on Blu-ray by Eureka