A Royal Night Out (2015) – Film Review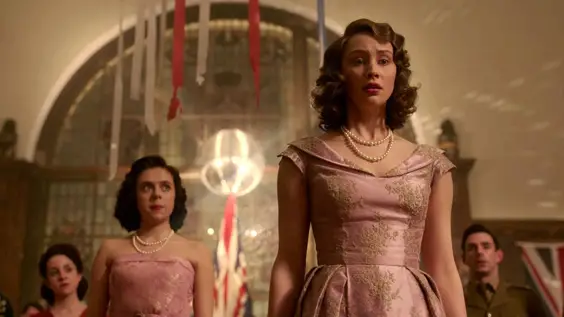 Director: Julian Jarrold
Cast: Rupert Everett, Bel Powley, Sarah Gadon
Certificate: 12

by Jen Grimble
It is difficult to imagine Queen Elizabeth II as anything other than our monarch. Yet on the May 8 1945, when VE Day marks the end of the Second World War, the teenage princess leaves Buckingham Palace. It is her first and final evening of freedom. These are the events that director Julian Jarrold (Becoming Jane) explores in his latest semi-biopic, A Royal Night Out.
Told with a quaint sense of history, reality and fantasy, the film observes the duties and restrictions of royalty. In a similar way to Aladdin, Cinderella and Frozen, Jarrold explores these themes with humour and charm. His palette of exaggerated colours and glossy hues create a Disney-fairytale finish.
The movie opens with archive footage of the London VE Day celebrations. Here, Churchill breaks the victorious news via radio. Grayscale subtly blends into colour as crowds surround the gates of Buckingham Palace. Inside King George VI (Rupert Everett) is rehearsing the speech he will deliver to the masses. His daughters, Princess Margaret (Bel Powley) and the heir to the throne, Princess Elizabeth (Sarah Gadon), are preoccupied with a proposal.
Not wanting to miss the celebrations, the princesses are determined to join the crowds outside. Since their mother (Emily Watson), is resolute in her disapproval, Elizabeth turns her attention to a more easy nut to crack, her father. She suggests that an evening fraternising with the public could decipher their true opinions of the royals. Upon hearing this proposition, the King grants the girls their freedom.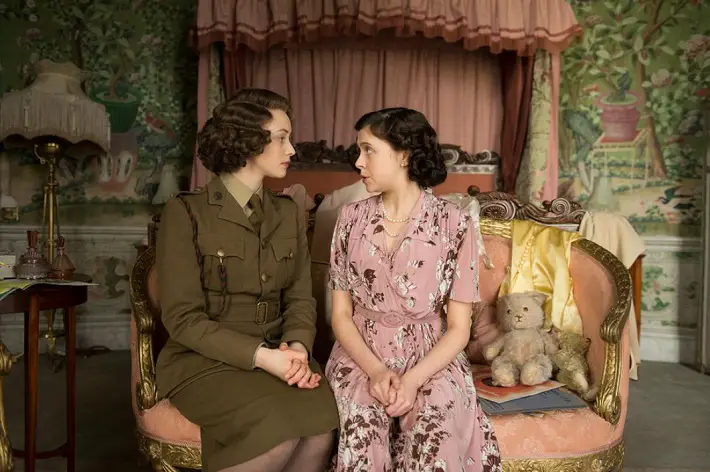 "Light political observation"
With two dim-witted army chaperones (Jack Gordon and Jack Laskey) at their heels, and a Disney-inspired midnight curfew, Margaret and Elizabeth enter the bustling crowds. Their decorum and flamboyant gowns draw plenty of attention. But the girls manage to remain concealed. After five minutes at a stuffy party, the princesses escape their escorts before being separated from one another on two London buses. Margaret finds herself at a dingy SOHO bar, surrounded by ladies of the night and opium fumes. Elizabeth plays catch-up, tracking down her sister with the aid of anti-royalist RAF officer, Jack (Jack Reynor).
Light-hearted, soppy drama, and the odd moment of laugh-out-loud comedy, makes for an amiable movie about the early years of the Queen. Bel Powley plays Margaret with a sugary gullibility. This provides almost all of the movie's comedy material. Sarah Gadon (Lilibet) offers the right balance of maturity and innocence in her portrayal of Elizabeth. Rupert Everett equals Colin Firth's The King's Speech performance, with his depiction of a nervous but stern King.
A Royal Night Out blends the jovial magic of The King's Speech, with light political observation. It focuses on the relations between those inside Buckingham Palace and those outside. The film is a good-natured, wholesome tale without a serious string to its bow. A Royal Night Out is warming, with a glossy, humble and sweet coating. It shows how one raucous night can bring adventure, romance, and scandal to the heart of the royal family.
6/10