The Complete Uxbridge English Dictionary – Review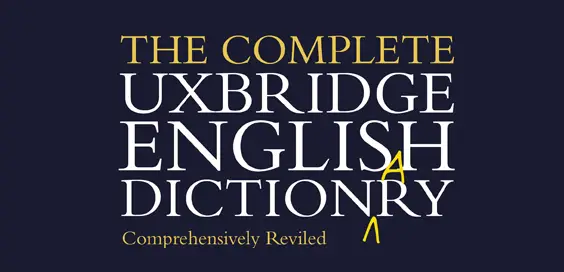 By Victoria Holdsworth
If you have a love of radio then you will be familiar with this particular section of the hit BBC Radio 4 comedy show, I'm Sorry I Haven't A Clue.
As Humphrey Lyttelton would chair the two teams of panellists and ask them to come up with their best daffynitions, which are puns involving the reinterpretations of existing words, on the basis that it sounds like another word, or group a of words. Confused? You might be – but you'll also most definitely be entertained.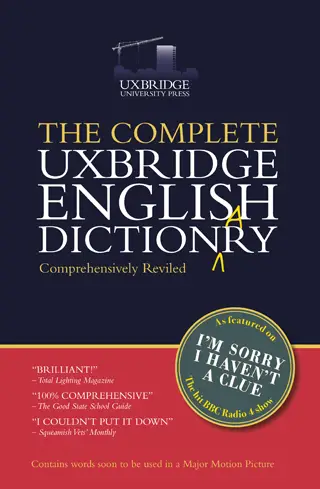 The format for this book is obviously a take-off of the Oxford English Dictionary, and it does follow the usual format of a list of words with silly definitions, so if you have ever pondered the meaning of Platypus (to give your cat pigtails), Flemish (rather like snot) Celtic (a prison for fleas), or 'Norway' (a Geordie exclamation of surprise), then this is certainly the book for you.
"Packed with puns"
Even if you are not a particular fan of the show itself, this book makes an excellent read for anyone who has a love of words or word games. It's an extremely witty take on the ever-evolving meanings of certain words such as 'cardiology' – a study of knitwear.
Written by some of the shows surviving regulars, including Graeme Garden and Tim Brooke-Taylor of The Goodies, the companion is packed with puns and accompanying illustrations, which will make you chuckle out loud.
It is undeniably clever and you'll end up listening to words, and reading them differently, and maybe even start using your own definitions.
Thanks to the brilliantly comedic minds of the authors, and the radio show that has provided smutty innuendo and swannee whistles to the world for nigh on 40 years, with The Complete Uxbridge English Dictionary you can now use familiar, everyday words in total confidence, fully appraised of their latest ridiculous meanings.
'The Complete Uxbridge English Dictionary' is published by Windmill Books, £10.99 paperback