Gentleman Jack: The Real Anne Lister by Anne Choma – Review
By Audrey Coldron
If you did not see the BBC TV series Gentleman Jack, scripted by award-winning writer Sally Wainwright, you missed an excellent dramatisation of the life of an extraordinary and most intriguing woman. Miss Anne Lister of Shibden Hall near Halifax was known in her own time as an oddity and a woman to be reckoned with, not afraid to assert herself in unwomanly fashion in that patriarchal society. But years after her death, once the many volumes of her secret diary – some of its passages written in an obscure code – were discovered, and the code was cracked, she became famous. The coded passages had revealed her to be a lesbian, though that term was not in use and the 'predilection' barely recognised in Anne's time.
A dramatisation, however, is an interpretation not a documentary and though the TV drama was convincing it left me with several questions about the script. Which incidents were realisations of actual events and which were invented for dramatic effect? Which were created to exemplify relationships? Or reveal attitudes, especially the place and role of women? Which conversations were based directly on, or quoting from, the diaries?
In an otherwise exemplary script, there were moments when I sensed that a character was required to mention some facts necessary to our understanding of the story – a comment about Anne Lister's claim on the ownership of Shibden Hall, for example, or a remark about the upsurge in the demand for coal of which there was plenty under the Lister Estates. Or a casual reference to the important Reform Bill of 1832 that was going through Parliament. Anne, a convinced Tory, deeply resented the injustice that some of her tenants would soon be able to vote while she, the landlord and an intelligent and informed one, was denied it as a woman.
"Very readable account"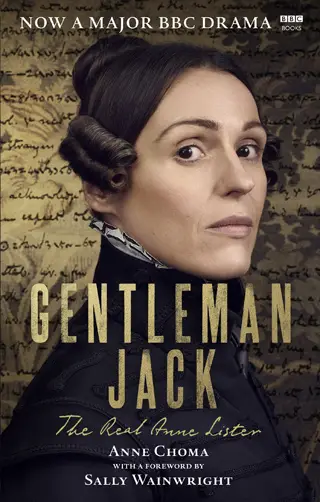 Anne Choma's absorbing and wholly to be recommended biographical account in Gentleman Jack – The Real Anne Lister, companion to the BBC series, and dedicated to the LGBT Community, goes a long way towards answering my questions. In an attractive paperback that intriguingly includes facsimiles of sections of the diaries on the title pages of each chapter, there's an insert of colour portraits of Anne, her sister and her beloved aunt among several other pictures including one of ancient Shibden Hall; there's a foreword by Sally Wainwright declaring her personal interest in her 'unique and fascinating' subject and sketching out the genesis of the TV series which is largely based on Lister's diaries. An introduction by Anne Choma, Wainwright's collaborator on the series, outlines Lister's early life and adventures up to 1831 when she is in her early 40s and has had, among minor 'flings', two significant love affairs.
Choma's very readable account, which makes extensive and apt use of quotations from the diaries, had me caught up in the unique world of Anne Lister. She reveals her as a very complex and formidable character, remarkably physically fit and energetic with a quick and lively intelligence, a good head for business, wide-ranging scientific and literary interests, with a large collection of books including Mary Shelley's Frankenstein, enjoying reading Greek and Latin authors in their original languages, and especially interested in human anatomy, even taking instruction in and practising dissection. More than a match surely for almost any man – and in a man's world.
Shibden Hall dates back to the fifteenth century and the Listers had lived there for three hundred years. It is now owned by Calderdale Council and is open to the public. You will see it with the improvements that Anne made later in life when she had the money. It is well worth a visit.
"Poignant story"
Anne was very proud of belonging to a very old, land-owning family, though it was now somewhat impoverished, and as she knew herself to be cultured, she felt herself superior to the bourgeois narrow-minded citizens of Halifax. Concealing that her means were small and her ancient home showing its age, she managed to move in higher society circles by virtue of her charismatic, engaging character. She was restless, knowing herself to be different from most other women. Trying to understand herself, who she was, her place in the world, she confided her thoughts and feelings in the coded parts of the diary, which reveal that above all she was trying to find the love of her life, a soul-mate, and as a committed Christian wished to be married in church with God's blessing, for it is He who had made her who she was.
So Choma not only covers many of the fascinating goings-on in her life, but particularly tells the poignant story of her finally achieving that desperately-needed relationship, from the first meeting with Ann Walker through the ups and many downs of the clandestine partnership. Ann's mental and physical health is in question. Is her delicate temperament a match for robust Anne? She is a 'catch', however, a wealthy heiress with a considerable personal fortune that would solve the financial problems of the Shibden Estate should she move in as Anne's 'wife'. But Lister, having had her heart broken twice, agonises as to whether she can allow herself to feel committed and risk having her heart broken again, by a woman who, as has happened before, might profess to love her then reject her for a male suitor. But eventually they do commit to each other and the affair ends with the 'symbolic union' of Anne and Ann, 30th March 1834 in Holy Trinity church in York, where a plaque now celebrates the event. Anne wrote that this was 'the first time I ever joined Miss W in my prayers. I had prayed that our union might be happy.'
"Much to admire"
The few remaining pages of Choma's account summarise their devoted life together and their travels abroad. Sadly in September 1840 Anne Lister died of a fever during their travels in Russia, aged 49. Ann Walker brought her body back to Shibden. She died in 1854.
At the end of the book I had mixed feelings about Anne Lister. I was distanced by her arrogance, her treatment of 'inferiors' in status (servants and trades people) and education and personality, and her cultivating of people with titles and wealth, though I did realise she felt herself to be more comfortable in their more cultivated world. But there's so much to understand about her behaviour – a clever, talented woman, a lover of women with no role models having to make her own decisions against the grain of society. There's much to admire, her courage especially, and much to appreciate – her emotional struggles, which few could share.
I hope there will be a further TV series. Anne Lister deserves her place in history and there must be much still to mine from the diaries.
I was surprised however that there was no acknowledgement that I could see, on TV or in the book, of the tremendous work of the original decoder of the diaries. That whole story is worth the telling. In brief, in 1983 Helena Whitbread, having been given the clue to the secret code spent 5 years deciphering the 27 volumes – 6,600 pages, more than 4 million words, at least one sixth of them in code. She began the publication of sections of the diaries in 1988 that told the world the astonishing story of Anne Lister. Whitbread is noted simply as a consultant to the TV series. Surely her contribution is fundamental to both the drama and the book.
'Gentleman Jack: The Real Anne Lister' by Anne Choma is published by BBC Books, £8.99 paperback