A Quiet Walk from Ramsgill, Nidderdale
Legs, Boulders, Sneeze & Crows
by Matt Callard
Note to self: remember the hayfever tablets.
But what's the odd sniffle next to seven and a half miles of prime and pristine Yorkshire countryside in high summer?
Tiny Ramsgill is 15 minutes outside Pateley Bridge and would be just another pretty Dales hamlet were it not for the World-famous ivy-clad building that dominates the central green. The Yorke Arms is one of only a handful of Michelin-starred restaurants in the county of Yorkshire. It's a worthy set-off point for this long and rewarding circular walk along the Nidderdale Way.
Ramsgill sits at the head of vast Gouthwaite Reservoir. Here, the water has been made deliberately inaccessible for humans and, because of this, has become something of a haven for wildlife and waterfowl. Now a Site of Special Scientific Interest, you'll notice several convenient observation posts along the side of Wath Road on your car journey towards Ramsgill. So remember the binoculars if twitching's your thing.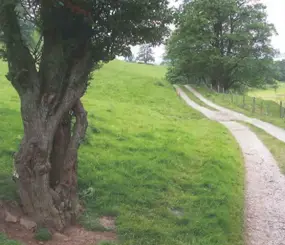 Park conveniently (but, beware, not illegally) as near to the Yorke Arms as you can. Then head along the through-road and to the side of the building to find a small green with benches to your left. To the rear of this you'll find the yellow Nidderdale Way marker pointing a route along a path lined with trees beside the River Nidd to your right and with a sheep field to your left. You'll follow this clear, well-marked route for the entirety of the walk, so there's little reason to describe every twist and turn.
"This isn't a journey for the sociable walker"
It's a gentle climb to West House Farm (35 mins). You should note the tree-line across the valley to your right as, in 3-hours time, it will form the closing part of this trek. Nidderdale itself, despite in fact, being located outside of the Yorkshire Dales National Park area, is many person's favourite Dale. Across its length and breadth it is officially an Area of Outstanding Natural Beauty. It is geographically 'classic' Yorkshire and quietly unspoilt.
Follow the trail through the odd farm and across bright green country. Eventually a ramshackle farmer's barn shows the road an abrupt downward curve towards, soon, a children's activity area and a bit of not unpleasant road walking. You'll be unfortunate if you hear so much as the faraway toot of a tractor on this isolated stretch.
This isn't a journey for the sociable walker. My companion and I each exchange a grand total of four nice-to-meet-you-nods with oncoming pedestrian traffic. But if it's nature contemplation and a respite from the human form you're looking for, then these solitary steps are all for you.

Soon you'll pass famous How Stean, a plunging limestone gorge that can be navigated and explored via narrow paths and footbridges along a ravine. Plus, there are some stupendous caves to explore (Adults £5.50/Children £3.75) if you wish.
"Take a peek inside to view a genuine treasure"
But that's an experience for another day. Keep to the road until a narrow path and a bridge cross the river and head up a field towards Lofthouse (15 mins from the gorge). Then go further on to lofty Middlesmoor. Head to the hilltop church and feast your eyes on a spectacular Lake District-esque panorama of lovely Nidderdale awaiting below. While you're here, take a peek inside the Church of St. Chad's to view a genuine treasure – the ancient cross of St Chad dating from AD 665.
Before long (30 minutes) you'll be brushing against the line of trees you previously saw from the other side of the valley. The path takes a couple of remaining rollercoaster ups-and-downs before emerging full circle at the back of The Yorke Arms.
Oh, and the crows? Murderous multitudes of the beasts watching every single step with cocked curiosity. Gulp.
Ramsgill Walk: Need to Know
DISTANCE: 7.5 miles
TIME: 4 hours
WHERE: Take the B6285 to Pateley Bridge – where you cross the river you'll notice the Yorke Arms signposted – turn right for Ramsgill. Follow the road for approx 15 minutes.
REFRESHMENTS: There's a back to basics pub in Lofthouse, The Crown, if you need it. The Yorke Arms, whilst being world class, doesn't really cater for walkers. If you're intending to sample it, bring a change of clothes and book in advance.
WHAT ELSE: Gouthwaite boasts significant breeding populations of Curlew, Redshank and Snipe, with Flycatchers and Wood Warblers nearby. You might even be lucky enough to spy a mighty Golden Eagle.
DISCLAIMER: Use the walk and map merely as a rough guide. Walkers should always use the appropriate O.S map and take care to follow the rights of way. We cannot take any responsibility for trespass on private land.