The Best Pub Food in Yorkshire
If you hit lucky, fine dining pub-style used to mean a wilting Cornish pasty and a bag of Scampi Fries.
Mmm… carbs. There's nothing wrong with that, but just in case you do go a bit wild and want to get back in shape – click here to find workout ideas.
Now, we expect much more. There's no longer an excuse for grotty food and even grottier service. Yet, while pub grub – and that modern crossover staple the gastropub – go from strength to strength, don't you wish for a little more heart and soul in the whole experience?
You know; roaring fire, Yorkshire hospitality, oodles of genuine character. Pub dining should be an experience that's separate from restaurant dining or pub boozing. Here are our strict recommendations for a heartfelt welcome and a heart-warming bit of proper Yorkshire bite.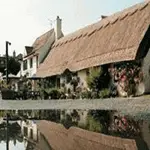 THE STAR, Harome
600 years old and achingly pretty in its thatched, floral splendour, The Star in Harome retains a crucial, much sought-after rustic charm alongside truly inventive modern cuisine. Traditionally pubby, with charismatic dark beams and a lovely log fire, this nails everything a food pub should be. Much of the produce comes from their own gardens and nearby farms and an attached delicatessen is to die for. Be warned however: arrive early to guarantee a seat.
YO62 5JE – 01439 770397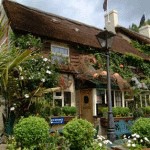 CRAB & LOBSTER, Asenby
The elegantly ramshackle interior of this wonderfully feature-heavy pub/restaurant belies a thoroughly sophisticated and modern menu. There's curio on top of bric-a-brac around the walls. The charismatic L-shaped bar hosts an upholsterer's dream of antique high-backed chairs, heaps of cushions, theatrical corner seats and settees. There's a beautiful Hansel and Gretel-esque exterior and a nice dining area to the rear with a Mediterranean feel.
YO7 3QL – 01845 577286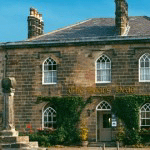 BOAR'S HEAD, Ripley
Don't worry about the attached hotel; this is an English (and Yorkshire) village pub par excellence. Historic yet informal, brimming with fascinating bric-a-brac and adjacent to lovely Ripley castle. This should hold enough attention for a young family and satisfy the most discerning pub goer. An ever-changing menu delivers fine food that shuns pretension.
HG3 3AY – 01423 771888
"Upbeat atmosphere"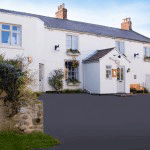 MALT SHOVEL, Brearton
Intelligent refurbishing has given this 16th Century pub a neat modern spruce without losing any of its vital historic character. Central to an idyllic village and surrounded by breathtaking countryside, the excellent and imaginative food is served in a variety of different eating rooms each with their own individual personality. Speaking of personalities, the licensees are opera singers and their famous (notorious?) Opera Nights certainly ensure a memorable evening for all!
HG3 3BX – 01423 862929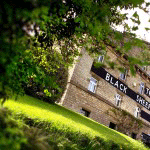 BLACK SHEEP BREWERY, Masham
Flirting with bistro-blandness but saved by friendly staff and the simple fact that the famous brewery is attached. It's a vast space too, with steel, wood and stone combining for a modern yet homely feel. More of a working advertisement for Black Sheep than a comely pub setting (there's a great brewery tour available), but you'll still enjoy the excellent and hearty pub fare and the upbeat atmosphere.
HG4 4EN – 01765 680100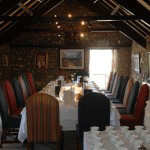 GENERAL TARLETON, Ferrensby
A recent smart refurb has scrubbed up this proud 250 year old coaching inn without losing any of its alcove-y charm. Stone walls and open fires combine with interesting and appealing brasserie food to create an informal and pleasant atmosphere. The GT (as it's known locally) also hosts a delightful tree-lined garden and a covered courtyard.
HG5 0PZ – 01423 340284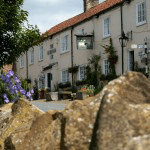 DURHAM OX, Crayke
Sat on the very hill that The Grand Old Duke marched his men up (and back down again) this bustling, super-friendly establishment's traditional copper, brass and roaring fire mood match with its traditional and hearty pub food. There's something of a museum feel, with local history and carvings adorning the walls. The dining area is sophisticated. The views across Herriott country are pretty much unsurpassable too.
YO61 4TE – 01347 821506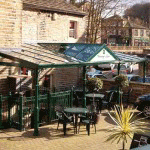 HERVEY'S WINE BAR, Holmfirth
Nestling in the postcard-pretty village of Holmfirth and basking in wonderful countryside, Hervey's is actually more of a trad pub than a wine bar . It comes, of course, with the eternal Last of The Summer Wine claim–to-fame attached. Food is simple, clean, traditional pub fare. But if it's an authentic and welcoming  taste of Yorkshire (and a glimpse of Nora Batty's wrinkled stockings) you're after, then look no further. Oh, good musical line-up too!
HD9 7BB – 01484 686925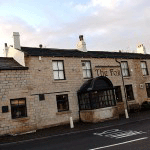 THE FOX, Menston
This famous inn, handily located just a couple of miles outside of Otley, comes with a rising reputation for quality and comfort. Expertly managing that tricky pub conundrum of modern style and traditional charm (the open fire is terrific). The excellent choices of real ale complement a fine and uncomplicated menu with some intelligent options. Plus, the stylish, modern interiors ooze comfort and relaxation.
LS29 6EB – 01943 873024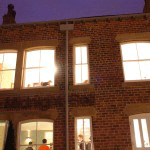 THE MIDNIGHT BELL, Leeds
The first pub from the award-winning Leeds Brewery has a burgeoning reputation as a must-visit city-centric location. Enhanced by a terrific Sunday lunch menu and interesting, ever-changing evening gastro-food. Its grade II listed re-developed building helps too. The interior is cool and minimal but with plenty of crucial character. A great venture from a promising young company.
LS11 5QN – 0113 2445044