Temple Newsam House – Ghosts and All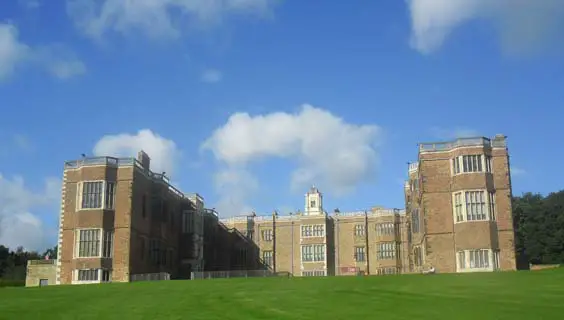 By Steve Ward
Across the British Isles we have countless monuments to our past; castles, monasteries, churches, cathedrals, country houses and stately homes. Some are maintained and preserved by government funding, others through charities and some still privately owned. For visitors, it seems that you need not to have travelled but a short distance before you stumble across some ancient edifice erected to the glory of a bygone age. Yet each one has a different story to tell.
This is just the case with Temple Newsam House and estate. Situated only a few miles from the bustling centre of the cosmopolitan city of Leeds in West Yorkshire, it is now a quiet haven of tranquillity where many visitors come to picnic or stroll through the extensive grounds and admire the beauty of the house. But I wonder how many actually take the time to stop to think about who has walked the ground before them?
"Illustrious"
Temple Newsam has a long history, almost one thousand years of it, dating back to before the time of the Norman Conquest and long before the current house was built, or even the name used. Temple Newsam House celebrates its 500th anniversary in 2018. Throughout its time it has survived wars, plagues and social upheaval. But a house is just bricks and mortar and whilst we can learn much from the architecture, the true story of a house lies with the people who lived in it, and Temple Newsam is no different.
Many people have lived, worked and died in the house during its existence. Some have been illustrious, some notorious and some as ordinary as you and me. Some of those names we may instantly recognise; Lord Darnley, the husband of Mary Queen of Scots; Sir Thomas Darcy, beheaded for his part in the Pilgrimage of Grace; Sir Arthur Ingram, one time political intriguer and 'Mr Fix-it'; Lancelot 'Capability' Brown, landscape designer par excellence; to name but a few. Others have been lost in the mists of time but are, nonetheless, equally fascinating.
"Eerie"
As you stroll through the ornately furnished rooms it is sometimes easy to forget that there were other, far more important, inhabitants of the house – the servants and estate workers. Occasionally you are allowed to take a tour of the hidden areas of Temple Newsam; the back-stairs, cellars and other areas that the servants frequented. They were like an invisible army of ants, ensuring that the business of the house was kept in order on a daily basis. Servants were rarely to be seen, only out of necessity, and theirs was a nether world of stone staircases, dark passageways and damp cellars.
The stone steps of the servants' staircase are worn with age from the countless number of feet that have run up and down them over the years. Beneath the courtyard runs a narrow diagonal subterranean passage, linking the south and north wings. It was built in the early eighteenth century to link the original kitchen area in the south wing to the rest of the house. Here servants, some as young as maybe twelve years old, would have scurried carrying all sorts of things. Today the eerie passage is lit by low-light electric bulbs but in earlier times it would have been unlit, damp, cold, and possibly vermin ridden.
"Surprise"
Temple Newsam house also has the accolade of being the most haunted house in Yorkshire. It was early on a Sunday morning and Julie Holroyd, one of the Visitor Assistants at Temple Newsam house, was on cleaning duty before the house opened to the public. She was by herself and was vacuuming a carpet in one of the lower corridors, near the kitchens. This was a task she had regularly done and she was lost in her own thoughts. A movement caught her eye and she looked up. There, standing at the end of the corridor, was a young woman.
She was dressed, as Julie described to me, in 'a pencil slim skirt and blouse and her hair was swept back with curls at each side. She looked as if she was dressed in the 1940s or 1950s and she looked at me and then turned into one of the rooms at the end of the corridor'. Knowing that there should have been nobody in the house at this time Julie was momentarily taken by surprise, so she stopped her work and set off to see who this mysterious person was. The room at the end of the corridor was empty! Puzzled, Julie then looked around the area but could find no trace of the mysterious intruder.
"Portrait"
The Blue Lady is perhaps the most famous of all of the Temple Newsam apparitions. People have recorded seeing a hazy blue female figure, or orbs of blue light, in various rooms and places around the house.  Even Lord Halifax, the father of the Honourable Edward Wood, claims to have seen this ghostly figure one night. It is supposed to be Mary Ingram, the grand-daughter of Sir Arthur Ingram. There is a portrait of her now hanging in the Gothic Room in Temple Newsam house for all to see and this must have been painted shortly before she died in 1651.
The story goes that fourteen-year-old Mary had been visiting relatives in York. For the occasion she was wearing a beautiful necklace that her grandfather had given her. On the way home, somewhere near the village of Garforth, her carriage was way-laid by either a lone highwayman or a band of thugs, depending upon which version of the story is being told. Whichever it was, the outcome was that she was robbed of all her possessions, including her favourite necklace. She managed to break free from her attackers and ran the rest of the way home to Temple Newsam, about three miles away.
"Hidden"
Arriving home she was distraught and was put straight to bed. The experience left her deeply traumatised. She trusted nobody and jumped at every shadow and noise. Her behaviour started to grow strange. Sometimes she was to be found picking cushions apart as if looking for something. She scuttled timidly around the house, taking her possessions and hiding them in secret places that only she would know, under floor-boards and in walls. Her paranoia grew and she retreated more into herself. She spoke little and refused to eat. She was beginning to waste away and, despite all the efforts of doctors, in a matter of weeks she had died.
It is her ghost that is supposed to have been seen, in her blue dress, endlessly searching for the possessions that she had hidden away. Unlike the story of the White Lady, we do know that Mary Ingram actually lived at Temple Newsam house and that she did fall prey to a robbery of some kind. During a period of renovation in the house a few years ago, some small pieces of jewellery and other objects were found beneath floor-boards and in a wall. This time the facts do support the story and perhaps Mary Ingram is still searching for her hidden possessions.
"Intriguing"
It is a well-known fact that old houses creak and groan, especially if there is a lot of wood in the construction. Julie Holroyd acknowledges this and has said that there have been many times when she has stood alone in the Great Hall and heard creaks like distant footsteps or doors opening. She knows that this is just the house 'breathing' but she also accepts that there is often a feeling in the house, as if other people are living there as well. She doesn't find this scary; more intriguing, that she is sharing the space with others who have gone before her. If you make a visit to Temple Newsam, take time to stand a while, alone if possible, and see if you can experience this as well.
Temple Newsam is now owned by the Leeds City Council, for the benefit of all. Once described as 'The Hampton Court of the North', Temple Newsam is a jewel in the crown of Yorkshire's stately homes. It is well worth a visit… ghosts and all!
'Tales From the Big House – Temple Newsam: The Hampton Court of the North, 1,000 Years of its History and People' by Steve Ward is published by Pen & Sword Books, £14.99, ISBN: 1473893356
images: S Ward (unless otherwise credited)