Mostar, Bosnia Herzegovina – Travel Review
Mostar, Bosnia Herzegovina
Travel Review
by Helen Johnston
There was something surreal about heading across the border from Croatia into Bosnia Herzegovina, a name lodged in recent memory as a war zone. It's less than 30 years since this beautiful country was in the news in a similar way to Syria is now. People under siege and starving to death, religious conflict, ethnic cleansing, and desperate refugees fleeing to other countries.
Now Mostar, one of Bosnia's most heavily bombed cities, is a tourist attraction.
The collapse of the city's 16th century Stari Most (Old Bridge), linking the east and west of the city, was a defining moment in the 1992 to 1995 war which left some 100,000 people dead and around two million displaced. Yet somehow, from the devastation and disaster, and against all the odds, Bosnia has emerged scarred but functioning.
The Stari Most was rebuilt and is now protected as a UNESCO World Heritage Site. Groups of tourists are led across it by tour guides who lived through the war.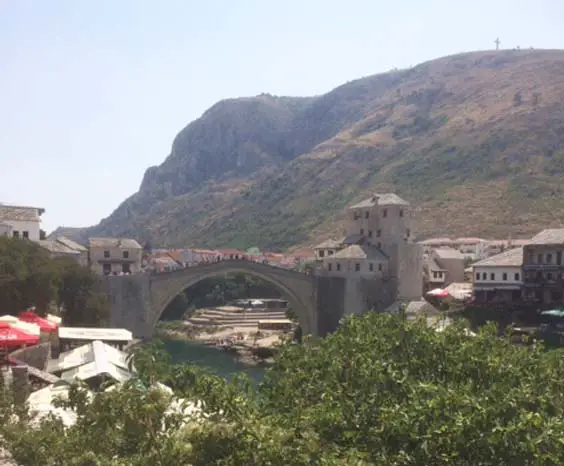 "Peace"
Bosnia Herzegovina's political system is one of the most complicated in the world, according to our guide. It is also what prevents it from being allowed membership of the EU. There are three presidents representing the three main religious groups – Muslim Bosniaks, Orthodox Serbs and Catholic Croats. There are also three languages.
Efforts to bind national unity include the banning of religious symbols in public and having a national anthem without lyrics. That's not to say what happened has been forgotten. There is graffiti urging people not to forget, but to try to forgive.
"People might be living near to someone who killed their son, but they have to find a way to move forward and live in peace," our tour guide said.
The country still faces economic hardship, despite international aid. Our guide said much of it hadn't filtered down to where it was needed.
"So whatever you spend today you could consider as a donation, and at least you know it is going directly to the people who need it," she said. That gave a whole new significance to buying an ice cream.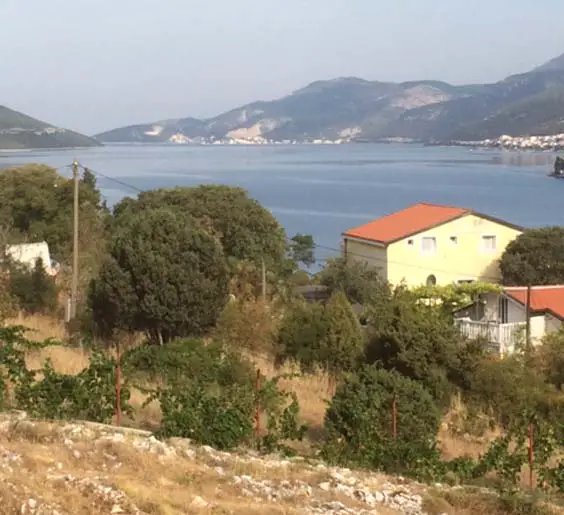 "Beautiful"
The guide showing us Mostar was a child during the war and told us how she remembered hiding in the basement and having to walk for miles with her mother to collect onions to eat.
She said: "When my children complain about not having something, I tell them you have no idea of hardship."
She showed no sense of self-pity or bitterness and even shared a few jokes as we walked round, clinging to every little bit of shade in the unrelenting heat. There was very much the feeling that she, along with her compatriots, were focused firmly on the future and making the best of it.
Mostar was baking hot (42C in the shade) but beautiful, with its jumble of colourful shops and markets spilling onto cobbled streets. They rely on the busy tourist months to keep them going all year round and shops accept Euros and Croatian Kuna as well as their own Bosnian Marks.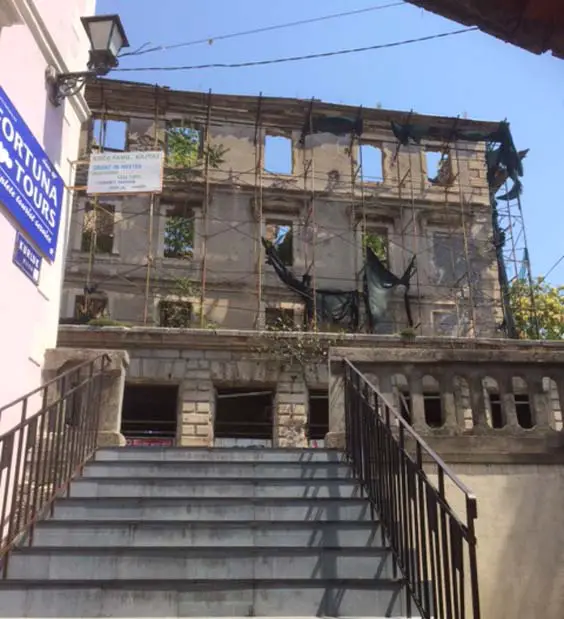 "Haunting"
Church towers and mosque minarets can both be seen on the skyline and the view from the Old Bridge is beautiful in both directions. Crossing the hump-backed bridge can be tricky, its local limestone surface is very slippy, perhaps because it's polished by the footsteps of hundreds of people a day.
Not everything has been rebuilt. We passed bomb-damaged buildings which have yet to be either repaired or demolished, a haunting reminder of what happened here in the 1990s.
On our return journey to Croatia, we stopped at Neum, the only town on Bosnia's 12 miles of coastline and the place where local people go to make the most of their bit of the Adriatic.
Looking down from the road onto the beach we could see people swimming and splashing in the sea, cooling off and enjoying themselves in the same way people all over the world enjoy a trip to the seaside.
It was a reassuring scene of happy normality.