Useful Tips From Experts On How to Increase the Number of Subscribers on YouTube
YouTube endures as one of the most popular social media platforms, and it should come as no surprise that experts have risen that know how to get great engagement numbers there. Some of these experts are content creators themselves, while others publish tips regarding how to get this platform to work for you.
In this article, we've compiled some tips from recognized experts within the social media field. In particular, we've got their best recommendations on how to increase your YT subscriber numbers. That's undeniably one of the most critical metrics when you want your channel to become popular, so you should pay attention to what the pros have to say about it.
Damien Hong
Damien Hong is a digital marketing specialist. He agrees that there are a range of qualities on this platform you want to attain, some of which you might reach when you buy YouTube subscribers for cheap. Hong feels like you will easily monetize if you have the following features on your channel:
● Your videos must meet community guidelines
● You must create an AdSense account
● You must accept all terms and conditions
● You have to reach a minimum of 4,000 watch hours over the past 12 months
● You need at least 1,000 subs
Hong also says that "to earn really good money from basic YouTube monetization, you have to generate at least a million views in one month." Obviously, that's pretty challenging, but most experts that study this platform feel that you will do well if you come to it when you already have a following or fan base in place. If you want to follow Hong to learn more about his views regarding monetizing social media, you can do that at his account.
Carla Marshall
Carla Marshall writes for vidIQ. She has several additional suggestions regarding the range of qualities you should utilize when you want to attract more subs to a YT channel. She mentions how you need to put out new content regularly. "Being consistent comes in many different shapes and sizes, but one of the most important ones is consistency of schedule," she says. She mentions that you should continue posting so that people keep returning to your content time after time.
She goes on to say that "If you're jumping from topic to topic to topic, you may never get past the awareness stage of your content." In other words, focusing on one specific topic and continually posting about it will make you seem like more of an established expert regarding that part of your business. Anyone who wants to learn more should continue coming back to your channel so they can find out as much about it as they can.
Carla also mentions CTEs, or calls to action. You need to feature some of those in your videos, depending on what you want your viewer to do. Subscribing is presumably one of the things you want from them the most, even before you try and market any of your services or products.
"Simply search for 'subscribe animation green screen', and you'll find plenty of free options on the Internet," Carla says. You can use these animation green screens as places where you can tell the viewer to subscribe. That way, you don't even need to mention it when you speak to any viewers. They will know to do it because the message appears behind you on the screen.
Saul Bravo
Saul Bravo, writing for Market Business News, also has some tips that should help you rack up additional YT subs this year. He mentions how critical it is to optimize every one of the videos you send out. "Video optimization helps your content to reach the target audience," Saul tells us. He maintains that individuals who you're targeting will always want to engage with your content if it's original and informative.
Bravo also tells us that one of the best and easiest ways to optimize a video is to be concise and effective with each description. If you can use some specific keywords to which you know your audience will respond, that should help you in this area.
Saul tells us that the main reasons for video optimization are to increase and improve your YouTube ranking. He also states that superior video quality is key, which is echoed by several other experts. To make the best videos, Saul would have you:
● Use high-quality video recording equipment
● Do the recording in a calm place without any distracting background noise
● Edit the video using excellent editing software before you ever think of posting it
Using Other Social Media Channels to Encourage Engagement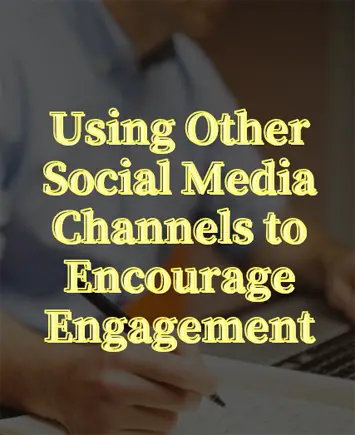 Other experts mention that if you want to keep increasing your sub count, you should do cross-promotion with other social media platforms, such as Meta, LinkedIn, TickTock, Instagram, Pinterest, and others. You can include your YT channel link when you post on your other platforms.
This creates a marketing funnel into which a new sub can arrive. Once they are within your promotional network, it's much easier to get them to convert. What that means will depend on what you're trying to get them to do. Maybe conversion means getting them to subscribe to your channel, but you might also want them to buy something, give you their email so you can get them on a mailing list, etc.
Audience Engagement
Nearly all the experts we found also agree that audience engagement matters more for sub counts than just about anything else. Informative and engaging videos are what's going to get people to watch each new offering your company makes.
You should try to keep your content concise, according to marketing professionals. While you can potentially make the content as long as you would like, there are few individuals who will want to watch a 20-minute video when a shorter one will do. If you can get the same idea across in five minutes, that is almost always going to be preferable.
Make a Direct Appeal
Most marketing pros also seem to agree that it never hurts to appeal directly to whoever is watching if you want them to like the video, subscribe, share it, or comment. Any of those will get the video to rank higher within the YT algorithm, and ultimately, that's what you want. It is not pandering to simply mention doing those things briefly and then go on to the main content.
The experts mentioned in this article agree on one more thing as well. They all feel that if you want to get as many new subs as you can and keep the old ones interested, you need to establish a recognizable brand voice with which your customers and viewers can identify.
That means studying your demographic and appealing to them. If you can do that, and you can establish a personal connection to each viewer, they should be loyal to you and buy whenever you launch a new product or make a new service available.