7 Things You Never Knew Your Bathroom Needed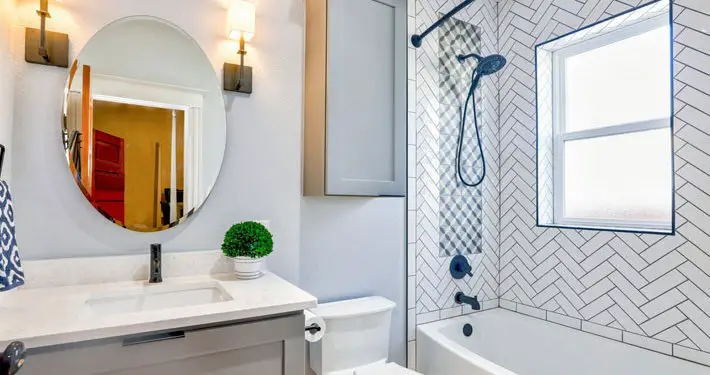 For some, the bathroom is a functional room equipped only for life's functions – but for others it's a haven of tranquillity; a place to bathe or shower in peace, to relax and recharge.
A bathroom can, should a redesign appeal to you, actually become one of the most stylish and interesting rooms in the entire house – and the interiors available, from accessories, to foliage, to mosaic floors, can combine to make a bathroom a place you want to spend time in, rather than just somewhere to spend a penny.
Maybe looking at these 10 bathroom design features will inspire you…
Go Green
Nothing gives a bathroom a more friendly and welcoming look than a spot of well-placed foliage. Ferns thrive in bathrooms, ivy looks lovely spilling over the side of your bathroom cabinet and a well-placed orchid on a window ledge can be the spot of detail that brings everything together. You can even buy air plants that will survive on a bathroom's moist air.
Subtle Colour Scheme
Colour in bathrooms can be oppressive and headache-inducing if you get it wrong, but subtle pinks create a soft and relaxing glow, or powdery blues mirror water and bring a calm and focused air to the room. Accessorise or complement your main colour by matching small details, such as your toothbrush holder or bath mat – you can really make the colours pop this way.
The Return of the Feature Wall
That 00s favourite, the feature wall is making a welcome return in bathrooms, not as some aggressive style statement, but more as a final knitting together of an overall bathroom concept. Mosaics, like these from www.anticcolonial.com can absolutely be the beautiful finishing touch your bathroom design concept requires – and there's everything from a shiny metal sheen to glorious blocks of jagged wood.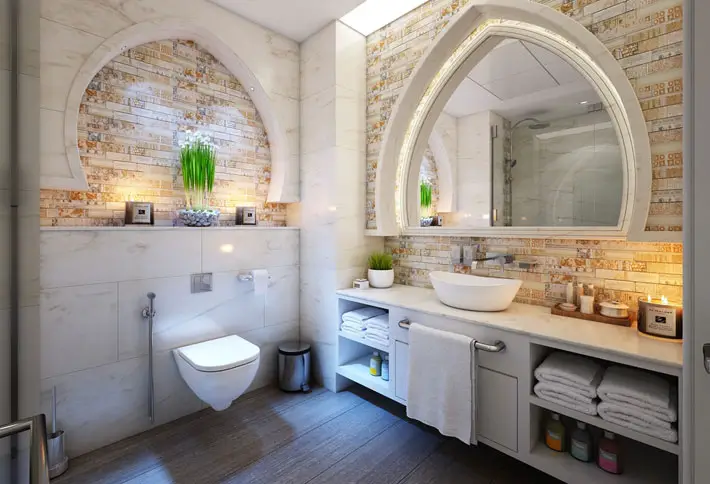 Light Up, Light Up
Light options are critical for the right bathroom ambience. Of course, there are times in a bathroom where a blaze of light is essential, while at other times a more relaxing and moody feel is required.
Mirror, Mirror on the Wall…
Most bathrooms will have a mirror – and often it's the room's centrepiece, giving light and depth to a space. Don't necessarily go ostentatious – a neatly placed, clean cut and plain silver mirror can be just as effective – and note that some back lit LED mirrors can add an extra glow to proceedings.
Tapping Up
How many bathrooms are let down by a plain and grisly old tap? Dressing your sink up with an attractive tap – perhaps even in bronze or matte black – can be a real style statement. Consider a wall-mounted option if space saving is essential.
Invisible Shelves
Also known as floating shelves, a glass shelf with all your bathroom essentials on it can actually be attractive and practical, showing you all your kit without it being hidden away in some cabinet – as long as you can keep it tidy, of course!
Whatever your plans for your bathroom, we hope these tips go some way to giving you the relaxing oasis that you deserve.