Easy Interiors Ideas to Make Your Living Room Pop
The living room is the social hub of the household – and the place where you can really dazzle your friends and family when socialising.
As the New Year unfolds, it's the ideal time to tweak and accessorise your lounge area – and these nine ideas to make your room go POP! should really help…
'Throw' Your Sofa
No, we don't mean hire a skip and bin it. A sofa can be given a new lease of life by adding a stylish throw or blanket across the back. Match it to the colour of a feature wall and you'll bind your living room's colour scheme. Plus, you've got a handy snuggler for those cold winter evenings.
Next Gen Family Photos
Gone are the days of grandma's fading family photos in cracked plastic frames. With companies like My-picture.co.uk you can add your favourite digital pic to almost anything – cushions, jigsaws, large canvases – and there's nothing stopping you from creating whole wall collages of the entire family if you really want to impress granny.
Light Up
That dusty old lampshade hanging from the ceiling with the long deceased spider in it just won't do. Why not go full Gatsby and hang an elegant chandelier. They don't need to be decadent – small ones still add a glamorous twinkle – and they emit a lovely warm glow that's perfect for winter.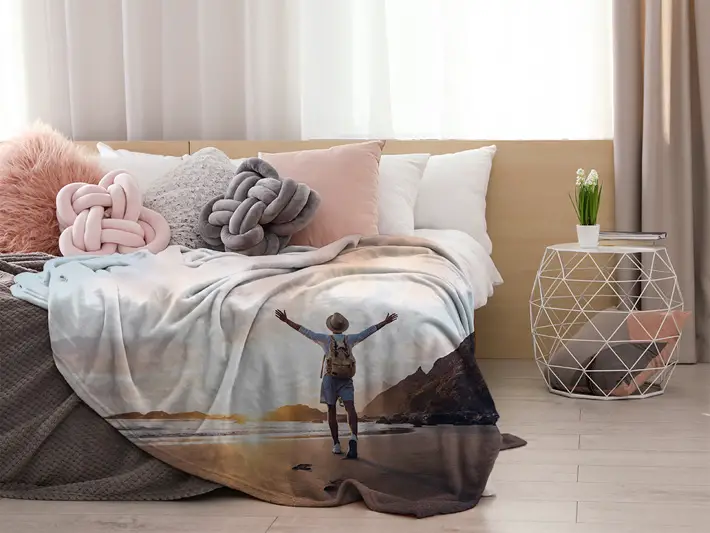 Wrap it Up
Speaking of winter, what better way to perfect the cosy living room feel than a personalised blanket with your own choice of photo on it? With this, there's a fleece-lined hug waiting for you whenever you want it – and it won't ever argue with you about to watch on Netflix.
Reflects Well
Using mirrors can make smaller living rooms appear more roomy – and you can also place them strategically to reflect window light and increase brightness. Of course, a good, large mirror that's shaped to reflect your living room's style is never a bad idea in any space.
Blooming Gorgeous
Nothing really comes close to fresh flowers when you want to add colour and loveliness to a living room. Pale or white colours add calm and subtle shading, colourful selections add vibrancy and life – and of course, colour matching can add that final touch. Oh – and the fragrance of truly fresh flowers is always a winner.
Pots of Colour
Course, fresh flowers come at a price – and keeping permanently fresh ones requires a lot of trips to the florist. So maybe accenting the pots of your house plants and creating a unifying colour scheme with them is the best alternative. Whatever, well-kept living things are what living rooms are for.
Smell Well
The best living rooms are a sensory experience – the overall look, the feel of fabric, the sound of conversation, nibbles on the coffee table – so don't forget the smell. Scented candles can sometimes be overpowering, so shop smart and test before purchase – alternatively, you might find pot pourri or diffusers work best.
Reading Matters
Ask any Zoom aficionado and they'll tell you a few strategically placed books on a good-looking shelf can do wonders for peer respect. The same applies to your living room should your guest be literary-minded. Course, clutter is never as good thing – so use sparingly and keep your Encyclopaedia Brittanicas in the spare room.