Cheap Bathroom Suites Remodelling Ideas That Fit Your Budget
Most homeowners believe that being on a budget limits their creativity and innovation ability when it comes to bathroom remodelling. This is untrue. You can have your bathroom wholly redone and maintain a budget by being inventive. It is best to plan and have a clear idea of what you want to change and how you want your ideal bathroom to look.
Here are cheap bathroom makeover options that won't break your bank:
Swap old bathroom suites with a new one
Fake tiling floor and wall solutions
Mirrors on the wall
Paint creatively
Do it yourself
5 Cheap Bathroom Suites Remodeling Ideas
1. Swap old bathroom suites with a new one
Your old bathroom suites can be completely revamped in one swift step. Unfortunately, toilets, sinks and basins can become dull looking and tarnished irrespective of your efforts to polish them. Fixing a new trim is a simple solution to this problem. Here are bathroom suites for sale for your bathroom makeover to replace your old set-ups. This is often cheaper than it seems; it's a very efficient and hassle-free option.
2. Fake tiling floor and wall solutions
Rather than wasting time mixing wallpaper paste, cutting tile after tile, and cleaning tile dust from your surfaces. You can use peel and stick wallpaper or adhesive wall and floor tile solutions.
These sticky solutions are ready-made tile patterned fabrics with adhesives that aren't difficult to figure out! They're just one of a slew of simple bathroom ideas that imitate the look of high-end bathroom wallpaper.
All you have to do is paste them on your walls or floors, and your bathroom has a facelift!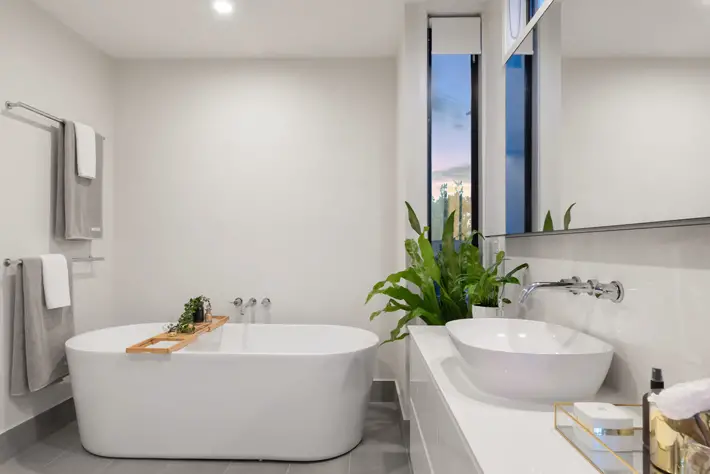 3. Mirrors on the wall
Of the many budget ideas, mirrors have to be my favourite. They add character to the bathroom. A small positional change can bring a whole new life to your space. Whether you replace a mirror with a less expensive alternative or buy a used one, you can change its appearance with simple DIY projects. You can paint, change the frame, or you can get rid of the plain mirror if it is within your budget. Then, go to home improvement stores and pick up a stylish mirror with decorative details.
4. Paint creatively
Repainting will be one of the most cost-effective and profitable ways to brighten up your bathroom for those who do not have enough money. However, completing this task may take some time as you would need to paint the corners of the wall, window, mirror, sink, toilet, switch plates, and flooring slowly and calmly.
Another critical factor to consider is the bathroom's humidity level. Excess moisture causes mould and mildew to increase. It would help to get high-quality paint because the temperature and humidity aren't stable in bathrooms.
5. Do it yourself
Often the most cost-effective way to have your bathroom remodelled. According to HomeAdvisor, workmanship costs account for roughly half of the cost of bathroom remodelling. Contractors such as carpenters, plumbers, electricians, drywallers, and floor tilers cost homeowners an average of $65 per hour.
If not appropriately handled, DIY bathroom suite remodelling ideas may end up necessitating both time and money. This is because you will require some necessary supplies such as face masks, a spray gun, a sander, and paintbrushes, among other things. DIY ideas are readily available on the internet, and YouTube is also a great place to start.
Final words
A bathroom remodel does not have to be expensive. Some upgrades, such as a fully tiled walk-in shower or expanding the size of your master bath, can easily cost tens of thousands of dollars. However, with careful planning and a little imagination, you can turn your bathroom into a luxurious retreat on a much smaller budget.