Renault Clio Iconic – Review
By Liam Bird
If I were to ask you what you thought the best-selling French car of all time was, what would your answer be? The Citroen 2CV perhaps, the Peugeot 205? And what about the Renault 4, or the Renault 5 for that matter? All surely are contenders.
The correct answer? The best-selling French car of all time is actually the Renault Clio. In fact, since its launch, the Clio has become the first car to win the European Car of the Year award twice, and it has been the top-selling car in France for 21 out of the past 30 years. That's good going, to say the least – especially as more and more of us move from superminis to SUVs.
Yes, you did read that right, the Clio has just turned 30. Which means Nicole is deep into middle age by now, and Papa probably isn't safe to drive anymore. C'est la vie. Still, I guess, we have all aged a little since 1990…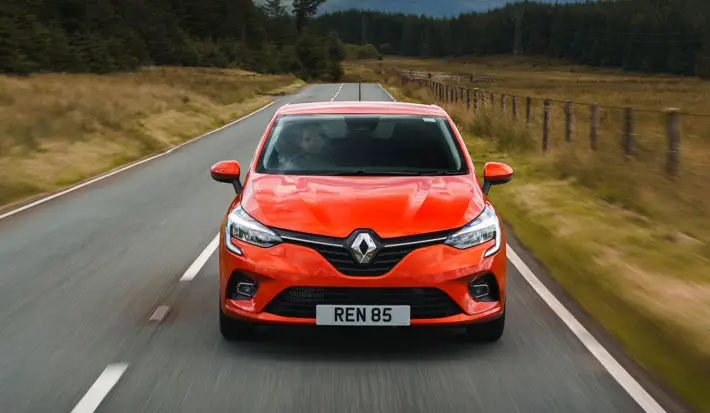 "Sense of solidity"
Now in its fifth generation, the new Clio – which first saw light of day, or light motor show stand at least, in Geneva in 2019 – has also matured. Underneath sits Renault's all-new CMF-B platform – the Clio is the first to get it – which allows for a host of power-train, connectivity, and safety system, options. It also means that the Clio, which incidentally has a shorter wheelbase (albeit by 6mm), and is now 43mm lower than it used to be, is also nearly 50kg lighter. It's because of such underpinnings that all of the body panels are also new. Yet the new Clio, LED headlamps, shorter bonnet and all, is still instantly recognisable.
It's on the inside where the Clio has seen its biggest makeover. By using what space they had both very carefully and very cleverly, and selecting a range of far nicer and higher quality materials, the Clio's interior is now, well, just a much nicer place to spend some time. Forget any cliché's about French cars feeling flimsy, there's a real sense of solidity in the way this new has been put together. The seats are comfy, the dashboard is beautifully clear, the switches move with a nicely damped precision, and all of the touch points are either leather-bound or knurled aluminium. By comparison, a Ford Fiesta's interior feels decidedly bargain basement, a Vauxhall Corsa's even lower rent than that.
"Perfectly user friendly"
Standard equipment includes Satellite navigation, DAB radio, Bluetooth connectivity and rear parking sensors, ISOFIX front and rear, as well as Android Auto and Apple CarPlay preparation. Should your budget stretch to such things, higher specced Clios come with a 9.3 inch touchscreen, whereas the more affordable Iconic level Clio (such as the one Renault loaned me) came with a more modest 7 inch unit; it still feels perfectly user friendly. Larger rear seat passengers may complain there's a lack of legroom, but the trade-off is the Clio gets a usefully sized boot. There's a proper spare wheel too.
There's a range of engine and drivetrain option (thanks to that new platform), the lowest powered being potentially an insurance savvy 74bhp three-cylinder petrol, the highest an also petrol-powered 128bhp turbo-charged four-cylinder. An 84bhp turbo-diesel is available too, and soon there'll be hybrid with two electric motors, one big and one small, both attached to a 1.6 litre petrol engine, with a battery in the boot. The diesel gets a six-speed manual, the lesser powered petrol's a five-speed manual, and the bigger petrol, the TCe 130, a seven-speed dual-clutch auto. Based on recent experience however, it's the 99bhp 3-cylinder TCe turbocharged petrol that I'd say is the pick-of-the-bunch.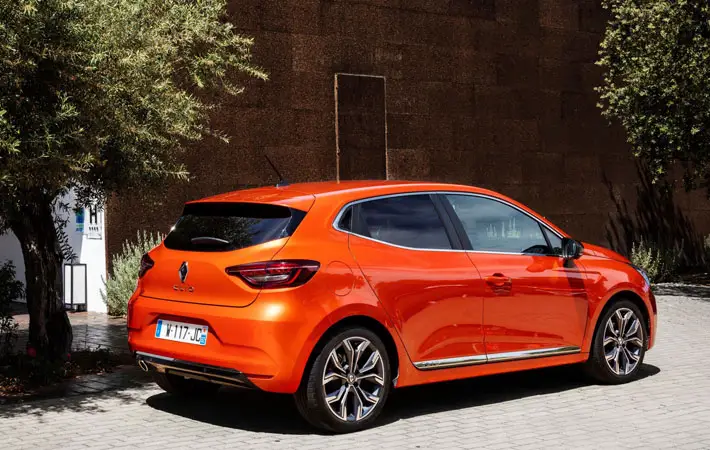 "Easy to live with"
That aforementioned sense of newfound refinement is evident in the way the Clio drives. Granted, a 99bhp French supermini is no-longer something that can be considered a hot-hatch (Peugeot 106 Rallye anyone?) nevertheless there's more than enough oomph for day-to-day driving, a useful slug of torque available above 2,000rpm, and thanks to the now near noise free cabin, the 3-pot Clio doesn't feel outclassed on the motorway. Neither, for that matter, does it feel that it lacks a sixth gear. All of the controls are light and direct, and although perhaps not exactly what you might call exciting, there's a very pleasing and precise, quality to the way the Clio rides and drives.
All-in a-all then, the Clio now feels nice and grown-up. It's refined, chic, and offers high levels of sophistication, and yet it's still incredibly easy to live with. I've still yet to drive a Peugeot 208 – surely the Clio's closest rival – but given the choice between the new Clio, a Fiesta, a Corsa, and maybe even Volkswagen's Polo, I'd take the Clio every time. It doesn't take a genius to figure out that Renault have produced another best-seller.
Renault Clio Iconic TCe 100
Engine: 999 cc 3Cyl 12V turbocharged petrol
Transmission: 5-speed manual, front wheel drive.
Power: 100 bhp @ 5,000 rpm
Torque: 118 lbft @ 2,750 rpm
0-62 MPH: 11.8 Sec
Max Speed: 116 mph
CO2: 99 g/km
MPG: 54.3 WLTP
Price: From £16,295 (as driven £18,105)