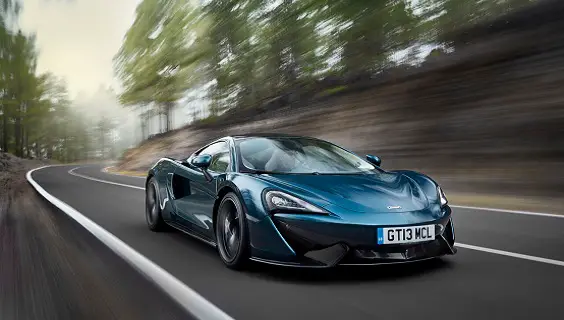 By Liam Bird
Certain invitations are simply too good to refuse. "Would you care to join us…?" read McLaren Automotive's email, "For the launch of our all-new McLaren 570 GT next week. We'll be based at the Ritz Carlton Abama – in Tenerife." Well, they did ask me nicely.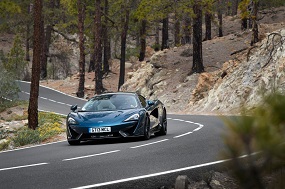 A couple of days later I found myself shuffling through Manchester's airport security and boarding Flight FR433 to Tenerife South, driving license carefully packed. I'd be on what's known as the Island of Eternal Spring for just 24 hours. Still, at least the 4½ hour flight would give me time to gen-up a little on Woking's most famous motor manufacturer.
Founded by the prodigiously talented Kiwi racer and engineer Bruce McLaren in 1963, McLaren need little introduction. They've won nearly everything they can; numerous F1 driver's and constructor's championships, Can-Am series, Sebring, Le Mans… the list goes on. In 1992 their Gordon Murray designed F1 road car re-wrote the super-car rule book. Just 106 were made and if you want one now – if you can find one for sale that is – you'll need incredibly deep pockets. Nevertheless, right from the very start Bruce McLaren's vision was that his company would make cars for the road, as well as racers. McLaren Automotive have been doing exactly that since 2010.
"Discretion and elegance"
The 570 GT is their latest creation. It sits at the top of their Sport-Series range and is, they claim, their most usable car to date. In the metal, or should I say super-formed aluminium, it appears smaller than you might think. There's nothing unnecessary in its design, no silly big wings, no spoilers; nothing's there simply for the sake of it. In places it echoes McLaren's P1 hypercar – its rear lights especially so – and yet in certain colours it achieves both discretion and elegance.
It's also the first McLaren to feature things like a glovebox, and door pockets for your bottled water and sundries. The flying buttress design of both the 570C and 570S, the other members of the Sports Series range, has been replaced by a hinged, glass, rear hatch which opens grand piano-style, towards the kerb (the hinge location is determined by whether your GT is right or left-hand drive). It reveals an extra 220 litres of luggage space on what McLaren calls the Touring Deck. Together with the small trunk upfront the 570GT packs the same storage space as a Ford Fiesta. But perhaps that's where that particular comparison both starts and ends.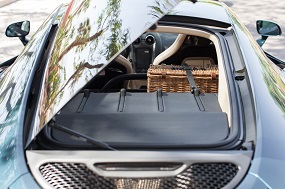 McLaren's engineers have also lowered the sills by 80mm and applied their expertise to the trademark dihedral doors. As a result the 570GT is also the easiest McLaren to thread yourself into. Once aboard you're greeted by a cabin that eschews the usual McLaren carbon-fibre trim and instead replaces it with thick and subtle soft leathers. Eight-way adjustable seats and a powered steering column make for a superb driving position, a panoramic roof makes things feel light and airy, as does the deep windscreen. As per the exterior there's nothing in here that doesn't need to be. All of the infotainment is taken care of by the iPhone-esque touchscreen and, hoorah!, for once there are no distracting buttons on the heavily-sculptured thick-rimmed steering wheel.
"Scalpel sharp"
Engine on? Check. Air-con on? Check. Sat-nav on? Check. Optional (and magnificent sounding) Bowers and Wilkins 12 speaker hi-fi on? Check. Sunglasses on? But of course! Time then, to pull that soft-close door down and explore this volcanic island.
Up the hill, first right, and out onto the motorway.
The first thing that strikes you is just how refined everything feels. The ride is taught, but it's also compliant. Spring rates for the 570GT have been reduced by 15 per cent at the front and 10 per cent at the rear. It's also surprisingly quiet. There's a quieter exhaust system and specially-developed Pirelli P Zero tyres, which incorporate their own internal noise cancelling system, have been fitted. You really could drive this thing all day long.
Seconds later you begin to discover just how quick and precise everything feels. 0-62mph takes just 3.4 seconds; 0-124 just 9.8. On the twisty mountain road that doubles as a stage for the Rally of Tenerife and literally leads you right up through the clouds towards the Mount Tiede Observatory the 570GT reveals itself as a bonafide sportscar: It is scalpel sharp.
There's little, if any, body-roll in the corners, and superb traction when exiting them. A lightening quick 7-speed gearbox and 562bhp work together perfectly, their mission being to catapult you towards the next hairpin. While the swooshes, whooshes and sighs of the 3.8 litre V8's twin turbos with the automatic throttle blips simply add to the sense of occasion. Mercifully the brakes, steel in this case rather than carbon ceramic, inspire confidence, the drops off the side of the TF24 are as awe-inspiring as the way the 570GT covers ground.
"Back to reality"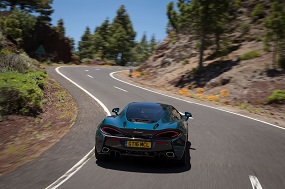 After a lunch, McLaren supplied a Fortnum and Mason hamper – to show off the GT's increased carrying capacity of course! – and it's time to guide the 570GT down the other side of Mount Tiede via more hairpins, more heart-stopping drops, and more of Tenerife's surreal and multi-coloured volcanic lava-flow scenery. Sadly, as Mclaren's PR says, time flies when you're having fun. It's time too for me to catch my flight back to reality.
At £154,000 the 570GT makes many a Ferrari (The f-Word! They're McLaren's rival both on the road and the track) feel expensive, and weighing in at just 1,350kg, thanks in part to McLaren's mono-cell carbon-fibre chassis, it makes the similarly priced and similarly swift Audi R8 V10 Plus feel like a tank. Whether the 570GT will ever become as revered as the Porsche 911 Turbo, with which it will be inevitably compared, remains to be seen. But, it took Porsche over 50-years to perfect their rear-engined icon and both Ferrari and Audi have been doing this kind of thing for years too.
Ponder over that for a second or two. It makes what McLaren Automotive have achieved in just six years all the more astonishing.
McLaren 570 GT
Engine: 3,799cc 8Cyl 32V twin-turbo petrol
Transmission: 7 speed SSG dual-clutch manual with auto mode, rear wheel drive.
Power: 562 bhp @ 7,500 rpm
Torque: 443 lbft @ 5,000 – 6,500 rpm
0-62MPH: 3.4 Sec
Max Speed: 204 mph
CO2: 249g/km
MPG: 26.4 combined
Price: £154,000