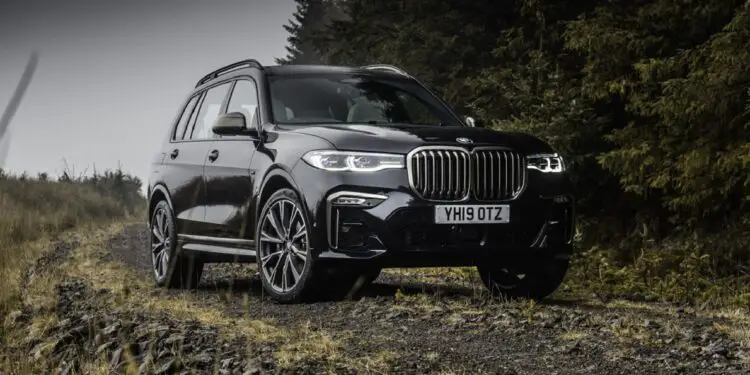 By Liam Bird
When the whole sports SUV thing kicked-off, which now feels like so many moons ago, BMW were right there, at the front. Their X5 almost epitomised the genre; it was stylish, it wore the oh-so right premium badge, it drove well, it was quick, and it offered just the right amount of off-road ability for its prospective customer; i.e. it could cope with a gymkhana car park, or a snowy or manicured gravel driveway. No one ever really bought an X5 thinking they were about to better a Range Rover down a green lane, did they? Funny, especially when you remember that it is actually BMW we have to thank, for just how much and how quickly the Range Rover – and the Land Rover Discovery for that matter – were developed (read: improved). BMW owned Land Rover from 1994 – 2000.
But, despite BMW's input, and their money, the Bayerische Motoren Werke have never really built anything big, or perhaps, quite luxurious enough to challenge what the modern Range Rover has become. Well, until recently that is.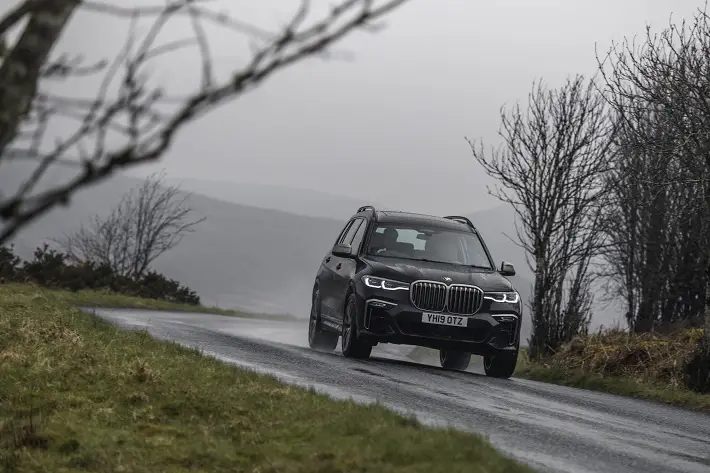 "Imposing"
Having just spent a week with BMW's X7, and, as someone who doesn't actually need a go-anywhere, full off-road experience 4×4, I'd happily argue that the X7 is equally as good, better perhaps, than anything wearing a green oval badge. An X7 is also significantly more exclusive. BMW say they sell around 800 of them a year here in the UK, and I'm not even entirely sure that I'd seen one before their delivery driver arrived in "mine". In addition, there's also that most delicate of subjects: reliability. Munich trumps Solihull, surely.
Standing over 6-feet tall, weighing the best part of 2.5 tonnes, and at over 17 feet long, the X7 is imposing to say the least. To try to give some perspective, a Mercedes GLS is larger; the Range Rover is lighter. Underneath that gargantuan Germanic bodywork you'll find very similar oily bits to BMW's 7-Series flagship saloon, but whereas the 7 Series features carbon fibre components in its construction the X7 sticks to steel and aluminium.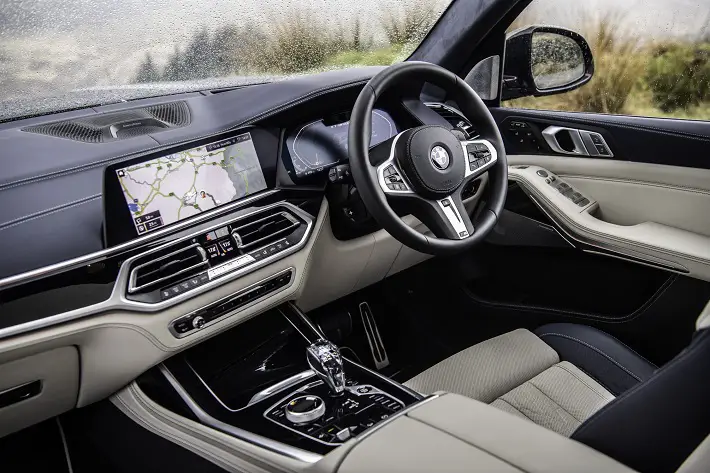 "Glorious"
Having just read that you might well think the X7 is just another lumbering, wobbly, behemoth, all SUV and no sports. Think again. Even in its mildest diesel-powered form the sprint to 60mph takes little more than 7 seconds – not bad at all given it's nearly the same size as a studio flat. However, should your budget stretch to such things, there's an M50i version that's powered by a 4.4 litre twin-turbo, 523bhp, V8, the same one BMW fit to their M5 super saloon. Guess which one BMW sent me. The X7 M50i does 0-62 in 4.7 seconds – and the noise it makes whilst doing so is absolutely glorious.
Nevertheless, it's not the performance, as stupendous as it is, that impresses most. It's the comfort.
"Silky smooth"
Sat high in any one of the X7's soft leather-clad seats, you're insulated from the day-to-day hassles of the world outside in a way few other cars, with the exception of those with price tags three times the size of the X7's, can muster. Both engine and 8-speed gearbox are silky smooth, and air suspension means you glide over (nearly all) road imperfections as if they weren't there. It is stretching the imagination to say the X7 can be hustled along – it's far too big for such things; it's heavy and there's body roll. But, on a flowing and preferably wide road it doesn't feel anywhere as big as it actually is. As way of munching big miles in a single stretch, the X7 really does take some beating – and even more so if it's been fitted with massaging seats.
However, there is a price to pay for such indulgences. That wonderfully whooffly engine note and hot-hatch embarrassing acceleration come at the cost of economy. Even the lightest of tickles on the throttle can make the X7's instantaneous mpg figures plummet into single figures. Throw a headwind, an uphill slope, and a sense of urgency into the equation, and you'll struggle to better 4mpg. The M50i guzzles unleaded as if it's going out of fashion. In over 600 miles of what turned out to be quite leisurely driving, I never bettered 23mpg, and that's with just one passenger; fully loaded, inevitably, that would be lower still.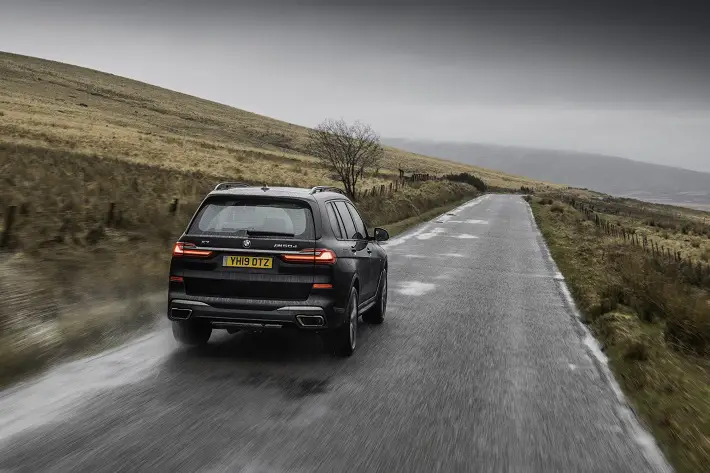 "Massive"
There's also the fact that with the rear seats up the X7 offers less boot space than a VW Golf, and because it's enormous, it's never going to fit in your garage or allocated parking space either.
But, and it's a big but…. If I could afford one, I'd have an X7 in an instant. It's more exclusive than a Range Rover, less try-hard than an Audi Q7, more involving than a Mercedes Benz GLS, and even specced to the gunnels it's nearly half the price of an equally equipped Bentley Bentayga. Oh, and despite what some think is its massive grille, the X7 is still significantly better looking than (the also BMW based) Rolls-Royce Cullinan. There really is a lot to like about the X7 – literally, a huge amount in fact. I like it lot.
BMW X7 M50i N63 4.4l
Engine: 4,395cc, 8-Cyl, 32V, twin-turbo, Petrol
Transmission: 8-speed auto, all-wheel drive.
Power: 530 bhp @ 6,000 rpm
Torque: 553 lbft @ 1,800 rpm
0-62MPH: 4.7 Sec
Max Speed: 155 mph
CO2: 185 g/km
MPG: 25.9 (combined)
Price: from £95,745 OTR (as tested £103,685)