How Chaos in Westminster Affects UK Shares
What on earth has been going on? We don't just mean over the last few days, nor the last few weeks. But in Westmister, within the most prestigious power sector of the United Kingdom, we've witnessed car-crash after car-crash, and scandal after scandal.
The English press have been having a field year as opposed to a field day, and public opinion on the government is a daily talking point.
Higher returns from higher prices
In and amongst the 'pantomime' in Westminster, comes the subject of the economy. And with the subject of the economy comes the subject of UK Shares. But is it good news, or bad news?
Well, according to Michael Hewson, Chief Market Analyst at CMC Markets UK, the oil and gas sector is on the up, after reports that the sector has secured some changes to the windfall tax announced by recently departed Chancellor Rishi Sunak a few weeks ago.
Mr Hewson said: "Offshore Energy UK, the industry body, said it had secured a change to allow firms to reduce the tax by spending on decommissioning on old fields, and investing in electrification of producing fields, helping to lift BP and Shell shares off 3-month lows. Shell is also being helped by its decision to revise up the value of its oil and gas assets, on the back of higher refining margins, as it generates higher returns from higher prices."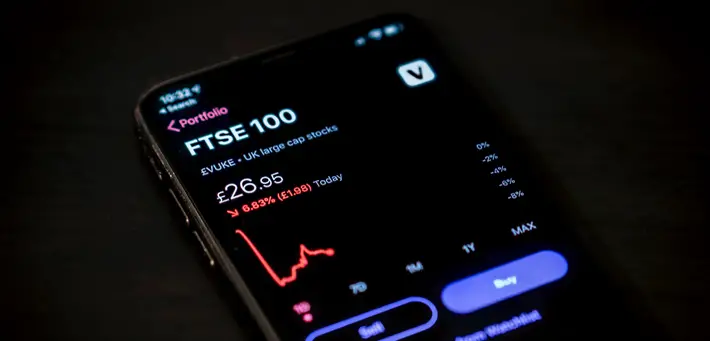 The FTSE100 finished higher on the day that Boris Johnson announced his resignation last week. The pound climbed after he addressed the nation, following a number of resignations by government ministers.
Commodity companies have also seen the positives on the back of Mr Johnson's impending exit from No 10, even if he hasn't committed to a departure date yet.
Michael Hewson said: "A strong rebound in copper prices from 18-month lows in the last 24 hours, is helping the basic resource sector, with strong gains for the likes of Antofagasta, Glencore and Anglo American, after reports out of China suggested that the Ministry of Finance was considering allowing local governments to bring forward about $220bn of infrastructure spending from 2023, into the second part of this year."
Airlines taking off?
IAG has been performing well, after it announced it'd come to a deal with British Airways staff at Heathrow to delay strike action with check-in that had forced the airline to cancel thousands of flights up until October.
But another airline hasn't been as lucky. JET2 shares plummeted after the airline announced that pre-tax losses had widened to £388.8m. The airline shifted blame on to ill-prepared, and poorly resourced airports and suppliers, as they struggled to cope with the sharp rise in passenger numbers.
But one of the biggest drags on the FTSE100 at the end of last week has been in the construction sector.
Mr Hewson said: "Persimmon shares have slipped to their lowest levels in two years, after the UK house builder reported it had sold 6,652 properties in H1, slightly below expectations. Total revenues fell to £1.69bn from £1.84bn a year ago reinforcing those concerns of a few weeks ago of a slowdown in the UK housing market."