7 of the Best Ways to Exercise if you Love the Outdoors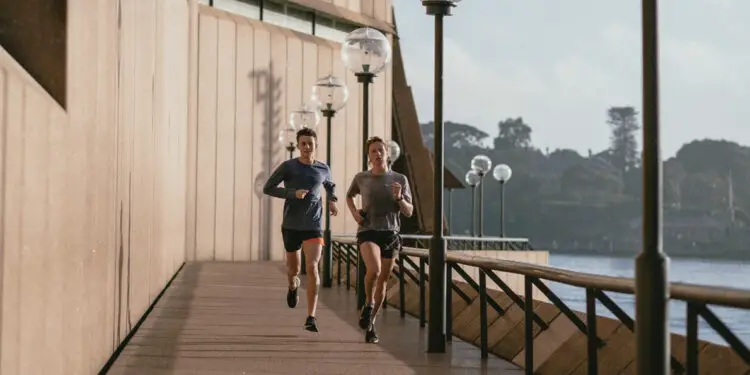 By Marie Miguel
xercise is one of the best and simplest ways to improve your life. Exercising outdoors, better yet, is a super easy way to get some fresh air and explore all kinds of wonderful environments.
Moving your body instantly gives you endorphins that can boost your mood and improve your mental health while keeping you physically healthy at the same time. Additionally, spending time outdoors has been proven to influence mood and potentially lessen the frequency of negative mental health symptoms.
Exercising outdoors, therefore, can be a great way to practice self-care or a beneficial addition to a mental health treatment plan. For more information on mental health and what you can do to manage your own, be sure to take advantage of resources like those over at BetterHelp throughout your fitness journey.
Lovers of the outdoors will likely find that exercising outside feels more fulfilling, more fun and motivating, and is easier to stick to.
After all, what better way to get your heart rate going than by enjoying what makes you happiest?
Ideas for Enjoying Exercise Outdoors
Whether you are looking to boost your mental health or simply occupy your time with a healthy habit, picking up an outdoor exercise hobby may just change your life.
Sometimes, the hardest part is just knowing where to start or what to try. Here are seven ways to exercise if you love the outdoors to consider:
1: Go for a hike.
Hiking can be a great way to explore the outdoors while also getting in a great workout.
On top of this, hikes are available at a variety of different difficulties ranging from beginner hikes with minimal incline, to multi-day backpacking trips up and down steep slopes.
Hiking is a great way to take a peek at the natural features local to you or to discover new, exciting places.
2: Swim in a pool, pond, river, or lake.
Especially in the summer, working out in the hot sun can often feel overwhelming. However, taking a dip in the water can be a great way to cool down while also getting your body moving.
Swimming isn't just limited to the neighborhood pool either. There are many local, natural water sources that function as great swimming holes, and can make you feel immersed in nature.
If checking out natural waters is your plan, just be sure to check local water quality ratings before jumping in.
3: Try kayaking or canoeing.
Like swimming, boating can be a great way to get into the water and cool down. It provides a more intensive workout, but it offers sight-seeing opportunities that are hard to match.
Paddling a kayak or canoe can be a fun way to work your upper body, and it's easy to access; lots of local rivers and lakes offer boat rentals for a low commitment exercise.
If you take a liking to the hobby, purchasing a small canoe, kayak, or other device of your own can be a reasonable and worthwhile expense.
Just like hiking, you can choose how strenuous you make your workout by the length of the boating trip and the type of water you boat on.
In addition, while kayaking can be a fun solo sport, canoeing is a great way to hang out with your friends and loved ones while moving your body.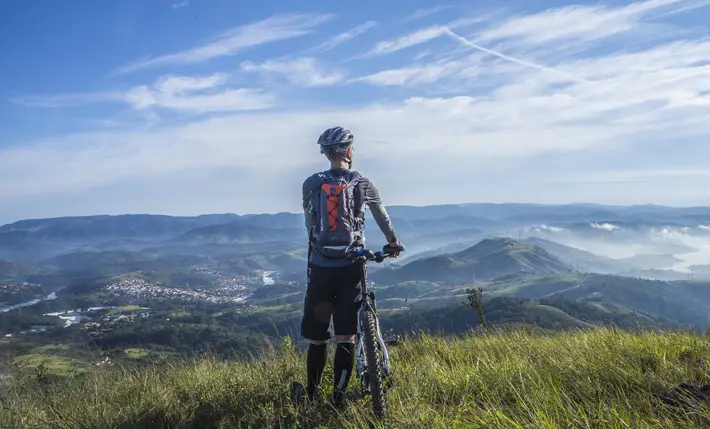 4: Go for a bike ride.
Cycling is the perfect activity for city, suburb, and country dwellers alike.
Renting a bike and cycling around a city can be the perfect way to see the sites, while cycling around the countryside can be a wonderful way to work those leg muscles and breathe in the fresh air.
5: Take a walk around your neighborhood.
Anywhere you go, a simple walk around can be a great way to get your blood pumping and see the outdoors.
Walking is a super accessible way to exercise no matter whether you live in the city or the country. A walk can be strenuous and lengthy or short and sweet, solo or with several friends.
6: Practice your normal workout in a local park.
If you practice yoga, martial arts, high-intensity interval training, pilates, or anything else, it might surprise you to remember that you can also practice your workout outside.
Many local parks have private, grassy areas where you can do the same exercises you typically do at home or at the gym while also getting some fresh air and sunshine.
7: Pick up an outdoor sport.
Exercising outdoors becomes much more fun when you have a goal to achieve or friends to move with.
The best way to do this is to pick up a fun and engaging sport, especially if you know that you're a person who does better at making plans when you have a specific task at hand.
Try a sport like tennis, frisbee, soccer, or even rock-climbing if you're looking for something a bit more adventurous.
Challenge Yourself to Experience the Outdoors
Exercise, for many of us, becomes so much more fun when you are in an environment that brings you joy.
Exercising outdoors can be a great way to improve your mood through the boosted endorphins that exercise brings and the increased vitamin D from spending time in the sunshine. It's a wonderful way to take care of both your mental and physical health simultaneously.
In addition to keeping you healthy, exercise can be an important part to a full and dynamic self-care ritual, whether it is mellow or strenuous.
Remember that while any exercise can be healthy, outdoor exercise especially can help you to achieve a happier mood and a healthier body.
Marie Miguel has been a writing and research expert for nearly a decade, covering a variety of health- related topics. Currently, she is contributing to the expansion and growth of a free online mental health resource with BetterHelp.com. With an interest and dedication to addressing stigmas associated with mental health, she continues to specifically target subjects related to anxiety and depression.