Introducing: Arcadian Haze
Manc sounds updated, groove and hip-hop added – they call in Grit Pop. Here's Tye from Barnsley's Arcadian Haze…
YOUR NAME: Tye.
BAND NAME: Arcadian Haze.
WHAT DO YOU DO/PLAY? Singer/songwriter.
HOW LONG HAVE YOU BEEN TOGETHER AS A BAND/PLAYING MUSIC?
We formed in 2017, however didn't become the current line-up until just over a year ago.
GIVE US 3 REASONS WHY WE SHOULD TRACK DOWN, LISTEN AND DISCOVER YOUR MUSIC?
1. We're unique, 2. We've always got something to say & 3. We're going places.
WHERE DO YOU SOUND BEST – FESTIVAL, CLUB, BEDROOM – OR SOMEWHERE ELSE?
Anywhere.
WHAT WAS YOUR FIRST…
RECORD? The Stone Roses – The Stone Roses.
CD? What's The Story Morning Glory – Oasis.
DOWNLOAD? Original Pirate Material – The Streets.
SO, WHEN IT ALL GOES RIGHT AND YOU'VE GOT A HUGE QUEUE OF HANGERS-ON AND A RIDICULOUS MANSION, WHAT WILL BE YOUR BIGGEST INDULGENCE, MUSICAL OR OTHERWISE?
Whatever it takes to be having a good time, at all times.
SO, WHEN IT ALL GOES WRONG AND YOU'VE ACRIMONIOUSLY BROKEN UP CITING HUGE MUSICAL DIFFERENCES, WHAT DO YOU FALL BACK ON?
Disappear to some remote island on the other side of the world.
CITE SOME INTER-BAND MUSICAL DIFFERENCES…
We all appreciate good songs from all genres of music so don't tend to have many differences, however I CANNOT get my head round Nathan's dislike for The Smiths.
WHO ARE YORKSHIRE'S FINEST IN CULTURE, SPORT AND MUSIC?
Culture – Arthur Scargill, Sport – Barnsley F.C. & Music – The Beautiful South.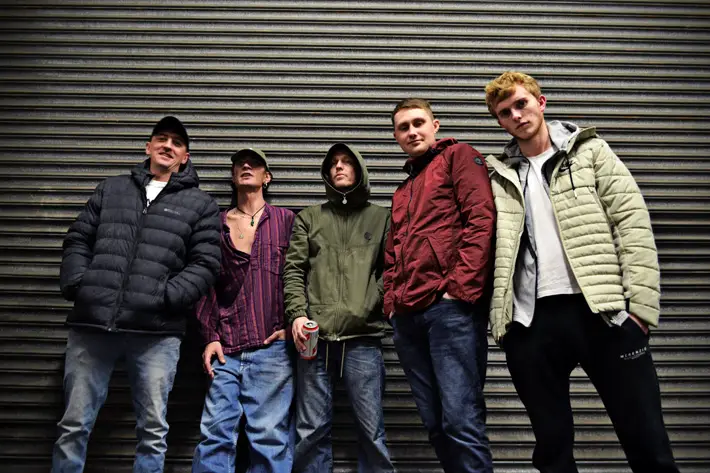 NAME YOUR SUPERGROUP – WHO'S PLAYING WHAT, WHO'S ON VOCALS AND WHO'S YOUR BEZ?
Drums – Reni, Bass – Peter Hook, Guitar – Johnny Marr, Vocals – Liam Gallagher… so sticking with the Manchester theme our Bez would have to be the one and only Mario Balotelli!
GO SEE THIS FILM: True Romance.
GO READ THIS BOOK: Post Office, Charles Bukowski.
GREAT LOST BAND/ARTIST: Got to be the great man Bob Marley.
WOULDN'T BE CAUGHT DEAD SUPPORTING: The Sherlocks.
LONDON, L.A OR LEEDS?: Lundwood.
AND FINALLY… AS YOU LEAVE THE STAGE, WHAT ARE YOUR PARTING WORDS?
Thanks for having us.
For more info visit: facebook.com/arcadianhaze