Paul Weller – Live Review – Halifax Piece Hall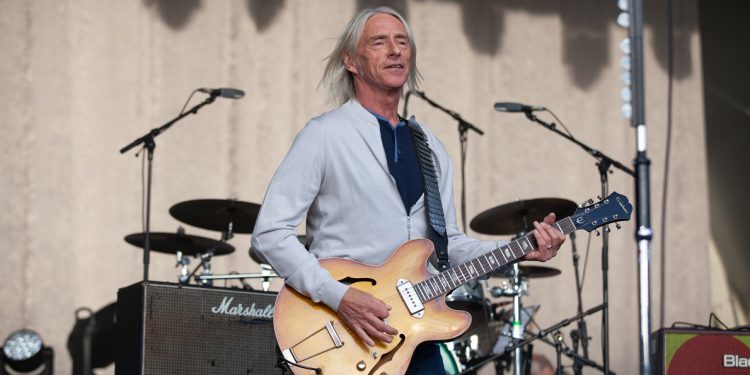 By Victoria Holdsworth, July 2022
When the Modfather rolls into town, there are two things that stand out. The venue is going to be sold out and the crowd will be sharply dressed.
Taking to the stage, on a very balmy evening, Paul Weller channels his inner Kurt Cobain, with his long parted tresses and grey cardigan, he cuts a more relaxed figure than we are perhaps used to seeing.
The excitement is palpable as he strikes the opening chords of the southern rock infused 'White Sky', and carries straight into the fuzz licked 'Long Time', both taken from the 2015 album Saturns Pattern.
Weller looks a little nervous before addressing his audience, before greeting them in his unassuming style, before receiving deafening adoration back.
'Cosmic Fringes' from his 2021 LP Fat Pop receives a mixed reception from the crowd, some embracing his new sound, other old school die hards waiting for the spark to ignite them into action.
They didn't have to wait long.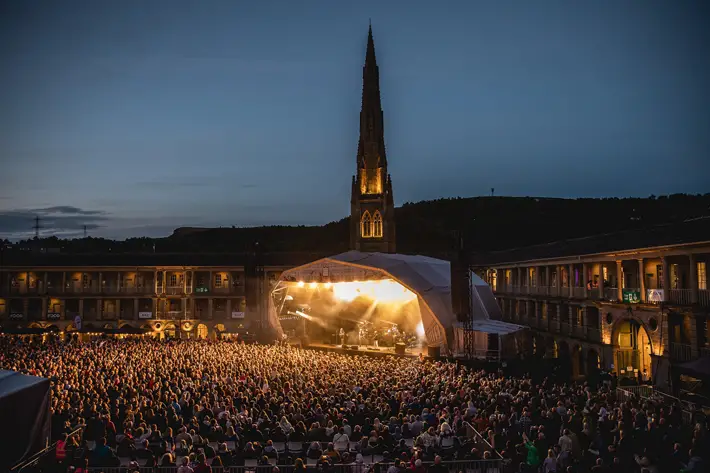 "Epic"
'From The Floorboards Up' sends the masses into overdrive, and finally gets people moving and dancing and looking like they are enjoying themselves, much to Weller's delight.
There's a carefully planned order to the set list tonight, mixing in a bit of everything from his illustrious career, and we are also treated to some of his old classics, dressed up slightly differently – something that the Modfather reimagined during lockdown. The Style Council's 'My Ever Changing Moods' and 'Headstart For Happiness' are given brazen new life.
Slowing things down a little with 'Village', which he explains he wrote whilst being in confinement, it's an epic shoegazing tune, beautifully crafted and dreamlike, sharing some raw and touching lyrics, all attractively arranged into something that should make its way onto a movie soundtrack.
While the audience is enjoying the new offerings, you can sense the tension of everyone wanting him to play the more recognisable songs from his past, and I think this is definitely picked up on by all who are on stage.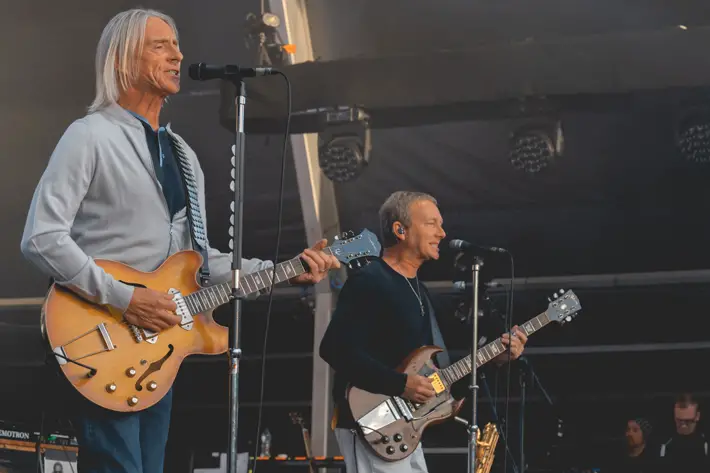 "Ballsy"
Weller teases everyone, saying that he could play on until about 1am with the amount of material he has, and if we could afford him the luxury of doing an eclectic mix, before sitting at his piano and tinkling the ivories to 'Stanley Road', which sounds just as fresh as the day it was released, pleasing thousands around me.
'Saturns Pattern', with its hypnotic and regimented beat is perfect for this summer's evening, and then, just like a big top ring leader, he slows everyone down again with the remarkable 'Hung Up', from his second solo album Wild Wood – or as Weller explains to the crowd; "The first two solo albums when nobody liked me any more!"
Another dream like tune in the guise of 'More' follows, before things step up a notch with a ballsy and piano blues drenched 'Woo Sé Mama', which sees Weller's long-standing guitarist Steve Cradock, a founder member of Ocean Colour Scene, produce some killer guitar work, lending to some fine saxophone and percussion interjections, making it one of the stand out songs of the night.
Just as everyone is in the mood to dance their hearts out again, he slows things down with a latter-day Style Council track, 'It's A Very Deep Sea', and from the present era, 'Rockets', from the album, On Sunset, released in 2020.
"Raucous"
'Tomorrow' picks up the crowd on his roller coaster set list, before another Style Council classic, 'Shout To The Top', manages to get even the more sedate patrons throwing themselves about. The medical teams tonight have really had their work cut out, with people dropping like flies around me, from either too much beer or too much dancing.
Paul Weller is really packing them in tonight, with back to back songs and minimal chatter, except to introduce each song. When Jam classic 'Start' commences with its punk percussion and sharp guitar cuts, the whole Piece Hall is bouncing, and he sings it with so much passion all these years.
Ending the set on an offering from the outstanding 1997 album Heavy Soul, 'Peacock Suit' is a showcase of just how good a musician and lyricist Weller is. This is surely the build up to one of the best encores ever, as Weller and his band bust out each funky groove possible, leaving everyone wanting more.
After a five minute breather, the band return to the stage to raucous noise. After thanking the crowd, the opening bars of 'Broken Stones' sees an onslaught of fans grappling for their mobile phones. Executed with so much feeling and simplicity, it is truly one of the best songs he has ever written.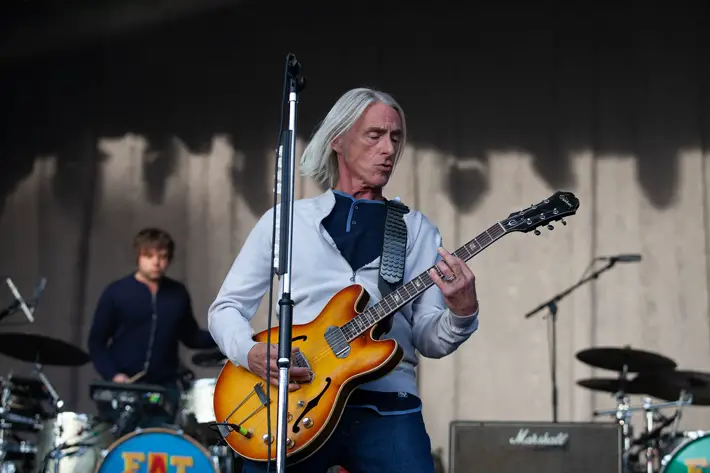 "Outstanding"
A quick guitar change and we are ripping into the timeless slice of life narrative that is 'That's Entertainment', a song which transcends the decades, a theme tune to many peoples' lives. Then, without missing a beat, we are into 'Wild Wood' with its lulling string work and punchy, Shakespearean chorus outbursts. There are times when Weller writes with such beauty it can take your breath away.
Taking to his piano again, he explains to the crowd that he hs received a request to do this next song, and he wouldn't get out of Halifax alive if he didn't play it. What has to be one of Weller's most recognisable solo efforts, 'You Do Something To Me', sees his band add their own little tweaks throughout with effortless musicianship, breathing something a little bit extra into what is clearly a special tune to many.
'The Changingman' is another belter, although would have been better earlier in the set. Then, after introducing and thanking his band and the crowd for an outstanding evening, he ends on 'A Town Called Malice', sounding slick and punchy, with some killer vocals from the now 63-year-old.
After charting in six decades, Paul Weller's voice and opinions still resonate. He truly is a musician of the people. He is also, quite possibly, the best songwriter of our time.
images: Cuffe and Taylor/The Piece Hall Trust