Michael Ball and Alfie Boe – Live Review – Scarborough Open Air Theatre
By Roger Crow, June 2022
Relationships, as we know, are all about points. You go and see a show for them, and they see one for you. And along the way your appreciation of different music is enhanced.
So when offered the chance to see Michael Ball and Alfie Boe in concert, I didn't have to check if it might be something the UK's number one MB fan might've been interested in.
So here we are, after a 50-mile trek to one of my favourite venues in the world. And after another day of horrible news, the escape could not be more welcome.
Support act 'Welsh of the West End' belt out some terrific tracks, including Frozen's 'Let It Go', and 'Shallow', from A Star is Born. Then, naturally there's a break while the lads get ready backstage, and the crowd prepares for the main event.
There's an idea of how serious Ball and Boe are taking the latest leg of their tour when they emerge on stage to 'Also Sprach Zarathustra', better known as the 2001 theme. That segues into… you'll 'Nevada' believe it… 'Viva Las Vegas'. (Not one of their gags sadly, though they missed a trick not using it).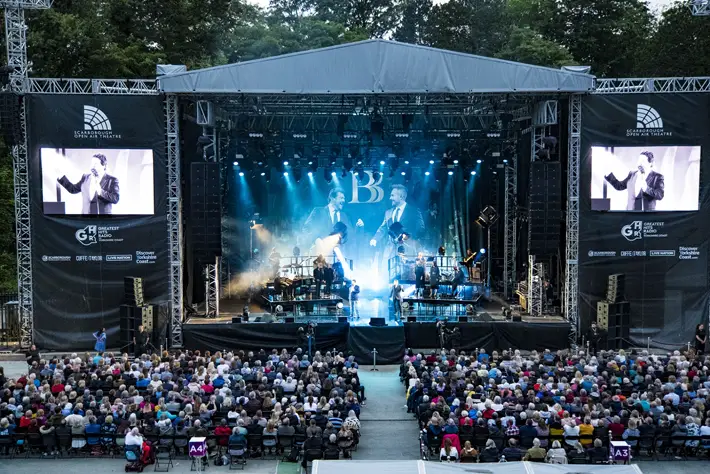 "Animated"
Then, before the status quo settles too much, they're off into a version of 'Rockin' All Over the World'. A mere two tracks in and this is already turning into 'The Greatest Show'. Yes, the inevitable track from THAT musical blockbuster follows, a film which I never tire of.
While Alfie looks like he's channelling Johnny Cash, all dressed in black, Michael has gone full Clarkson in smart jacket and jeans.
The masses have turned out on the last day of June to see them work their 'kind of magic' once more with something I dub 2022: A Music Odyssey.
"We are back… in Scarborough" announces Ball to a ripple of applause. "So good to be back," enthuses Boe.
Their choice of song? 'You'll Be Back', from Hamilton, the ear worm of a track I've had on hard rotation since a friend suggested I might like it. Their version is far more animated of course, and a lot less coldly threatening than the original.
'A Thousand Years' by Christina Perri is also a personal favourite, which makes me wonder if the duo have hacked into my 'most most played tunes' on a certain smart speaker. And anyone who's listened to Ball's Radio Two show over the years will know he's obsessed with Bette Midler's title theme from The Rose, so naturally that gets an interpretation.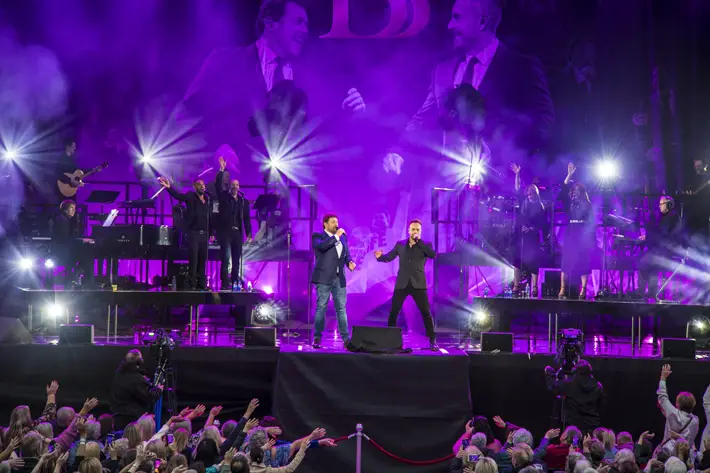 "Hard not to be moved"
The last time I saw them on stage was during a Les Miserables concert in the West End, and as terrific as that was, their Scarborough medley is just as entertaining.
'Bring Him Home' and 'One Day More' rarely fail to stir the emotions, and the duo would have taken the roof off, if the OAT had one.
We eventually snap back into the Michael and Alfie bants that have made them one of the most popular singing duos of their generation – and a certain tune which set the, er, Ball rolling.
"It's a song that I've sung in every single concert that I've done anywhere in the world…" says Michael chirpily before Alfie interjects. "Let me just check the set list… NO!" he yells.
Perhaps unsurprisingly they launch into 'Love Changes Everything', the song which really changed everything. And naturally the crowd goes wild. Perhaps not as wild as they might have gone if they'd showed the clip of Michael in full tennis gear from his turn on Coronation Street, but that's another story.
Once the crowd has settled, there's more fun to be had, and it's hard not to be moved when Michael pays tribute to his dad who's in the audience.
"What do we think of when we think of Las Vegas?" asks Ball innocently.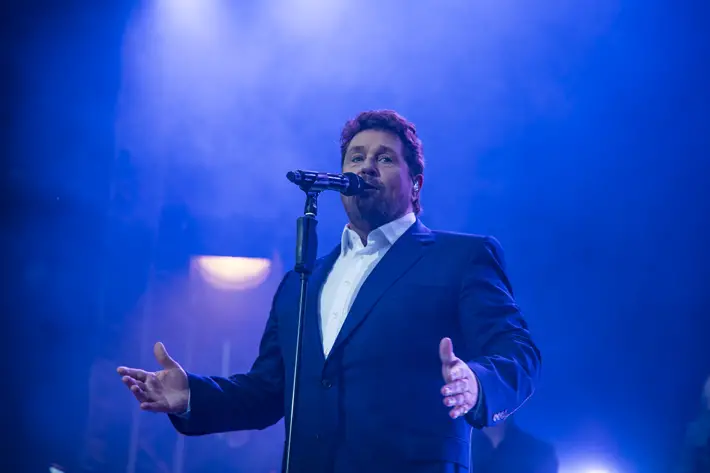 "Greatest showmen"
"Strippers," replies Boe, almost like he's channelling Les Dawson's iconic Cosmo Smallpiece.
That's the intro for their version of Kenny Rogers' classic 'The Gambler', and a great plug for their pending album, due out later in the year apparently. There's a good bet it will storm straight to the top of the charts, as per.
Most of the remainder of the gig is an 'on your feet', swing your pants selection of medleys, and they go down a storm. After all, any show which features a few tracks from the Four Seasons, Tom Jones, Wham!, and Queen is pretty bulletproof.
Throughout the gig, Ball works the camera like the seasoned pro he is, which is a blessing for those of us up in the stands. Anyone who feels detached from the action can happily swoon over the duo via hi-def screens
And like that earlier track suggests, by the time they close with one of S Club 7's biggest bangers, Ball and Boe's reputation as the greatest showmen is well and truly affirmed.
Even for those of us who went along for the brownie points, it really was the greatest show.
images: Cuffe & Taylor