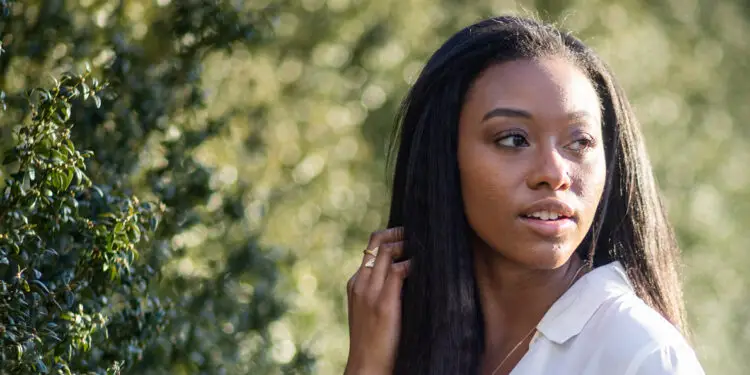 American alt-pop with a dash of RnB, from Manassas, Virginia…
What's the title of your latest release, and what does it mean to you?
My new single 'Monsters' came about almost exactly a year ago now. It was at the height of the pandemic and I was re-reading one of my favourite series, Percy Jackson by Rick Riordan, because it was announced that it was going to be a Disney+ television show. At that time, I was writing multiple songs a day, and I think I tweeted something like "What are the odds that I write a song about Percy Jackson?", and people responded that I should, and so I did. So, I ended up posting the song with just me and my guitar on all my social media pages, and that's when Becky Riordan, Rick Riordan's amazing wife, posted on her social media page and the song started to gain some traction. Flash forward a few months and I began working with Animal Farm and we decided that it should be the first single we released.
What was the hardest part about putting this release together, and why?
I think the hardest part about putting this release together was doing it during the pandemic and trying to find the right timeline and having to record by myself. I was still at university when the project started so I would finish up my classes, my clubs/activities (via Zoom of course), and my job, and then go to the studio at the dead of night by myself to record for hours. It was so exhilarating and exhausting at the same time, but I wouldn't change a second of it. I also think the release schedule ended up working out well in terms of timing, so everything worked out in the end.
Who produced the release – what did they bring to it?
My new single 'Monsters' was produced by Mat Leppanen, who works for Animal Farm, and he was able to take the track to a whole new level. I had written the song myself, and so I had a vision of what I wanted the production to sound and feel like, and he just really brought my dreams into a reality. It went from being a great song, to being an epic song, although I may be slightly biased. Either way, he was really able to bring that professional, cinematic, mythical vibe to it that we were going for, and it ended up sounding amazing.
What do you want the listener to take away from listening to your music?
My authenticity in the stories I tell. One of the reasons I've always loved song writing is because of the way it's allowed me to express myself in a way that everyone can enjoy, while also telling my truth along with the stories that are important to me. Music, and the arts in general, is something that I believe brings the world together and teaches us how to empathise and care for one another, and as a black woman living in America, that's always been something that was important to me. So, whether the song I've released is about oppression and equality, or heartbreak, or in this case, the Percy Jackson series with my new single 'Monsters', I want the listener to walk away with a new story and know that story was authentic and truly represents me.
How does a track normally come together? Can you tell us something about the process?
For me, the creative process is always changing, which is what makes it fun. I don't have one way of writing a song, which can sometimes make things harder when I go to collaborate with people, but it keeps me on my toes. Sometimes it begins with a melody in my head for a chorus, but sometimes it begins with me saying something in real life and realising I want to make it into a song. My friends often joke that you can't go a day without hearing me say "It's a song!" For example, my song 'Girlfriend' came about because I was complaining to my sister that I was sick of being friend-zoned and called "friend girl" by the guy I liked. I began yelling jokingly about it in typical Nia fashion and exclaimed "I don't want to be your friend girl, I wanna be your girlfriend!" And after laughing for a few beats, I screamed "That's a song!" And ran over to my guitar to write 'Girlfriend' where the lyrics to the hook are "I wanna be your girlfriend." While that's how that song came about, again, I'm always getting new ideas for songs from different things whether it be through real life, books, or melodies that come about in my dreams. So, I guess you could say that life inspires me to write my music. I like to say that my songs are like my diary. I share the stories that have an impact on me through them, whether they be mine or not and no matter how trivial they may seem.
What band/artists have influenced you the most since you started this project, and why?
Since starting this project, I would say I've had a lot of influence from bands like Imagine Dragons and some older artists like Tina Turner. They've really influenced the way I view rock music and how it intertwines with pop, and I love it! I love listening to them and I love making pop music with a sense of edge. It's a fun genre to be in.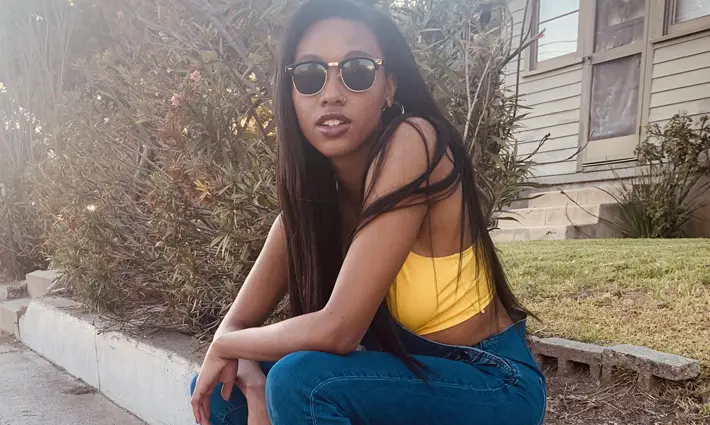 What countries would you like to tour? Are there any standout venues you'd like to play in?
Since I'm from the USA, I'm a bit biased and would love to go on a tour and explore America because it's so vast. That said, outside of a USA tour, I would love to do a tour around Great Britain. There are so many places I'd love to visit and perform, from Glasgow to London. Of course, performing at Wembley is a dream of mine as it is for many artists I believe, but I would also love to perform at The O2 Arena. So many artists I love and respect have performed there, so it would just be an honour to ever make it there one day.
If you could pick one track for our readers to listen to in order to get a taste of your music, what would you pick, and why?
I would pick my new single 'Monsters'. I'm a storyteller at heart, and that's really what the core of my music is, whether it be fictional or based on my life experience. In this case, 'Monsters' is a fictional world that I loved writing about and exploring. I've always wanted to be the chosen one and go on a great adventure and kill monsters and have magical powers and everything in between. Mix that storytelling with pop, rock, and an electric guitar and that's exactly what 'Monster' is. And it's a good reflection of the direction I'm going in with my music.
What ambitions do you have for the band/your career?
I have a lot of goals for 2021 that I'm really excited about. I just moved to Los Angeles so that's been a fun transition, and I'm really excited to dive into the music industry here. I'm also planning on releasing a lot of new music whether it be recorded singles, or just acoustic videos. I always say that writing is like a diary for me and I have so many songs that I've written that people haven't even heard yet so I'm excited to catch people up to speed. I'm also really excited to begin performing live again; that's something I really missed over the pandemic. I'm excited to be back on the stage with my guitar and in front of a live audience and rocking together. Lastly, like most artists and songwriters I'm just excited to keep writing and singing music in general and building a following and making more connections with people, doing what I love. That's really what it's all about.
Finally, as you leave the stage, what are your parting words?
Thank you for having me! And keep chasing your dreams!
For more info visit: facebook.com/NiaCC13