The Hitman's Bodyguard (2017) – Film Review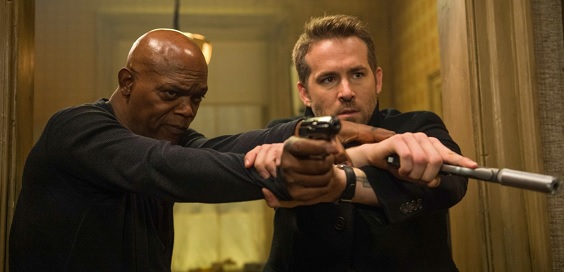 Director: Patrick Hughes
Cast: Ryan Reynolds, Samuel L Jackson, Gary Oldman
Certificate: 15
by Roger Crow
From the trailer, everything about this movie yells 'uninspired'. But with a couple of hours to kill, I settle in and expect the worst. Ryan Reynolds is Michael Bryce, the "triple A-rated" bodyguard who does everything by the book, and during a prologue we see why he is so good at his job. But when a VIP client is assassinated, our hero is suddenly downgraded.
Cut to scenes of Gary Oldman as an Eastern European dictator awaiting trial. The only man who can bring him down is hitman Darius Kincaid (Samuel L Jackson), and while being transported from Manchester under armed guard, the attack we know is inevitable arrives with such full-on force, it soon becomes clear this is not the knockabout comedy I'd expected. In fact it's one of those rare things: an action comedy that is both thrilling and hilarious. (Full marks to Tom O'Connor – not that one – for a great script).
Obviously Reynolds is called in to help Jackson when he winds up on the run, and the scene is set for a good 90 minutes of relentless action and laughs during the 118min running time.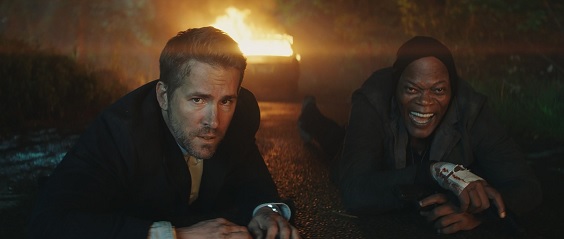 "Bromance"
It's a mash-up of Midnight Run and countless other buddy comedy thrillers, with the two leads sparking like a couple of faulty generators. It's the sort of thing that could have been done 30 years ago with Steve Martin and Eddie Murphy, so there's nothing new in the premise, but the execution is everything.
It boasts some stunning action scenes, witty editing in an Edgar Wright style and great supporting characters. Richard E Grant as a pill-popping white collar type has a glorified cameo, while Salma Hayek chews every scene she's in with the relish of a starving lioness. And Gary Oldman gives a terrific performance as the obligatory bad guy, like an older version of his generic terrorist from Air Force One 20 years ago.
A strange thing happens half way through when Reynolds is abducted and tortured by bad guys. I actually start to feel something for the characters. Inevitably Sam rescues him, and in the midst of chaos and carnage in Amsterdam, that rare bromance magic many films aim for but rarely achieve actually kicks in.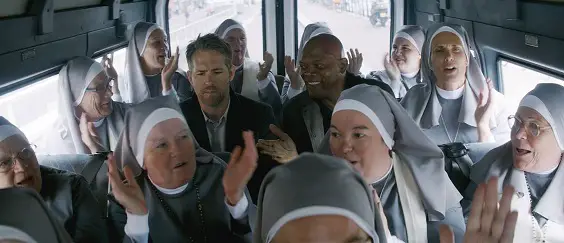 "High-octane"
Okay, there's far too many Oedipal expletives from Sam as usual, playing his role like Pulp Fiction's Julius with Tourette's, but the banter between him and Reynolds is up there with classic offering such as White Men Can't Jump or Grosse Pointe Blank. And as a reminder, Sam is 68 and still able to carry off high-octane scenes like a man half his age.
Though 20 minutes too long with one too many action scenes, this is one of those movies that guarantees value for money. Just when you think it's all over, there's an often hilarious brutal fight scene in a DIY store, and then another fight scene, and another.
I'm exhausted by the closing titles but glad I made the effort. The advert promises little but for once all the best bits aren't in the trailer. Take a bow Patrick Hughes. You've directed one of the best action comedies of the year.
8/10