She Freak (1967) – Film Review
Directors: Byron Mabe & Donn Davison
Cast: Claire Brennen, Lee Raymond, Lynn Courtney
Certificate: 12
By Sarah Morgan
Mention 1967 and inevitably the Summer of Love springs to mind.
It was a period in which young people feeling disenchanted with their lives hoped to find happiness by travelling across the country to San Francisco, where they would meet likeminded folk.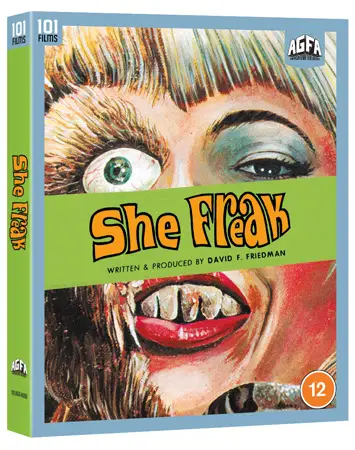 Unfortunately, many had their dreams shattered and the search for a west coast Utopia proved short-lived. In some ways – albeit in a more extreme fashion – that's exactly what happens to Jade Cochran, the central character in She Freak, which was released that very year.
"Works well"
When we first meet her, she's working in a rundown diner in the middle of nowhere. But she dreams big, so jumps at the chance to join a travelling carnival.
While still basically doing the same waitressing work, Jade quickly realises her hope of a new life could be met by Steve, the wealthy owner of the freak show. She turns on the charm and eventually marries him, but the exposure of her affair with hunky ride operator Blackie sets in motion a devastating chain of events.
If you're a fan of classic horror, then you may recognise the storyline as being very similar to that of Tod Browning's controversial 1932 production Freaks. Writer David F Friedman admitted that She Freak was indeed a remake, albeit one with a more modern twist. It works well too, with director Byron Mabe managing to convey an authentic feeling of carny life.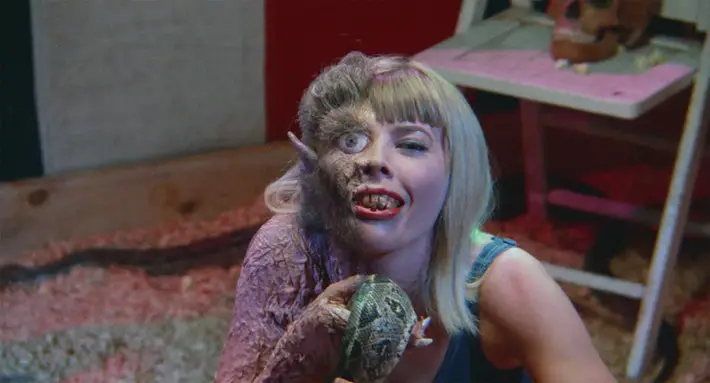 "Legendary figure"
The cast comprises of mainly unknowns, including Claire Brennen, who is suitably alluring as Jade. But watch out for the film debut of Bill McKinney as Steve. It's a rare 'nice guy' role for an actor who went on to appear in seven Clint Eastwood movies but is perhaps best known as one of the terrifying mountain men in Deliverance. Also featured is Felix Silla, who played Cousin Itt in the Addams Family TV series.
The film appears to have been shot in and around a real carnival, and features a lot of unnecessarily long sequences involving the striking and reconstruction of the big top. However, within the freak show backdrop is, bizarrely, the corpse of bank robber Elmer McCurdy, which spent around 50 years on display in various shows until the mid-1970s.
Also of note is the fact that the make-up was provided by Harry Thomas, a legendary figure thanks to his work on numerous 1950s sci-fi movies.
Among the special features are a collection of trailers for other films from David F Friedman, who was a key figure in the low-budget exploitation film world from the 1950s until his death in 2011.
Special Features:
• 4K restoration from the original 35mm camera negative
• Archival commentary with producer David F. Friedman and Something Weird founder Mike Vraney
• ASYLUM OF THE INSANE: SHE FREAK inserts preserved in 2K
• THE LAUGHING, LEERING, LAMPOONING LURES OF DAVID F. FRIEDMAN: a feature-length compilation of trailers from the Something Weird vaults, newly preserved in 2K
• Vintage shorts from the carnival midway
• Promotional photo gallery
• Booklet with essay by Something Weird's Lisa Petrucci
• Reversible cover artwork
She Freak is released on Blu-ray by 101 Films, £15