Naked Lunch (1991) – Film Review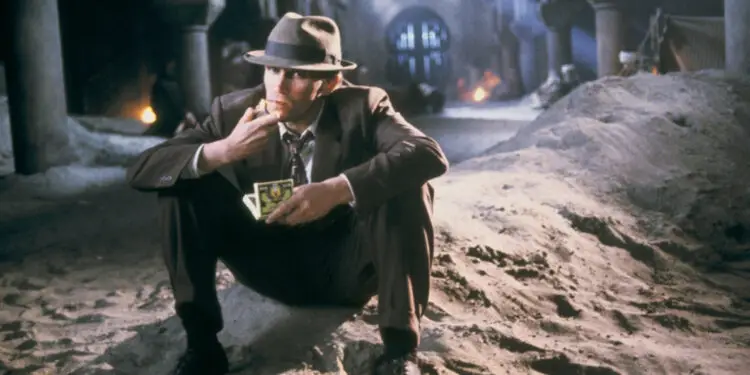 Director: David Cronenberg
Cast: Peter Weller, Judy Davis, Ian Holm
Certificate: 18
By Sarah Morgan
It's hard to imagine now, more than 60 years since its publication in 1959, how huge an impact the novel Naked Lunch had on the literary world.
Designed by author William Burroughs to be read in any order, its collection of various vignettes caused huge controversy, resulting in it being banned in some quarters. The lack of a linear plot also meant that film-makers couldn't find a successful way to translate it to the big screen, despite several attempts (even Burroughs himself had a stab at a screenplay).
"Visions of a giant beetle"
However, David Cronenberg is no ordinary film-maker. Perhaps the only other auteur out there who could have tackled the text is David Lynch, but longtime fan Cronenberg ultimately got the gig, and it's clear he grabbed the opportunity with both hands, delivering a film that pays homage to Burroughs' words despite making the work very much his own.
Cronenberg, who also wrote the screenplay, added aspects of the author's autobiography and other works of fiction to aspects of Naked Lunch, creating a story about William Lee, a bug exterminator who discovers that his wife Joan has been stealing the poison he needs for his work and using it as a recreational drug.
Lee is then taken in for questioning by the police, who suspect he's been selling the stuff. During his interview, he begins seeing visions of a giant beetle that tells him he's been recruited as an agent for an organisation known as Interzone Incorporated.
What follows is a bizarre travelogue involving eccentric characters, more insects and bizarre alien-like creatures who either help or hinder him in his efforts to compile the reports he's been employed to write.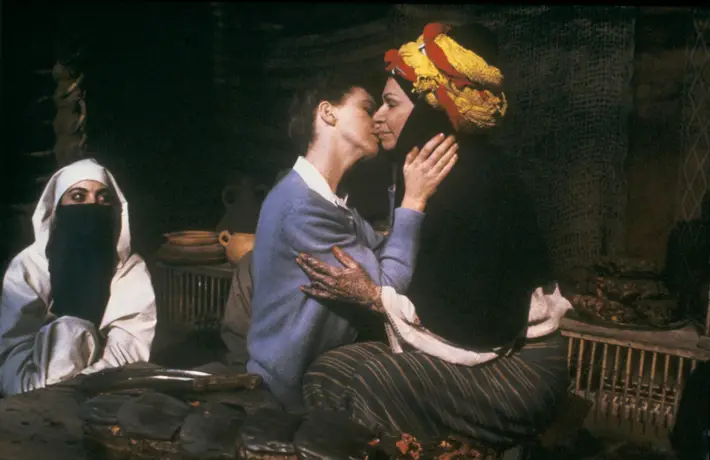 "Interesting images"
And that's about all I can say about the film's bizarre plot. I'm a fan of Cronenberg's work, particularly his body-horror movies such as Scanners, and Naked Lunch features some of the sub-genre's tropes – it is unmistakably a Cronenberg movie.
But the story remains something of an enigma, more a collection of interesting images and figures than a coherent narrative. I didn't dislike it, but neither do I feel the need to watch it again in a hurry.
However, the collection of special features in this impressive two-disc set is worth the cover price alone. Among the highlights are an audio commentary from Cronenberg himself, interviews with producer Jeremy Thomas and star Peter Weller, and a making-of documentary.
LIMITED EDITION 4K ULTRA HD CONTENTS:
• New 4K restoration from the original camera negative overseen by director of photography Peter Suschitzky and approved by director David Cronenberg
• 4K (2160p) Ultra HD Blu-ray presentation in Dolby Vision (HDR10 compatible)
• Original lossless 2.0 stereo and 5.1 audio options
• Optional English subtitles for the deaf and hard of hearing
• Audio commentary by director David Cronenberg
• New audio commentary by film historian Jack Sargeant and screenwriter Graham Duff
• Naked Attraction, a new interview with legendary producer Jeremy Thomas
• Exterminate All Rational Thought, a new interview with star Peter Weller
• Peter Suschitzky on Naked Lunch, a new interview with the celebrated director of photography
• Naked Flesh, a new interview with special effects artist Chris Walas
• A Ballad for Burroughs, a new interview with composer Howard Shore
• Tony Rayns on William S. Burroughs, a new interview with the renowned writer and critic
• David Huckvale on Naked Lunch, a new interview taking a closer look at one of Shore's most unusual film scores
• A Ticket to Interzone, new visual essay by critic David Cairns
• Naked Making Lunch, archival making of documentary directed by Chris Rodley presented in a new scan from the director's personal 16mm print and viewable with a new audio interview with Rodley discussing his connection to Cronenberg and the process of making Naked Making Lunch
• Concept Art Gallery, a collection of drawings and maquettes for the creatures of Naked Lunch by Stephan Dupuis
• Theatrical Trailer
• Image Galleries, including never before seen stills from the set courtesy of Chris Rodley
• Reversible sleeve featuring original and newly commissioned artwork by Gilles Vranckx
• Double-sided poster featuring original and newly commissioned artwork by Gilles Vranckx
• Six postcard-sized reproduction lobby cards
• 80-page perfect bound collector's book featuring new writing by critics Vanessa Morgan and Jack Sargeant, plus select archival material including David Cronenberg's introduction to Everything is Permitted: The Making of Naked Lunch, and a chapter from Cronenberg on Cronenberg
Naked Lunch is released on 4k and Blu-ray by Arrow, £34.99