Treasure of the Ninja (1987) – Fim Review
Director: William Lee
Cast: Gary Burton, John H. Howenstine, Ajay Kumar
Certificate: 15
By Sarah Morgan
We may think of the art world as full of highfaluting ideas as well as skilled practitioners. But there's a subgenre known as outsider art featuring works made by those who are not regarded as part of the accepted cultural scene. The work of William Lee feels to me like cinema's answer to it.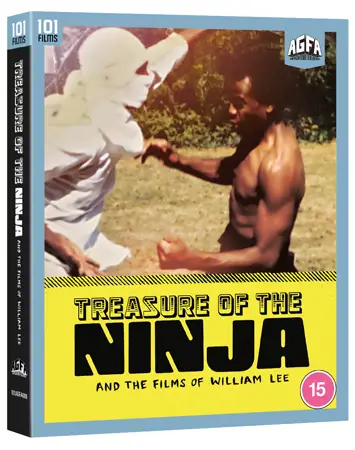 Lee did study film and wanted a mainstream career, but has worked as an independent, financing his own projects via odd jobs, for the past 30 or so years.
"Spirited"
Many of them were shot without sound in Super 8 before being transferred to video, after which the actors overdubbed their scenes. It's an approach that enhances their homemade feel.
Treasure of the Ninja is one such offering. It was made at weekends and after Lee's cast and crew had finished their regular working days; Lee was completing his degree at Ohio State University at the time, which is where some of the shooting took place. The rest appears to have been made in a local park which 'doubles' as a jungle.
Lee directed, wrote and executive produced the movie. He also choreographed its martial arts scenes (which were inspired by his hero, Bruce Lee) and takes the lead role of the unlikely named Magenta Faze, a high-kicking, government-backed agent who, along with his teenage genius sidekick, tries to protect an archaeological team from a vengeance-seeking millionaire who believes its leader scuppered his once-promising archaeology career.
If you're expecting Indiana Jones-style shenanigans with some added kung fu, you're going to be very disappointed indeed. But what you will get is a spirited effort which is somewhat undermined by its terrible picture quality, some awful dialogue and pretty bad acting.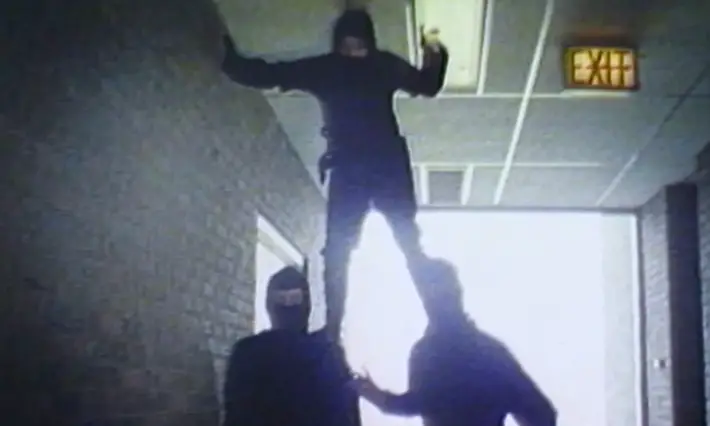 "Enlightening"
However, Lee's martial arts scenes are perhaps surprisingly good. He's no Bruce Lee, and there may be a few too many of them peppered throughout, but they're nevertheless pretty effective.
The stories behind such productions are often far more interesting than the films themselves, and that's certainly the case here. Even if you're not impressed by the movie, make sure you listen to the audio commentary involving Lee which is among the special features – it offers an enlightening glimpse into the world of no-budget film-making.
Many of Lee's other works are also included in the special features section, so the disc is packed with content, albeit of a questionable quality. But if you do enjoy Treasure of the Ninja, here's some good news for you – Lee is currently making a sequel.
Special Features:
• Bonus movie: DRAGON VS. NINJA (1984), previously unreleased and transferred in 2K from the original Super 8 elements
• TREASURE OF THE NINJA: New transfer from the original 3/4" master tape
• TREASURE OF THE NINJA: Commentary track with William Lee and Bleeding Skull's Annie Choi and Joseph A. Ziemba
• Short: THE NEW CHINESE CONNECTION (1980), previously unreleased and transferred in 2K from the original Super 8 elements
• Shorts: the WILLIE JACK series, all previously unreleased and transferred in 2K from the original Super 8 elements
• Reversible cover artwork
• English subtitles
Treasure of the Ninja is released on Blu-ray by 101 Films, £15