Buster Keaton: 3 Films (Volume 2) (The Navigator, Seven Chances, Battling Butler) – Review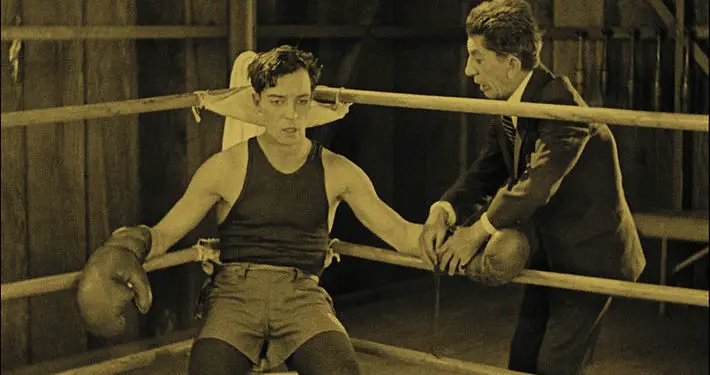 by Sarah Morgan
With his hangdog expression and large, soulful eyes, Buster Keaton was an unforgettable presence. He was wiry of frame, fleet of foot, acrobatic, energetic and fearless.
In another life he might have been an Olympic gymnast, but as he was the offspring of two travelling vaudeville performers, it seemed inevitable that he would tread the boards – something he did from being a toddler during an act that saw his father throw him across the stage; the police were called several times after complaints of child abuse from audience members.
But Keaton learnt early on how to fall (and land) without being hurt. It was a skill that came in handy during his cinematic career.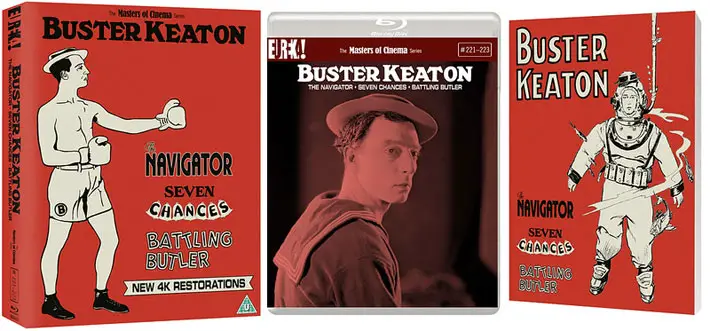 "Famous stunts"
At some point, pretty much everybody will have seen Keaton's most famous stunts. There's the one where the front of a house falls over him, but he escapes injury thanks to an open window, another involving moving an obstruction while travelling on the front of a locomotive and my personal favourite, a leap from a tall building, after which his fall is broken by a series of window canopies. Timing in all three was obviously of the essence.
Sadly, none of them appear in the trio of films featured in this boxset, but don't let that put you off – there are still plenty of jaw-dropping moments to enjoy (or endure), including an incredible fight sequence at the end of Battling Butler that is said to have inspired Martin Scorsese during the making of Raging Bull. Keaton is playing a supposedly foppish wealthy man who's attempting to pass himself off as a boxer to impress a girl. Actually, he has a physique resembling that of Bruce Lee, so it's clear he's no six-stone weakling.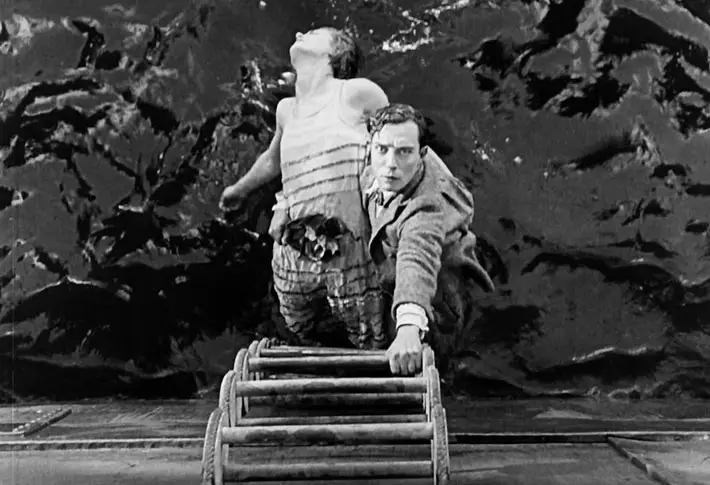 "Important to students of cinema"
The other films featured are The Navigator, in which Keaton plays another rich chap, this time trapped aboard a doomed liner with only the woman who spurned his advances for company, and Seven Chances, where Keaton's impoverished clerk must marry before 7pm to inherit a fortune.
Despite the films being comedies there are few laugh-out-loud moments; the humour simply hasn't aged well. Nevertheless, they are important to students of cinema thanks to Keaton's groundbreaking use of the camera (he often directed his own work) as well as his remarkable physical performances. Don't forget – there is no CGI on display here.
Limited Edition Hardbound Slipcase [3000 copies ONLY]
1080p presentations of all three films from the Cohen Film Collection's stunning 4K restorations, with musical scores composed and conducted by Robert Israel
The Navigator – Audio commentary by silent film historians Robert Arkus and Yair Solan
Seven Chances – Brand new audio commentary by film historian Bruce Lawton
New and exclusive video essay by David Cairns covering all three films
The Navigator – A short documentary on the making of the film and Keaton's fascination with boats as sources of comedy, by film historian Bruce Lawton
Buster Keaton & Irwin Allen audio interview from 1945 [6 mins]
Buster Keaton & Arthur Friedman audio interview from 1956 [32 mins]
Buster Keaton & Robert Franklin audio interview from 1958 [56 mins]
Buster Keaton & Herbert Feinstein audio interview from 1960 [48 mins]
Buster Keaton & Studs Terkel audio interview from 1960 [38 mins]
What! No Spinach? (1926, dir. Harry Sweet) [19 mins] – Rarely seen comedy short by American actor / director Harry Sweet, that riffs on a number of elements from Seven Chances
Buster Keaton: 3 Films (Volume 2) (The Navigator, Seven Chances, Battling Butler) is released on Blu-ray by Eureka, £34.99