Book of Monsters (2018) – Film Review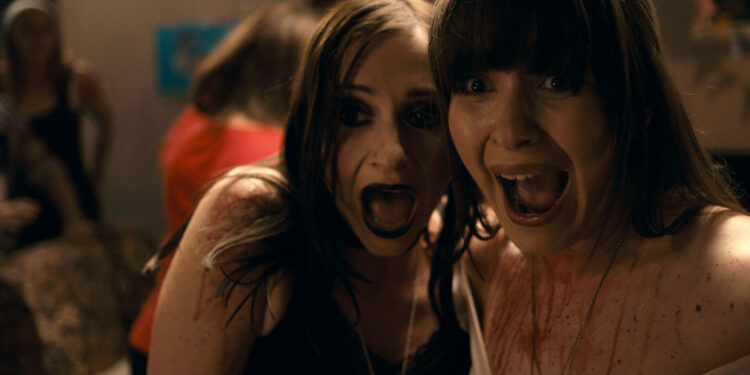 Director: Stewart Sparke
Cast: Lyndsey Craine, Michaela Longden, Lizzie Aaryn-Stanton
Certificate: 18
by Sarah Morgan
Did you ever read those 'choose your own adventure' books as a kid, the ones that had several different paths to take, with an alternative outcome for each one?
If so, you'll probably give a big thumbs-up to the makers of Book of Monsters, a low-budget British horror movie to be admired.
Writer Paul Butler and director Stewart Sparke's second feature-length film (their first, The Creature Below, was a psychological chiller that went down a storm at FrightFest in 2016) was funded by a Kickstarter campaign in which participants were asked to vote for certain elements they wanted to see – so if they hated the end result, they only had themselves to blame.
"Carnage"
Creating by committee doesn't always end well, as the number of big-budget Hollywood movies hacked to pieces by producers who disagreed with a writer or director's vision proves. But here, it seems to have worked a treat.
The story takes place at the 18th birthday party of Sophie, whose mother died in bizarre circumstances 10 years previously. Many uninvited guests from her school turn up to wreak havoc, but a bit of drunken, loutish and bitchy behaviour is nothing in comparison to the supernatural entities who break in and cause carnage.
Well, it's one way to get rid of the troublemakers…
Soon, only Sophie, her two best friends and a handful of others remain to combat the forces of evil. Luckily for them, Sophie's mother left behind a book that will prove very useful indeed…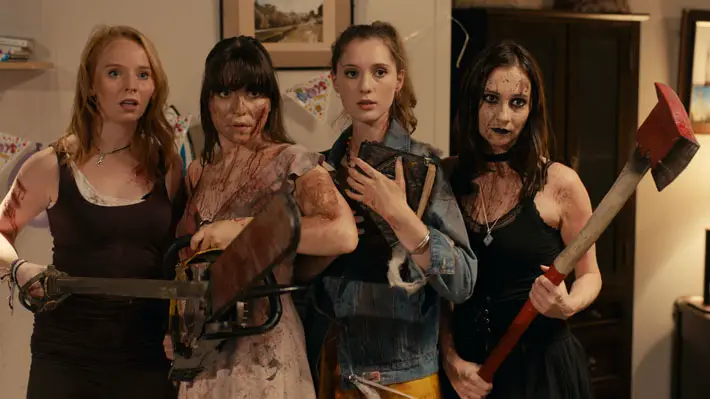 "Gruesome romp"
Lindsey Craine, in her first leading role, does a sterling job as Sophie, the meek girl who turns into a kick-ass monster-hunter as the film progresses. She's ably supported by Michaela Longden and Lizzie Stanton. The three of them may look a little long in the tooth to be teenagers, but the tale is such a fast-paced gruesome romp and it's easy to overlook that. Hellraiser fans will be pleased to see horror veteran Nicholas Vince pop up in a cameo as Sophie's father.
There are a few dodgy special effects that look more like 1970s Doctor Who (anybody who's seen the Jon Pertwee adventure 'The Green Death' will know what I mean), but again, watching the film is such an enjoyable way to spend 80 minutes or so that it doesn't matter.
As long as you're not expecting the Citizen Kane of horror, there's much to admire here. I'm certainly looking forward to Butler and Sparke's next project to see what they come up with.
Bonus Features:
•'Opening The Book of Monsters' Documentary
• 8 deleted scenes
• Alternate ending
• Gag reel
• Original concept film
The Book of Monsters is available on Blu-ray from Dark Rift Films, £14.99