Angry Birds (2016) – Film Review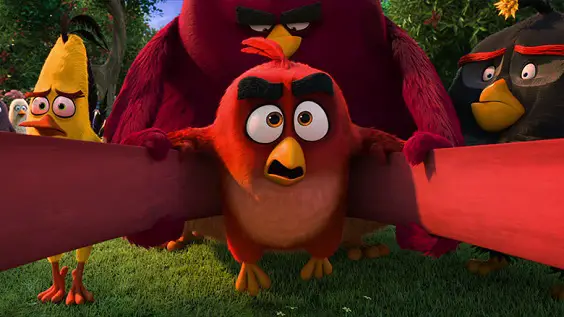 Directors: Clay Kaytis, Fergal Reilly
Voice Cast:  Jason Sudeikis, Josh Gad, Peter Dinklage
Certificate: PG

by Anel Blazevic
Finnish company Rovio Entertainment's video game franchise series is so popular that a movie version was inevitable. Yet this film is far less fun than the game. Superb looking characters and a clear beeline for the kids market (few adult-friendly extra layers here) are hampered by a frankly awful storyline. It is likely the little ones will be nonplussed once the visual thrills have worn off.
The story takes place on an island full of birds who can't fly. One grumpy, eyebrow-heavy bird called Red (voice of Jason Sudeikis) messes up a children's party. Bird court forces him to take anger management classes. Then, some odd looking green piggies turn up to invade the island. They promptly steal all the birds' eggs. The piggies fool everyone on the island apart from Red. He seeks assistance from the mythical and egomaniacal Mighty Eagle (voice by Peter Dinklage), in an attempt to stop the piggies doing their dastardly business with them there eggs.
The animation is world class, with each and every bit of detail tweaked to perfection. But sadly, that's where the fun ends. Instead of taking the inherent oddball whackiness of the game concept and running with it, the film-makers plump for standard movie themes and motifs, immediately bogging the story down in 'seen-it-done-it' movie sludge.
"Little fun"
Gags are mostly childish wordplay – and the visual plays for more adult minds (a poster for Kevin Bacon in Hamlet, a book titled 50 Shades of Green, a pig version of the twin girls from The Shining and the inevitable reference to Green Ham and Eggs) are mostly tagged-on and pointless.
There's a moral hidden in all the mud, about anger being a legitimate emotion for kids to feel, although even that concept is taken from Inside-Out's much more subtle take on 'it's ok for kids to be sad' theme.
Animated movies are the real boundary pushers in cinema right now, but Angry Birds the movie doesn't care about all that. Like its handheld counterpart, it's really only after your hard-earned bucks. Yet unlike its handheld counterpart there's little fun, imagination or immersive content in the relationship.
5/10