The Undiscovered Deaths of Grace McGill by CS Robertson – Review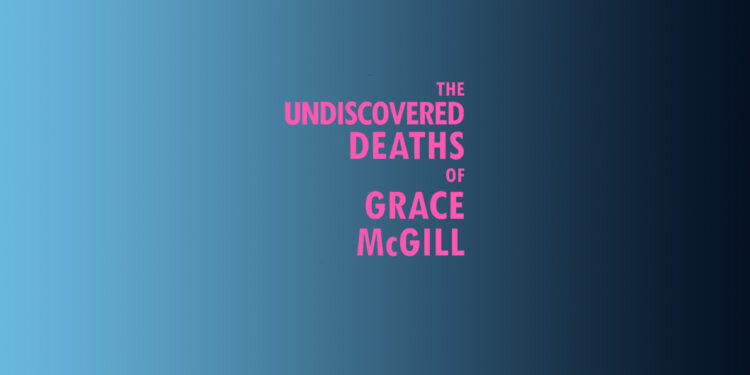 By Sandra Callard
This new book from CS Robertson is like nothing I have read previously. It is quite alarming and disturbing in the early chapters of the book, as we discover Grace McGill, a lonely person, who has very little to do with other people and lives alone in a flat with her cat. She has no mother, an alcoholic and brutal father who she nevertheless visits, and no friends outside work. Grace's occupation is one that only a small percentage of people could tackle: She cleans up homes where someone has died. As she likes to say, "somebody has to do it, it might as well be me."
She goes to her latest client, who has not only died, but has been left for many weeks before being discovered, but Grace somehow feels an affinity with the deceased and goes to his funeral. As she meets people who knew the deceased, she is propelled into a weird and fascinating hunt for the body of a girl who has been missing since 1984 and has never been found. Grace feels her latest dead client knew something about the missing girl and has a compulsion to find her, even though she knows she may be in danger, as she encounters people who she feels know something about this. She begins to feel threatened and is attacked, but still feels she has to go on with her quest.
"Sharp and vigorous"
Here is when you begin to read faster as you are caught up in the strange world of Grace and her feelings, and you simply cannot put the book down. It is beautifully written, clear and comprehensible, whilst being unusual, and when Grace eventually finds a helper in her task her world seems to take on a huge lift, and her discoveries begin to make sense.
The characterisations are very clear, and the fact that the majority of them are older people does not detract in anyway from the fascination of the story. The descriptions of them are loud and clear, as are their speech, their views and indeed their whole personalities. Grace is almost the token young person there, but do not make the mistake of thinking that this is a book for pensioners. Far from it, it is a sharp and vigorous novel with a massively original theme
This is one of the most unusual and discerning books I have ever read. I was totally wrapped up in the reading of it, and when it was finished I did what all satisfied readers do, and wished it could go on longer. The story is unconventional, as are the characters who people it, and the clever way in which an unlikely and unattractive person like Grace can become such a fighter for someone she has never known is exceptional in its appeal. I would love to hear that more stories from C S Robinson are in the pipeline, and in the meantime I will search out his others that I may have missed.
'The Undiscovered Deaths of Grace McGill' by CS Robertson is published by Hodder & Stoughton, £14.99 hardback