An Interview with Roland Gift, ex of Fine Young Cannibals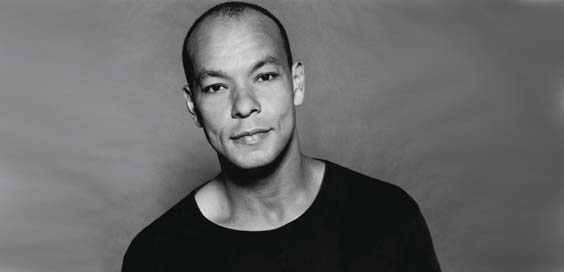 Roland Gift, one of modern music's true torchbearers and the charismatic front man of the Fine Young Cannibals, is back in the pop arena with his new solo album, the self-titled Roland Gift.
Gift's distinguished career has expanded in recent, post-FYC years to include critically-lauded film acting and musical score work. Roland Gift marks a triumphant return to pop music's front line, where Gift's talents and unique style have long established him as one of the genre's trailblazers. A great voice never goes out of style, and Gift's trademark vocal prowess is both timeless and strikingly ahead of his time.
During the making of the new album, Gift took time out to work on the latest entry in his other illustrious career, a film resumé that includes Sammy And Rosie Get Laid, Tin Men(for which FYC also supplied the music, at the special request of director Barry Levinson), and Scandal. Gift's most recent acting work is for the forthcoming The Island of the Mapmaker's Wife, directed by Michie Gleason, for which Roland put recording on hold for two months, while on location in Amsterdam with the production.
"Good will"
Gift readily admits to a happy balancing act between the two disciplines. "When I first started, I wanted to be an actor. That's one of the reasons I came down to London from Hull. But most people I know have been in a group sometime in their life. The first punk band I was in (The Acrylic Victims) got a bit of notoriety, released a couple of singles, my music focus grew from there."
Roland Gift was recorded at a variety of locations, from demo studios to front rooms to Mayfair Studios, with producers David Z and Ben Barson. The album is reminiscent of the sparse, classic appeal that typified Roland's work with the Cannibals, a sophisticated blend of pop and soul with jazz and even gospel flavors, with Gift's own new spin for the 21st Century.
"The Cannibals sort of officially dissolved in 1996," says Gift, "so, in a way, up until then we were trying to do our third record. Then we came out with The Finest, which was a greatest hits set plus three new tracks that didn't have a home to go to," (among those was the hit 'The Flame'). "But, it's better to burn brightly for half as long than to be a dim lingering light, and I get a lot of good will from people – they say they still play the albums and they're looking forward to hear what I'm doing next."
"I was asked to join Jools Holland and his a big band as a guest singer touring with them for a year, it was a lot of fun and made me want to take my own group out to play."
"Great weight lifted"
The completion of Roland Gift brought an important emotional realisation. "The group didn't stop with a bang," he says, "it was like a freeze-frame that stopped and stayed and stayed, then eventually faded. But nobody said 'OK we're going to end this,' so in a way, doing this record kind of resolved it all. Once the album was finished, I felt great, because something had come to a resolution… I felt a great weight had been lifted off me."
Highlights of the set include 'Money' and 'Looking For A Friend', two songs Gift co-wrote with the highly successful American song writing team of Carl Sturken and Evan Rogers. "'Money' was one we first thought would end up as a b-side or in the bin, and this other song I can hardly remember now was the one we thought was important from that session. Sometimes it works out that way as a song evolves. I played 'Looking For A Friend' live quite a lot, and it was one of those songs that really worked."
Gift looks forward to more live shows, where he will perform the new songs from Roland Gift and some classic fan favourites. "There are a lot of people who liked the Cannibals who never saw songs like 'She Drives Me Crazy' in concert, and since I wrote them as well, I'll definitely do some Fine Young Cannibals songs."
"I didn't write with the guitar"
"It's a great feeling when you've got a big record and you go out onstage and thousands of people have come to hear you play for them. It's like having a party and loads of people come because they want to have a party with you."
Roland wrote 'Say It Ain't So' on acoustic guitar. "In the Cannibals, I didn't write with the guitar, but since then I've started writing with it. Everything sounded better with an acoustic."
'Tell Me You Want Me Back' has a pop-soul groove that Gift says still sums up his style. "Soul is a funny word, all kinds of music can have soul. If it touches you and inspires you, any kind of music is entitled to be called soul music. And it is definitely poppy as well, maybe because it's melodic, it's poppy in the way Bacharach-David songs are poppy – they're very soulful as well."
"Dramatic"
The great Otis Redding remains Roland's vocal mentor. "We all shared a love of the Stax sound in the Cannibals. That was the thing that brought us together and Otis was probably my favourite singer, and he still is, so those influences will definitely be there. It's funny, I used to have a neighbour, this woman who lived next door, and she and I didn't really get on, she'd always be getting at me. But one day she gave me three records, Otis Blue, Otis Sings Soul Ballads and a Greatest Hits of Otis Redding. I'd heard him, when I was a kid – my sister was a fan – and to say it changed my life would be a bit dramatic, but it did have an effect on my musical development."
"Right now as well as the live shows I'm working on a stage musical called 'Return to Vegas' with Bob Carlton who created the show 'Return to the Forbidden Planet'. Ours will premiere in Hull as part of the city of culture celebrations in 2017. I'm well pleased by the way the 'Return to Vegas' songs have been received in the live set sitting nicely alongside the FYC classics".
Gift's professional career has taken him from stage to screen and back again, as his fans around the world await the release of Roland Gift.