Non-Permanent Interior Design Ideas For Your Uni Room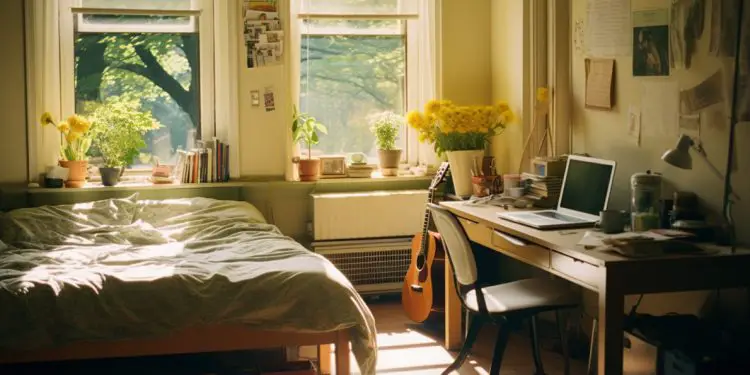 One of the great things about moving into student accommodation for the first time is having a place to call your own. But how can you make your room Insta-worthy without leaving any permanent marks?
While a few student accommodation providers have gone above and beyond to make your new place feel like home, you'll still want to add your personal touch to it.
Remember you can't paint your room, or make any changes that leave a lasting impression once you've graduated, but that doesn't mean you can't bring your design dreams to life.
Our top ten ideas will help your room look super homely, welcoming, and straight out of Pinterest without leaving any trace once you've moved on.
Soft furnishings
While your uni room may come equipped with bedding and some accessories, a simple way to create a cosy and welcoming space is to add some cushions and a stylish duvet cover and throw.
Start by picking bedding that will complement your colour scheme. Add a few scatter cushions and a quality throw or runner. Winter nights can get cold, so we'd recommend picking something fleecy and practical over something stylish, but flimsy.
Photo displays
For many of us, uni is the first time we experience living away from our families. While this is no doubt exciting, it can also help to have some reminders of home, especially for the first few months while you settle in.
Using string and pegs to create a makeshift photo-line can bring the room to life, and what's more personal than photos of your friends and family all over the walls?
Think about purchasing a peg or cork boards too. You can mix and match between photos and messages or quotes that remind you of home.
Command strips, white tack & other framing options
While nails and screws are a definite no-go in your room, you can use other non-permanent methods to stick frames or prints to your walls.
Whether you want to add art-deco style prints, posters of your favourite movie or band, or homemade artwork, command strips and white tac can be the answer.
A less permanent solution, but just as strong, you'll be able to adorn your walls with personality without leaving a trace when it's time to move on.
It's worth checking with your accommodation provider before adding any frames or prints to your walls. If you're unsure, why not frame prints and show them off on your desk or shelves?
House plants
House plants can be a great addition to any student room, they bring colour, life and personality to the space.
Funky pots with complementary colours will help make your room a homely and welcoming place to be, and your flatmates will be impressed at your green-fingered skills!
Worried you won't be able to keep plants alive? Plastic house plants are just as nice, and you won't need to worry about forgetting to water them.
Get creative with storage
You'll no doubt bring lots of things with you to uni, from clothes, and accessories, to equipment for your course. While uni rooms have enough space to live and study, you might want to get creative with how you store your belongings to super organise the space.
Simple hacks like draw dividers can help you to get your stuff organised, or invest in some funky baskets or boxes to dot around the room.
Not only will they look great, but you'll also be able to access your things easily, and be encouraged to keep the room clean and tidy!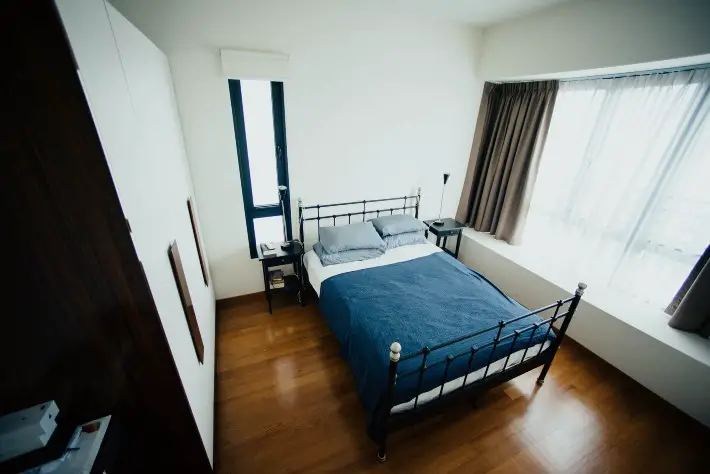 Fairy lights
A staple for any student room! Nothing says cosy Netflix night in like a couple of strings of tastefully placed lights throughout your room.
Drape them over your mirror, bed frame or even your shelves to create a homely glow.
If you're feeling extra creative, intertwine them with your string photo-line to create a Pinterest-worthy wall.
If fairy lights aren't really your style, think about investing in a funky table or desk lamp. You can show off your style, and get the benefit of extra light while you're studying or relaxing.
Make the most of your shelf space
In the haste to buy lots of new things for your room, it can be easy to neglect the items already in there.
Many student rooms have shelves already built into them, so make the most of them.
Alongside storing books, study materials and essentials, add some trinkets or ornaments to the shelves to bring a personal touch.
Shelves can be a great place for houseplants to live too.
Design a great desk space
Creating a space to focus on studying or essay writing is important, but it shouldn't mean it doesn't reflect your style.
You'll spend a lot of time at your desk, so add funky pots for your pens and writing equipment, so the area remains uncluttered and perfect for focus time.
If it helps you to concentrate, put some motivational or inspirational quotes near your desk area.
Creating a list of goals or deadlines on a chalk or whiteboard can turn your desk into a hub of creativity. Just make sure not to overload it with clutter as it may have the opposite effect!
Choose a colour scheme
Pick your favourite colour or a shade that compliments the existing decor in the room and go with it.
Contrasting colours can work wonders for making your room look bigger and more inviting, but don't go too overboard with the clash!
The key is to ensure you choose a colour scheme that you aren't likely to go off. There's nothing worse than buying everything in one shade then changing your mind by Christmas.
Use Washi tapes or vinyl
If you really can't stand the idea of bare walls, consider investing in some Washi tapes or vinyl.
You can use the tapes to create funky patterns and designs on your walls or mirror, without damaging them.
Vinyl sheets can completely change the style of a room if used in the right way, try covering a desk or set of drawers with it first before attempting every piece of furniture, sometimes less is more.
Making your university accommodation more comfortable and personal during your time staying there can help you settle in quicker and feel more at home.
Designing your room can be a fun activity, so don't forget to ask your new flatmates for their design input too!
Novel provides brand new accommodation for students studying in Sheffield for university, offering first-class amenities, from fantastic social spaces to unbeatable wellness facilities. The accommodation is created to help students thrive at university, in rooms they love.