Bistrot Pierre, Harrogate – Restaurant Review
By Roger Crow
If you thought decent French restaurants in Harrogate cost "un bras et une jambe", think again. Given my poor grasp of French, I didn't know 'bras' translated as 'arm' until now. Our trip to Bistrot Pierre, Harrogate is an equally uplifting experience.
My partner and I are first to arrive for lunch at midday. Within a few minutes we're let in by Clement, a charming waiter who ensures our stay is outstanding. It's a light, airy eatery overlooking Cheltenham Parade, with framed prints of Gallic films and actors enhancing the ambience. (As a lover of French cinema, any restaurant with a picture of Luc Besson's Leon wins me over on the style front).
As we settle in, and the place begins to fill up, our every whim is catered for. Before long we're filling up ourselves with crusty bread, a terrific house red, and our starters.
"Great value"
My Brioche et Champignons is a mouthwatering treat. (Mushrooms on toast doesn't have quite the same ring does it? This is definitely the high end version.) I opt for an addition of Alsace bacon, though vegetarians can have it without. Rachel goes for Asperger: seasonal steamed asparagus with hollandaise sauce. A new addition to the starter menu, and it's a winner.
The house red (Cuvee 94) goes down a little too well. It's 12 per cent, so perfect volume to ensure we're not nursing a dull headache all afternoon. Before long we're tucking into equally terrific mains. My Porc Sauce Béarnaise (pork with Béarnaise sauce) and crispy bacon, together with provided seasonal veg and potatoes is a delight. I order a side of creamed spinach, which is a fine accompaniment.
The most remarkable element is the price: £10.95 for a Sunday roast is great value, while our three-course lunch is a mere £13.95.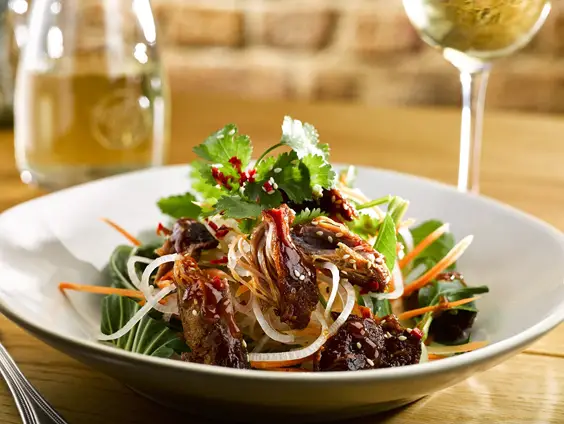 "Good choices"
We're at our ease within minutes of sitting down, so by dessert we're in love with the place. That's partly because of the great service. Our waitress, Eline, is equally outstanding; a ray of sunshine as engaging as Clement.
It helps that there are good choices for vegetarians, unlike the obligatory risotto that dominates so many restaurants these days. Rachel's Tarte au Chèvre (deep breath) – warm tartlet of goats' cheese, spinach, butternut squash and caramelised onion with chive beurre blanc – is a winner.
Dessert is a no-brainer for me given my passion for chocolate and nuts. Mousse au chocolat (rich chocolate and hazelnut praline mousse) is one of the brand's new dishes, and unlike some choc desserts that are rich and abrasive to my palate, this is near perfect. There's no bitter after taste; it's light and a splendid finale to an extraordinary meal.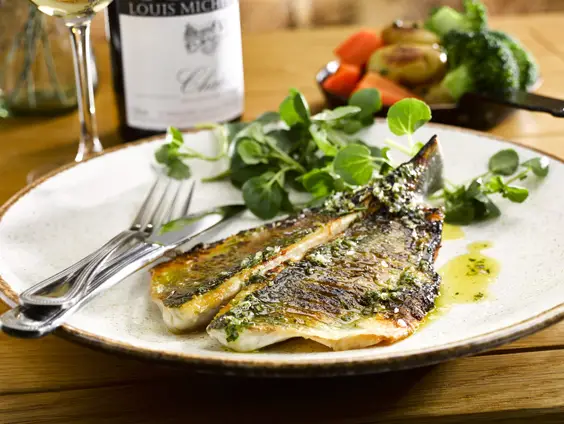 "No complaints"
Rachel also opts for one of the new desserts: Posset aux fruits de la passion (passion fruit posset topped with almond crumble). It's a great palate cleanser and judging by the empty glass, proves as successful as my choice.
There's so much right about this place it's a shame the water glasses give me flashbacks to school dinners. Personally I'd swap them for something classier and change the overhead lights for more steampunk/industrial illumination, which seems the direction for a lot of classy restaurants these days.
However, there is a wonderful industrial lamp by the entrance that almost demands photos. Cosmetic flourishes aside, the most important things are the food/wine, cleanliness, service and value for money, and there's no complaints in those departments.
I never tire of our trips to Harrogate, and though it's a gamble to travel 45 miles for Sunday dinner, this trip to sample the spring menu paid off handsomely. There are no prizes for guessing if we'll be back.
Bistrot Pierre, 15 Cheltenham Parade, Harrogate, HG1 1DQ
Opening Times:
Lunch
Monday to Friday: 12-3pm
Saturday & Sunday: 12-5pm
Dinner
Sunday to Wednesday: 5-9pm
Thursday to Saturday: 5-10pm
01423 533 070
bistrotpierre.co.uk